Grand Theft Auto 5 is an action-adventure game published by Rockstar Games in 2013. With no negation, GTA has always been the best sandbox series. This game is famous for its driving gameplays and phenomenal heist plots. In this game, players can get into whatsoever car and play songs using the car's audio system. There is a sensational feeling when playing music while driving cars in GTA.
How about listening to your favorite music from Spotify while playing GTA? Spotify allows you to access millions of songs instantly. Therefore, you will experience a more personalized experience while playing the game only after knowing how to play Spotify on GTA 5 PC. By going through this article, you will learn how to play Spotify on GTA 5 PC.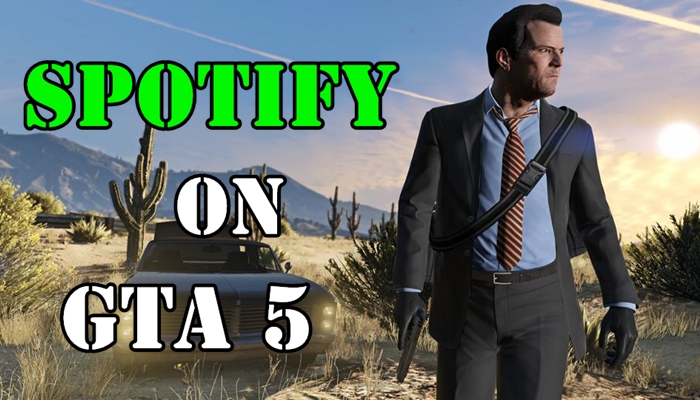 ---
Part 1. Method to Get Spotify Songs for Playing on GTA 5
Unfortunately, Spotify doesn't offer the feature of playing music directly to a GTA 5. But worry no more since self-Radio is the music player in GTA 5 which allows you to play your own music files on GTA 5 PC. So, you only need to know how to add your music to a GTA 5 for playing with its built-in music player.
However, GTA 5 only supports playing a few sound formats including MP3, M4A, and WMA. Firstly, you will have to download music from Spotify before playing it in your GTA 5. But there is a DRM protection that limits you from playing Spotify music elsewhere without authorization from Spotify.
So, first off, you will therefore have to involve a third-party tool – Tunelf Spotibeat Music Converter. It is an easy-to-use yet professional music converting program that allows you to download music from Spotify and convert them into your desired audio format. Then you can easily move the converted Spotify songs to the folder in GTA 5 for playing.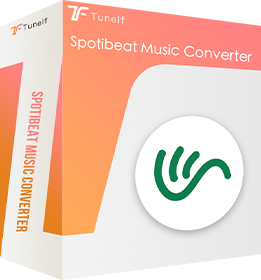 Key Features of Tunelf Spotibeat Music Converter
Download Spotify playlists, songs, albums with free accounts easily
Convert Spotify music to MP3, WAV, FLAC, and other audio formats
Keep Spotify music tracks with the lossless audio quality and ID3 tags
Remove ads and DRM protection from Spotify music at 5× faster speed
Step 1 Import Spotify music to the conversion list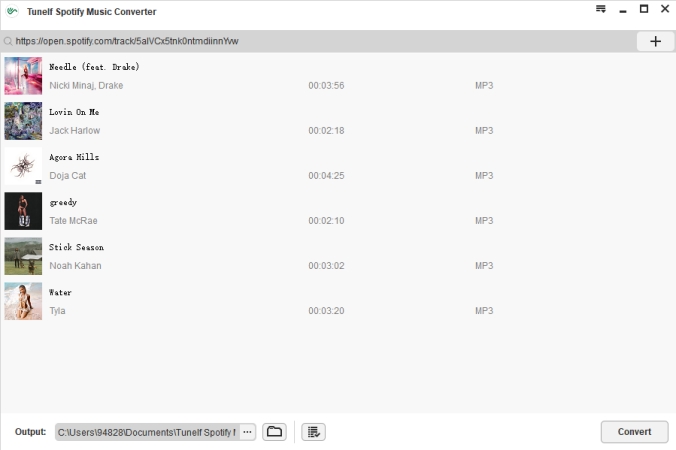 Download and install Tunelf Spotibeat Music Converter on your PC or Mac computer. Opening the program will automatically open the Spotify application. Find your Spotify Music by browsing in your Spotify application. Right-click to copy the URL link and paste them in the search bar. To load them click on the "+" button. You can also use the drag and drop method as a shortcut in knowing how to play Spotify on GTA 5 PC
Step 2 Customize the output parameters for GTA 5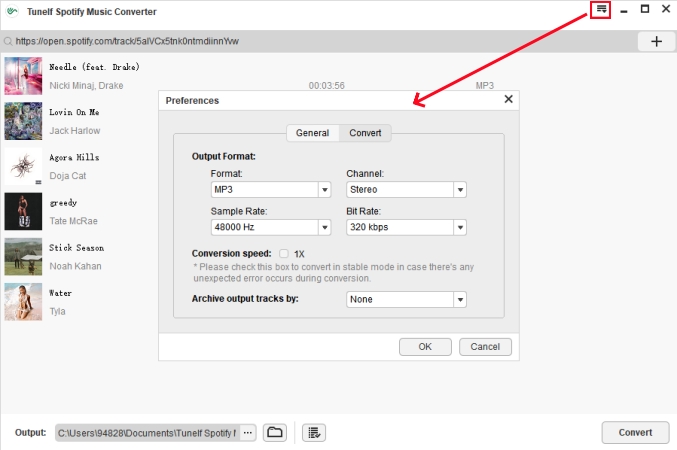 Head over to the menu bar and select on Preferences option. To choose the output format, click on the Convert tab. Select the MP3 format since we need to play Spotify in GTA 5. There are also other customizable settings, such as the bit rate, sample rate, and channel, which you can adjust depending on your preference.
Step 3 Start to download and convert Spotify music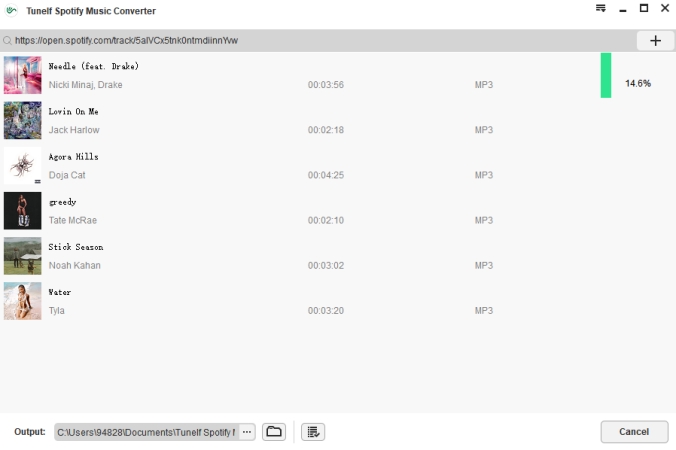 Click on the convert button to affect the conversion process. Here, all your converted files will have been kept offline. Now is that time that you enjoy your game by playing Spotify in GTA 5. You have to import your Spotify Songs into a GTA 5 folder.
---
Part 2. How to Play Spotify on GTA 5 While Playing GTA 5
Spotify music tracks have been downloaded and converted to the format compatible with GTA 5. So, it's time to start the playback of Spotify songs in GTA 5. Before playing, you need to import Spotify songs to your folder in GTA 5. Then you can freely listen to music while playing GTA. Here's how to import Spotify songs into GTA 5 and start your playback.
2.1 How to add your own music to GTA 5
First thing first, you'll need to import the converted Spotify music files into the game for playing on GTA 5. Here's how to put Spotify songs in GTA 5.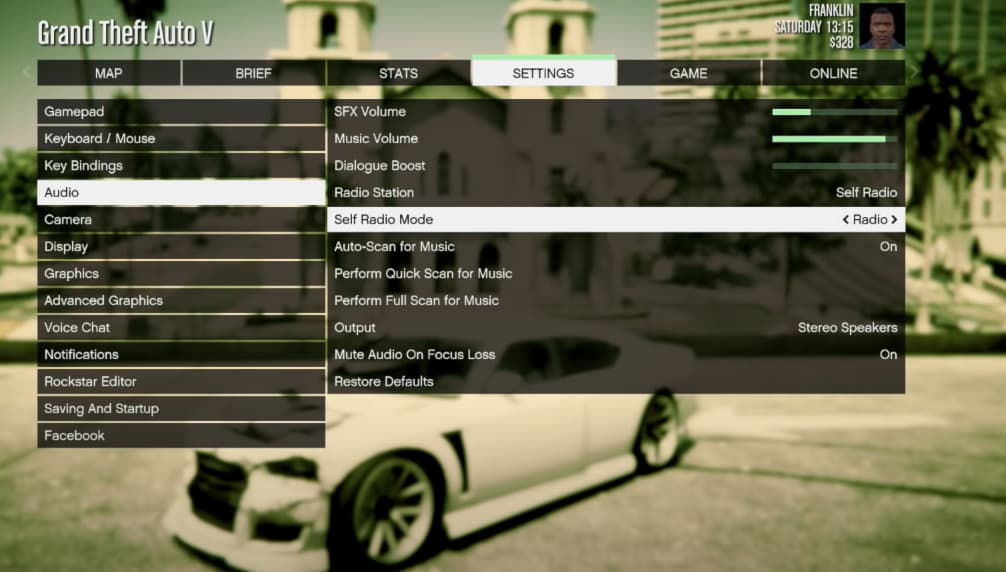 1) Open the My Documents folder on your computer, then navigate to Rockstar Games > GTA V > User Music.
2) Select all the converted Spotify music files and drag them to the User Music folder on your computer.
3) Fire up GTA V on your desktop and go to the menu to choose either Continue to proceed with your existing saved game or select New Game to start fresh.
4) Press the ESC key on your keyboard to open the in-game menu and select Settings from the navigation bar.
5) Touch the Enter key to enter the Game Settings screen and scroll down the menu panel to choose Audio.
6) Choose the Perform Full Scan for Music option under Audio, then the game will automatically filter through your Spotify music files inside the User Music folder.
2.2 How to listen to Spotify in GTA 5
Once the scanning is complete, your selected Spotify music files will be added to the game. Then you can start to stream Spotify music on GTA 5 PC while playing GTA 5.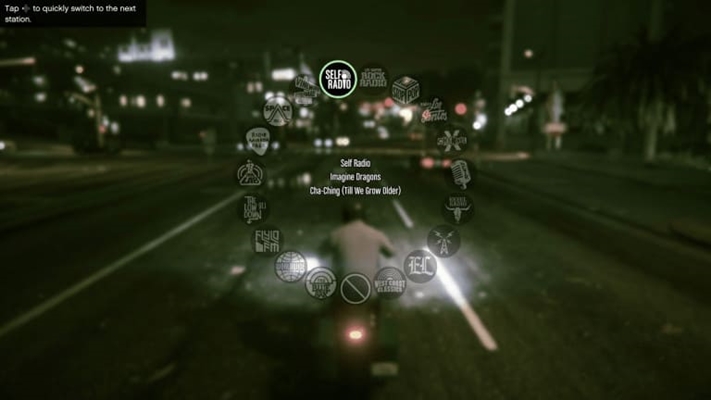 1) Exist the in-game settings screen and restart the game then go back to the game screen again.
2) Go to Settings > Audio, then switch Radio Station to Self-Radio Mode from the list of choices available.
3) Start to play GTA 5 then the car radio in the game will automatically play Spotify songs you've copied to the User Music folder.
---
Bottomline
When you get settled to play a GTA game, you won't be able to move an inch from it due to the extreme satisfaction you'll derive from playing Spotify in GTA 5. Explore this fantastic experience by knowing how to add your Spotify music to a GTA 5 from this post.