In order to expand the market field, some major music streaming service providers have launched their music TV integrations on common smart TVs. A question has been asked many times: is Spotify available on Samsung Smart TV? Sure! Spotify has no reason to miss the chance. However, there are still some people who can't get Spotify on Samsung TV and have no idea how to install and play music.
But don't worry. We're writing this article to help you listen to Spotify on your Samsung TV with ease. Keep reading the following paragraphs to find out!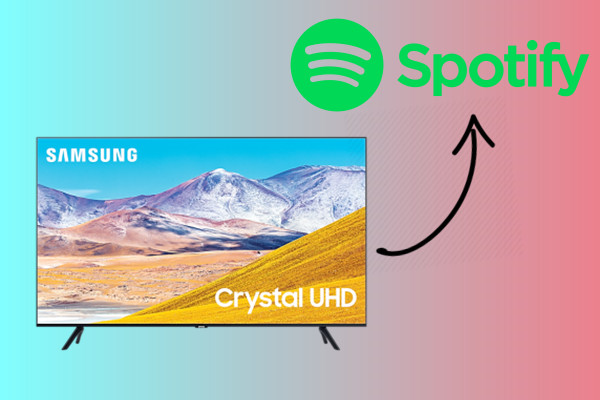 ---
Part 1 How to Add Spotify to Samsung TV Directly
Just like other TV integrations, you can easily get the Spotify app from the TV screen and access music from Spotify on Samsung TV. This is much more convenient and easy to use, just follow the simple steps below to install the app:
[Note]: Every smart TV is slightly different, and you may find the button is in another slightly different place, but the procedures are similar.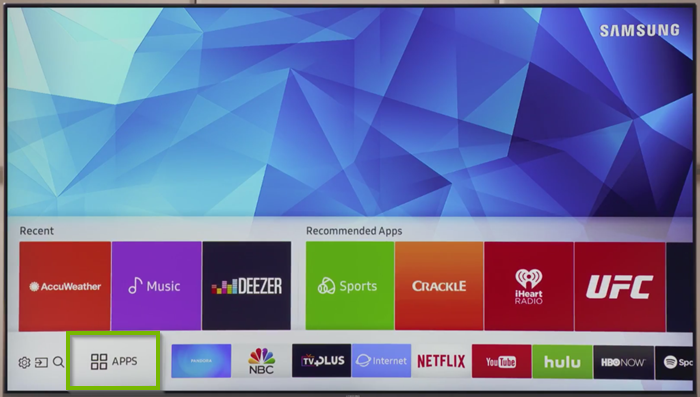 1. On your remote control, press the Home button and select Apps on the screen.
2. Type in Spotify by choosing the Search icon to start searching.
3. Select Spotify from the results and enter the details, you'll see an Install button beside it.
4. Select Install and then open the Spotify app on your Samsung TV after the installation.
5. Now log into your Spotify account on your Samsung TV to enjoy any tracks on Spotify you like.
---
Part 2 How to Get Spotify on Samsung TV
In addition to installing the TV integration to hear Spotify songs on your smart TV, you have other workable methods available. These ways play an important role to improve our user experience and music pleasure, especially when you find you cannot add the app to your Samsung TV. Methods I'll illustrate below would be an aid. Let's take a closer look at what they are.
2.1 Stream Spotify on Samsung TV via Spotify Connect
Spotify Connect is an app designed by Spotify to enjoy music on those devices which are not able to use the app. It is a common method to listen to Spotify songs via Spotify Connect. To do this, you must ensure that your TV supports Spotify Connect. Then do as follows: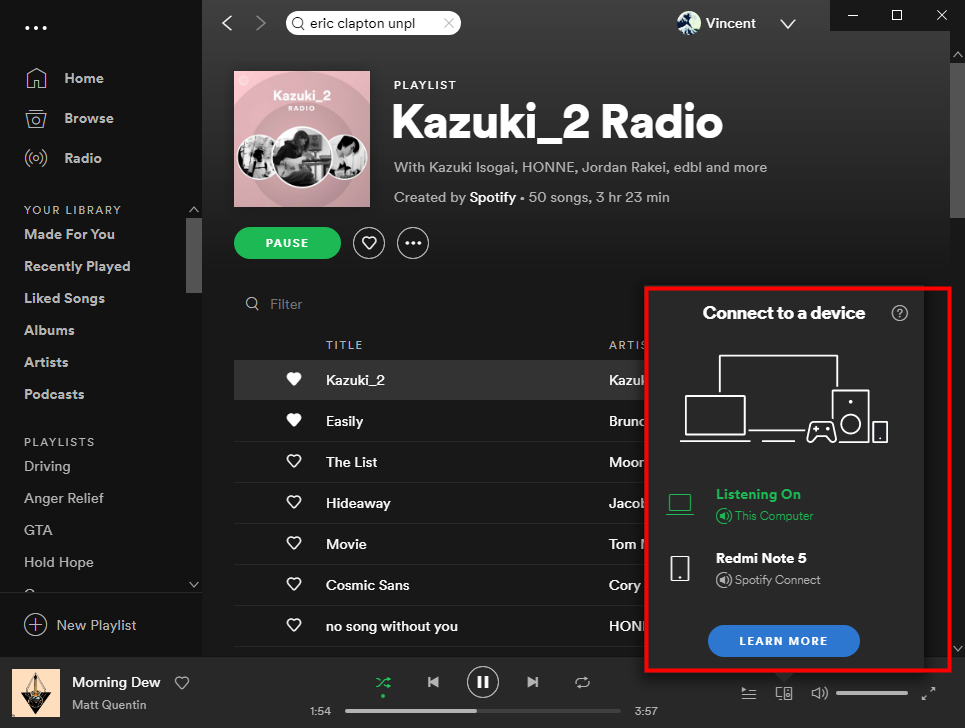 1. Open the Spotify app on your device and select a song to play.
2. Go to the Now Playing view and locate the Available Devices icon.
3. Tap the device icon and select your Samsung TV to connect.
After then, you can now listen to Spotify songs you want on the Samsung TV.
2.2 Cast Spotify to Samsung TV via Chromecast
Google Chromecast allows you to cast Spotify from your phone, tablet, or Chrome web browser to a TV. Firstly, you should enable the Chromecast on your TV, and make sure it is ready. Now connect your Google Chromecast to the HDMI port of your Samsung Smart TV and make sure both your device and the Chromecast are connected to the same network. Then follow the steps: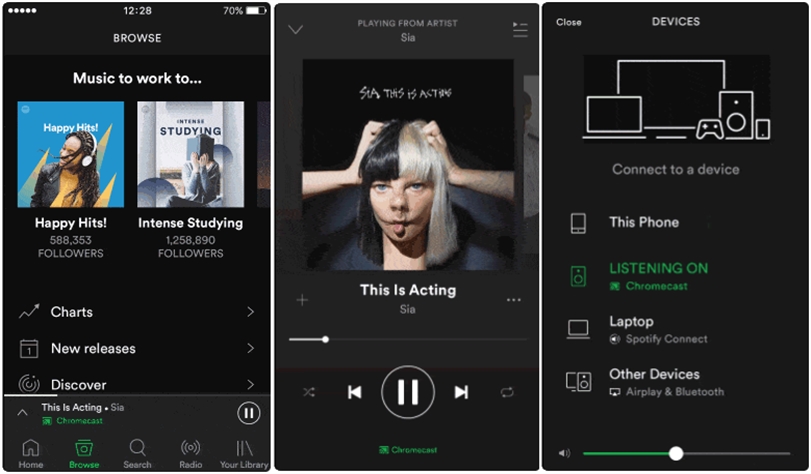 1. Download the Google Home and Spotify app from the store on your mobile phone.
2. Launch the Spotify app and tap the cast icon on the screen.
3. From the nearby Chromecast devices, select your Samsung TV.
4. Then a code will appear on your TV and your mobile phone, match it if they are the same and click on "That's my code".
After completing all the steps, you're able to stream Spotify music on Samsung TV now.
2.3 Play Spotify on Samsung TV via Screen Mirroring/Airplay
There's another useful feature you can utilize on your phone – screen mirroring. On iPhone, this feature changed to Apple Airplay. This feature enables you to cast your phone screen to the TV, you can cast many audio or media contents from your phone, including music, recordings, audio, as well as photos, etc. To utilize this, make sure you have an iPhone or a mobile device with the Screen mirroring feature. Here're the steps:
Use Airplay on iPhone:
1. Launch the Spotify app on your iPhone and select a playlist or a song you want to play.
2. Swipe up or down to find Control Center and tap the group of controls in the upper-right corner.
3. Tap AirPlay and search for the nearby available devices, then select your Samsung TV to play Spotify music on it.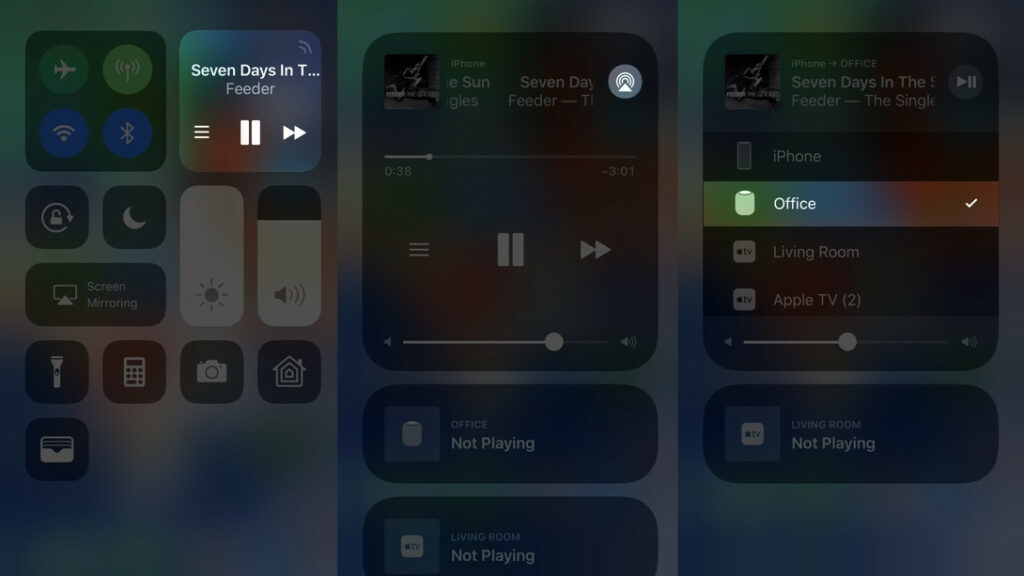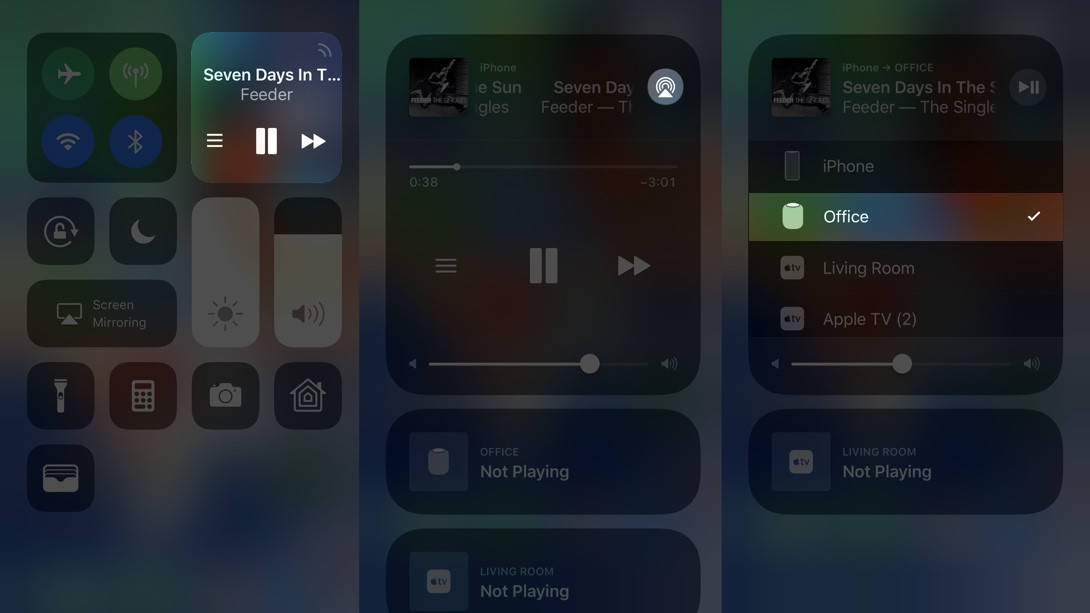 Utilize Screen Mirroring on Other Mobile Devices:
Step 1: First, go to settings on the Spotify app from your mobile device.
Step 2: Scroll down and find the Connection and sharing button.
Step 3: Click on the cast button and enable the cast option.
Step 4: Select your Samsung TV from the available devices.
It will cost a few seconds to finish the process, and then you can enjoy your Spotify music on TV.
---
Bonus: How to Play Spotify on Samsung TV Offline without Subscription
However, even the above methods may be unable to work and you can't listen to Spotify songs offline on Samsung TV. Some people might be confused: why can't I listen to Spotify offline even if I've downloaded them? This is what I'm going to say now – the Spotify music files are encoded with DRM protection format. In order to protect their copyrights, the downloaded songs are not saved locally but just saved as temporary caches. You can only access them when you're in a subscription period online. Without a subscription, it's impossible to stream what you want from Spotify.
Luckily, here we will show you a great alternative tool that can meet your expectation to listen to Spotify music on multiple devices without premium. All you need is to download and install Tunelf Spotibeat Music Converter for help.
Tunelf Spotibeat Music Converter is a professional and trustworthy software for all Spotify users. Tunelf enables you to remove the limit and download DRM-free audio files without hassle. Then you're able to access music easily and make it possible to stream Spotify music whenever and wherever you want. When you complete the mission, all your Spotify songs will be saved in your local drive with lossless audio quality, and the original ID3 tags are preserved as well.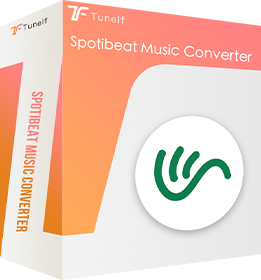 Key Features of Tunelf Spotibeat Music Converter
Download Spotify playlists, songs, and albums with free accounts easily
Convert Spotify music to MP3, WAV, FLAC, and other audio formats
Keep Spotify music tracks with lossless audio quality and ID3 tags
Remove ads and DRM protection from Spotify music at a 5× faster speed
---
Summary
To play Spotify music on Samsung TV, you have so many feasible solutions to apply. They are very efficient and simple. If you'd like to stream Spotify music on Samsung TV without a subscription, Tunelf Spotibeat Music Converter can be the best choice for you. Meanwhile, the downloaded songs are saved locally forever and you can play them on multiple devices including Samsung TV without limitations.
---
---