We used to buy MP3s from website online and store it on an SD card or USB drive for listening on MP3 players, but those days were gone. We now no need to download and transfer, just stream online with a few clicks. Music streaming services like Spotify, Amazon Music, and Deezer allow us to stream millions of songs online with ease. In most cases, online streaming is good enough for us to enjoy what we like. However, sometimes you can't reach the internet occasionally while on a short-term trip or traveling abroad, so the most effective option for you is to download the songs offline. And you may wonder where are Spotify downloads stored on your device since Spotify premium users can download Spotify tracks as offline playback.
You're not alone! Since so many people are eager to know the Spotify downloaded song's location, we made this guide to show you the ways to find out directly. Now read below: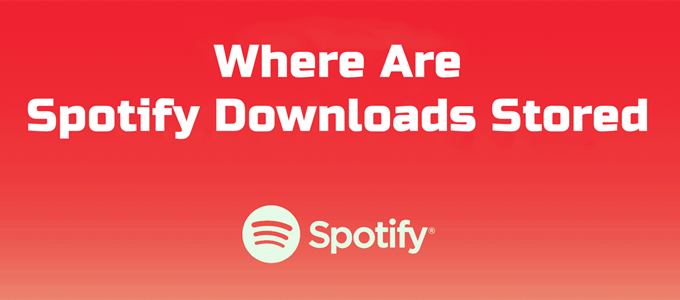 ---
Part 1. Where Do Spotify Downloads Go on Your PC/iPhone/Android/Mac?
In the following paragraphs, I'll tell you exactly where Spotify stored the offline songs across PC/MacOS/iPhone/Android. Please note that Spotify music is in encrypted formats, so you should stay signed up to your Spotify premium account so that you can access these downloaded songs.
Where Does Spotify Download Music to PC
Generally, the downloaded Spotify songs are stored in the C drive on your PC. Now follow the steps below to navigate to your location accordingly.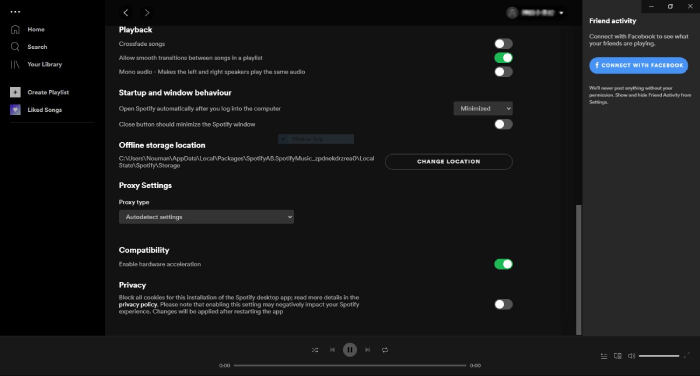 1) Launch the Spotify desktop app on your PC and click on the More button (three dots icon).
2) Select Edit and then click on Preferences > Show advanced settings.
3) Locate Offline songs storage and check the location mentioned under it.
4) Once you have checked the location, open File Explorer.
5) Go to the Users folder and click on your username.
6) Now go to AppData and open the Spotify folder, then click on Storage.
Here you can see all your downloaded songs on Spotify. If your offline songs are not saved in C drive after checking in step 4, then go to the direct location folder you see instead.
Where Does Spotify Download Music to MacOS
It's quite straightforward to locate where your Spotify offline songs are stored on macOS. Here're some tips for you:
1) Open the Spotify app on your Mac and tap on your profile to expand the drop-down menu.
2) Go to Settings and select Offline songs storage.
3) Here you can check the stored location. By default, the location will be set as: /Users/"yourusername"/Library/Caches/com.spotify.Client/storage.
Where Does Spotify Download Music to Android
On Android devices, Spotify will save the songs on the default storage of your device, on either internal memory or the SD card. If you're an Android user, you can access the offline songs by the following steps.
1) Open the Spotify app and go to Settings.
2) Under Settings, navigate to the Other option and tap on it.
3) Next, tap on Storage and check where are Spotify downloads stored.
4) Then go to this location directly to find your offline songs.
Where Does Spotify Download Music to iPhone
Unfortunately, if you're using Spotify on an iPhone or iPad, then I'm sorry to tell you that you can't access your downloaded files on Spotify. Due to the DRM policies, the music files from Spotify are encrypted with OGG Vorbis format, which is strictly prohibited from being seen on your iOS devices.
---
Part 2. Best Way to Download Spotify Songs Locally
Now you've found the location of your Spotify downloads stored, only to find they're useless. Though you can get their storage location on some of your devices, it's impossible to open any of them, let alone move or share with others. Luckily, there is a great method to reach both of your targets. We strongly recommend you use this tool – Tunelf Spotibeat Music Converter to download Spotify music locally.
Tunelf Spotify Music Converter for Windows/Mac is designed to convert Spotify from OGG Vorbis to MP3, WAV, FLAC, AAC, M4A, and M4B. Therefore, you can listen to Spotify songs on different devices or players as you like. You can just download all Spotify songs to your computer and put them on your phone. The converting process is fast, with 5× speed for windows users, you can download the songs within a few seconds and enjoy almost 100% lossless high-quality songs. Here is a tutorial on how to use Tunelf Spotibeat Music Converter.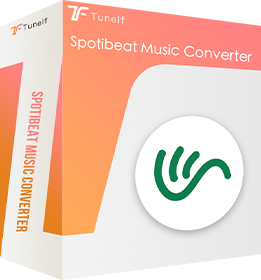 Key Features of Tunelf Spotibeat Music Converter
Download Spotify playlists, songs, and albums with free accounts easily
Convert Spotify music to MP3, WAV, FLAC, and other audio formats
Keep Spotify music tracks with lossless audio quality and ID3 tags
Remove ads and DRM protection from Spotify music at a 5× faster speed
Step 1 Import Spotify Songs to Tunelf Software
Launch Tunelf Spotibeat Music Converter and sign up to get full features of the software. The Spotify app will work with Tunelf software simultaneously. Now you can copy & paste or drag & drop to import music files to the program.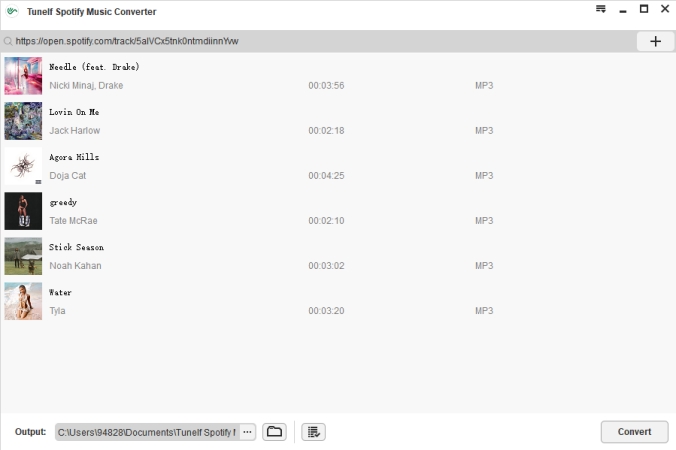 Step 2 Configure the Output Audio Parameters
Next is the important part of the conversion. You're supposed to customize the output audio settings, you can choose to convert Spotify music to MP3 from a list of audio formats. And you're also allowed to adjust some other parameters like sample rate, bit rate, and channel to achieve better performance.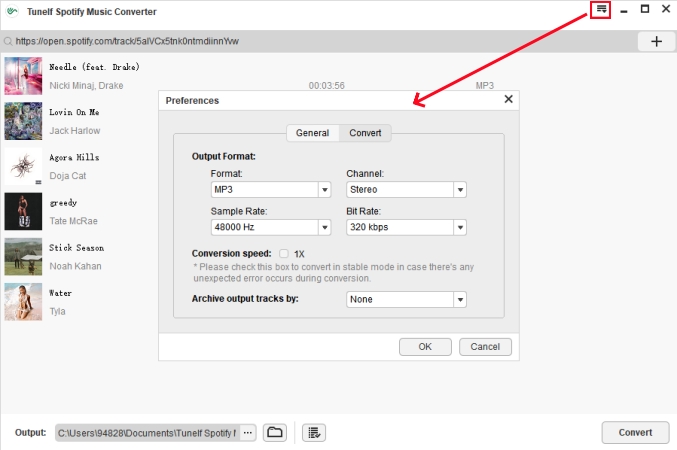 Step 3 Download and Convert Spotify to MP3
Here comes the final part – download and convert Spotify music to MP3 files. Now confirm all of your settings and click the Convert button to start the conversion. Once finished, you're able to check your converted history in the Converted panel and locate where they are.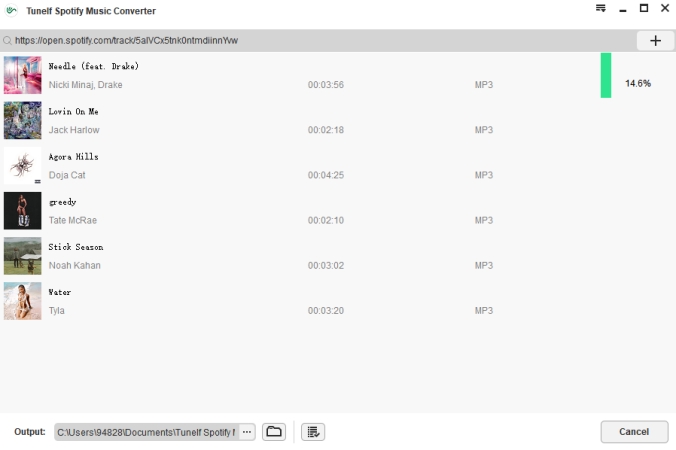 ---
Part 3. How to Delete Spotify Files/Caches on Multiple Devices
Since the downloaded songs and temporary files stored on your Spotify will lag the running efficiency and response speed of the app. And if you'd like to save your storage space, one of the best ways is to delete the unnecessary caches on Spotify. It's completely safe for you to remove these caches and will not influence your use of this app. Come and find out the procedures on multiple devices.
On PC:
1) Open Spotify and click on the More button (three dots) in the top-right corner of your window.
2) Click on Edit and select Preferences > Show advanced settings.
3) Now locate Offline songs storage and check the location under it.
4) The location mentioned is where the cache files are stored.
5) Navigate to the location using File Explorer as mentioned in the method above. Once you are inside the folder, delete all its contents.
On Android/iPhone:
1) Open the Spotify app on your iPhone or Android phone and go to Settings by selecting the gear icon.
2) On iPhone, go to Storage under the Settings window and tap Delete cache to clear it.
3) On an Android phone, select the Delete cache button under the Settings window.
On macOS:
1) On your macOS-based device, open Finder and select the Go tab.
2) Select Computer and open the Users folder.
3) Next, go to the Library folder and search for a folder named Cache inside it.
4) Open Cache and navigate to com.spotify.client.
5) Inside the folder, go to the Storage folder and delete all the stored caches.
---
In Conclusion
If you'd like to figure out the location of where are Spotify downloads stored, take a look at this post. But remember that even if you find a storage folder, it's impossible to open it without a Spotify subscription. Thanks to Tunelf Spotibeat Music Converter, you can make it now without premium. Come and join us with the below link.
---
---