iMovie is a video editing software application developed by Apple Inc. for Mac, iPhone, iPad, and iPod touch. With iMovie, you can enjoy your videos like never before. It's easy to browse your clips and create Hollywood-style trailers and stunning 4k-resolution movies. You can even edit on iPhone or iPad, then finish on your Mac. When you finish cutting and trimming your videos in iMovie, you will probably want to add music to the video as background music.
Luckily, adding music or sounds in iMovie is as simple as editing videos. You can add any audio content in iMovie if they can be recognized by iMovie. Spotify, as an excellent streaming music service, gives you access to millions of music resources for free by logging into the app. However, there is no official method to tell you how to put music from Spotify into iMovie, and this article will let you know how to add Spotify music to iMovie. Let's get started.
---
Part 1. iMovie & Spotify: Supported Audio Formats
When you use music from Spotify in iMovie, the music from Spotify is not viewable iMovie. This means that the format of Spotify music is not supported and you can't use it for your video. However, in this case, this is because all music from Spotify is streaming content instead of physical files. You need to extract music from Spotify to one of the iMovie-supported formats.
In fact, iMovie only supports a very small number of media formats. When you import media or open a library in iMovie 10.1.11 or later on a Mac with macOS Mojave, you should make sure that those media files are compatible with iMovie. Or you cannot use them in iMovie. So, to covert incompatible media files immediately, then you can add them to iMovie. Before the conversion, you should figure out what media files are compatible with iMovie.
| | |
| --- | --- |
| Video formats | MP4, MOV, MPEG-2, AVCHD, DV, HDV, MPEG-4, H.264 |
| Audio formats | MP3, WAV, M4A, AIFF, AAC |
---
Part 2. Best Method to Use Spotify with iMovie
If you want to add audio in iMovie, you must choose between MP3, WAV, M4A, AIFF, and AAC. With the help of Tunelf Spotify Music Converter, you can download Spotify music to MP3 and add Spotify music to iMovie without limitation. Tunelf Spotibeat Music Converter is a professional music downloader and converter for Spotify users which can download Spotify music to popular audio formats like MP3 and remove DRM protection from Spotify music.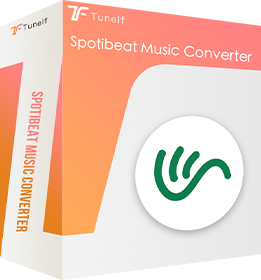 Key Features of Tunelf Spotibeat Music Converter
Download Spotify playlists, songs, and albums with free accounts easily
Convert Spotify music to MP3, WAV, FLAC, and other audio formats
Keep Spotify music tracks with lossless audio quality and ID3 tags
Remove ads and DRM protection from Spotify music at a 5× faster speed
2.1 Tutorial: How to Download Spotify Music for iMovie
As mentioned above, to use Spotify songs on iMovie, you need to convert your songs to those formats compatible with iMovie. Now read on how to download Spotify songs to MP3 in three steps with the help of Tunelf Spotibeat Music Converter.
Step 1 Add Spotify music to the converter
Launch Tunelf Spotibeat Music Converter on your computer and it will automatically load the Spotify program. Then you need to log into your Spotify account and navigate to your library on Spotify. In order to add Spotify music to video, you need to choose some music tracks you want for your videos and then drag and drop them into the interface of the software for downloading.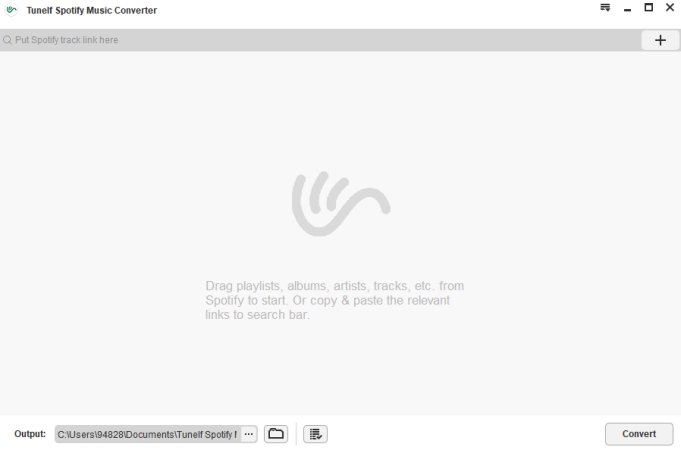 Step 2 Configure the output audio parameters
Then, just go to Menu > Preferences > Convert and you could adjust the output audio settings. As only very few audio formats like MP3 can be compatible with iMovie, you need to choose MP3, WAV, M4A, or AAC as the output format for those Spotify songs. For getting better audio quality, you can change other audio parameters, including bit rate, audio channel, and sample rate.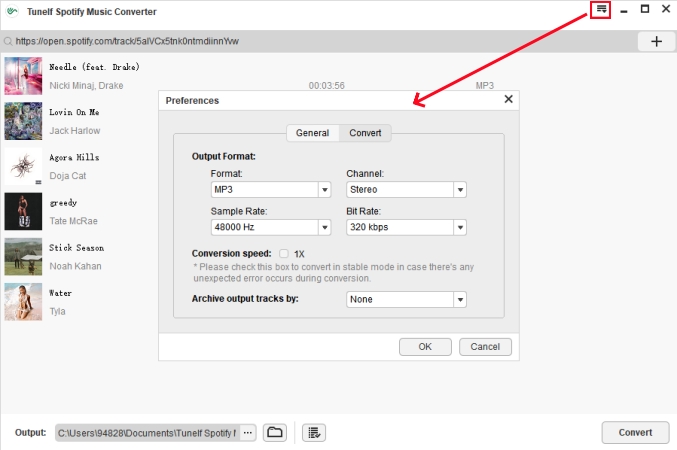 Step 3 Begin to download Spotify songs to MP3
Once all the settings are completed, you could click the Convert button to begin to download music from Spotify to MP3. Wait for a while and Tunelf software will save Spotify music tracks to your computer. After the downloading and conversion, you can go to browse all the converted Spotify songs in the converted list by clicking the Converted icon and achieve Spotify music to iMovie.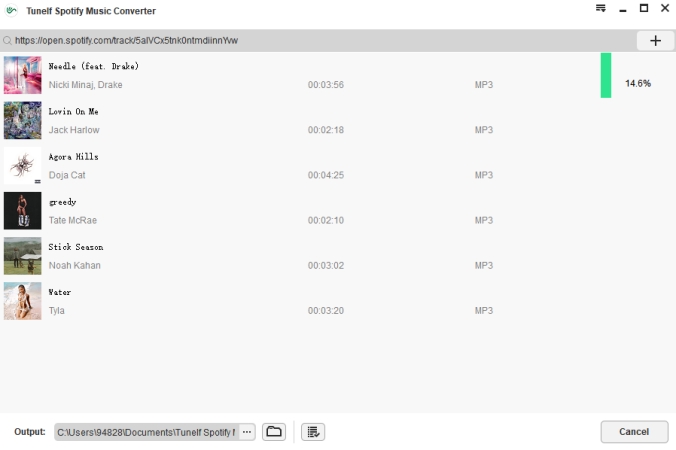 2.2 Video Demo: Use Tunelf Software to Save Spotify Music
This video will show how to download and convert Spotify playlists for iMovie using Tunelf Spotibeat Music Converter. Then you can use Spotify music on iMovie for getting more personalized videos.
Once the downloading and conversion of Spotify music is completed, you're prepared to add Spotify music to iMovie for use. You could choose to add Spotify music to your iMovie project on your iOS devices. Or you could edit Spotify songs in your iMovie project on Mac for creating a fun finished video.
---
Part 3. How to Add Spotify Music to iMovie on iPhone & iPad
Before adding Spotify music to iMovie, you need to move the converted Spotify music to your iPhone, iPad, or iPod touch using iTunes or iCloud first. Then you can add a variety of Spotify music files to your iMovie project:
Step 1. Open iMovie on your iPhone or iPad, then tap on Create Project and select Movie in the pop-up window. Or you can tap on three-dot at the bottom of the screen to import your project.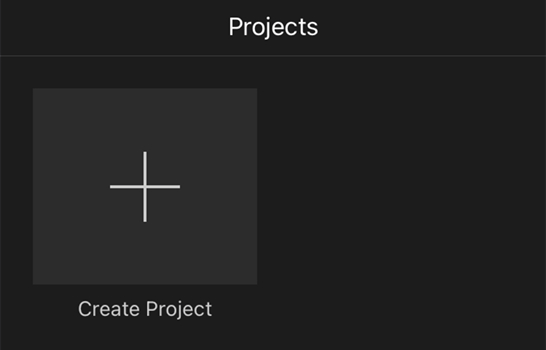 Step 2. After selecting your photos and video clips, then tap on Create Movie to enter into the editing page.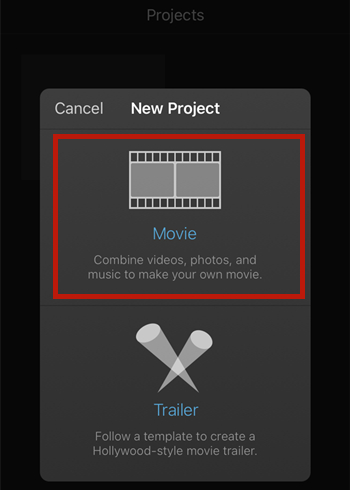 Step 3. With your project open in the timeline, tap on Add Media + on your screen.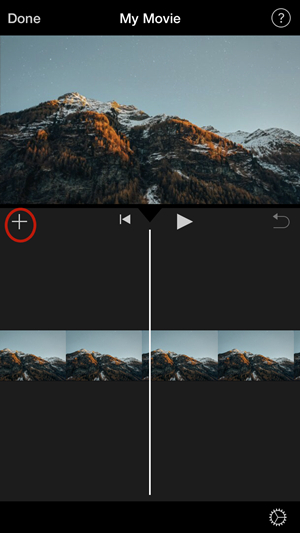 Step 4. Tap on Audio, then tap on My Music to browse Spotify songs you've transferred to your device.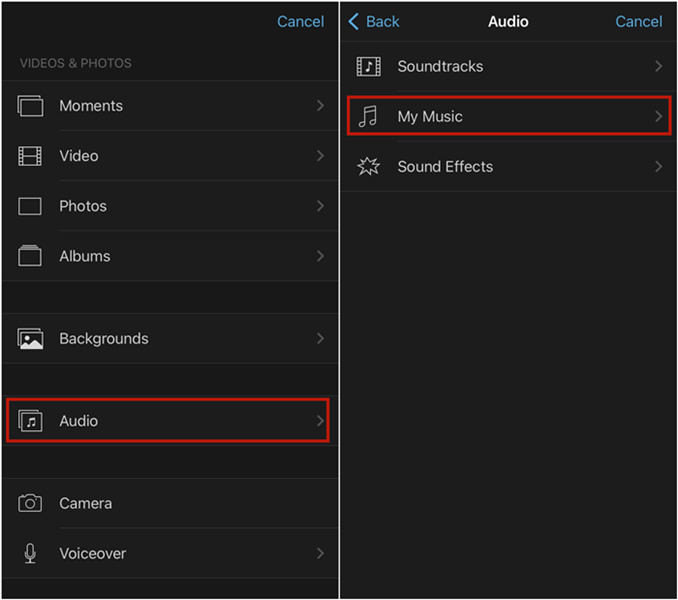 Step 5. Select a Spotify song you'd like to add to your project in iMovie and tap the selected Spotify songs to preview it.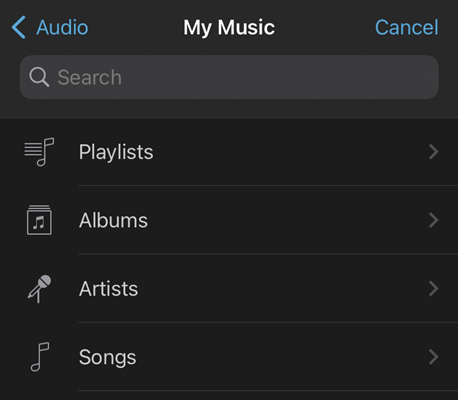 Step 6. To add Spotify music to your project, tap on Plus next to a song, and then your Spotify song is added at the bottom of the project timeline, starting at the beginning of your project.
Or you could choose to add Spotify music to your project from iCloud Drive. Also, tap the Add Media + button, then tap Files at the bottom of the media browser. Now start browsing Spotify songs you've uploaded into iCloud.
---
Part 4. How to Add Music from Spotify to iMovie on Mac
In iMovie for Mac, you can drag Spotify audio files right into your timeline from the Finder. You can also use Spotify songs from your music library and other locations using the media browser within iMovie.
Step 1. Launch iMovie on your Mac and then click Create New in the Project browser.
Step 2. Click Movie to create a new project and add video clips and photos from your Photos app library or other resources.
Step 3. After opening your project, click Audio at the top of the window.
Step 4. To access your music library, click Music in the Libraries list, then browse Spotify songs.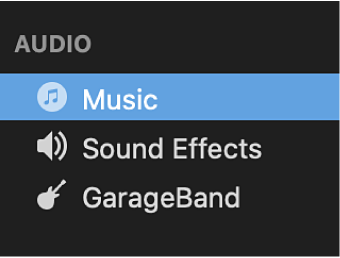 Step 5. To preview a Spotify song before you add it to the timeline, click the Play button next to each song.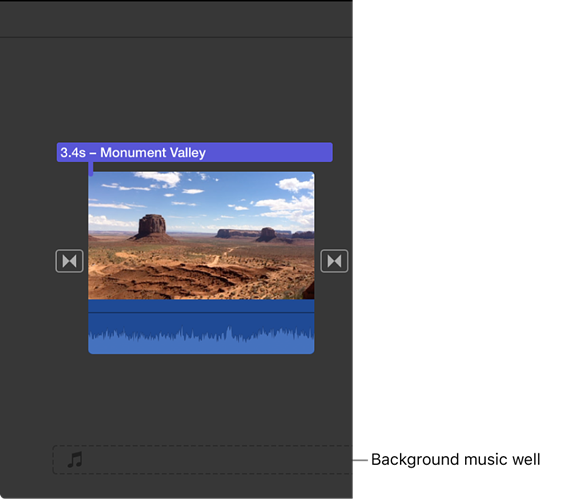 Step 6. When you've found a Spotify song you like, drag it from the media browser to the timeline. Then your selected Spotify song will be added to your project in iMovie.
After you complete the transfer of Spotify songs to iMovie, you could edit Spotify songs on iMovie and trim them into different clips for your videos in iMovie. Then you could move those independent Spotify clips to the different positions in the timeline. You can also use multiple Spotify songs in a project.
---
Bonus: FAQs About Add Spotify Music to iMovie
Q1. Is Spotify Free with iMovie?
iMovie is a free video-editing program for Apple users on iPhone, iPad as well as Mac devices. It allows you to create beautiful videos with splendid video effects as well as easy-to-use video editing functions. However, as a subscription-based music streaming service, Spotify does not free with iMovie, which means you'll need a subscription to get the songs played from Spotify; meanwhile, Spotify is not compatible with iMovie yet. So, you need a helper like Tunelf Spotify Music Converter to get this done.
Q2. How to Use Spotify in iMovie?
That's easy! As we said from the beginning, Spotify is not available on iMovie, but iMovie allow it users to upload local content t the video editing page, which we can utilize the feature to make Spotify music as your background music in iMovie. The only grip is that Spotify music files are protected by DRM, which prohibits the normal use of these music tracks. As every piece of music is encoded with special formats, it almost is impossible to use Spotify music in iMovie.Luckily, we offer you the best alternative solution to fix. Just follow the instructions above!
Q3. Is There Any Free Music Available Within iMovie?
iMovie owns a built-in soundtrack library that contains free music and sound effects, they are available for you to use in your iMovie projects. For more royalty-free music, you can resort to multiple free music sites for downloading, such as Epidemic Sound; Artlist; SoundCloud, etc.
Q4. What If Spotify iMovie Not Working?
Sometimes, you may find out that Spotify iMovie is not working on your devices. If you cannot use your converted Spotify music in iMovie, here are some troubleshooting steps you can apply.
Force close iMovie and restart it on your mobile or Mac devices. If it is the software malfunctions, this step might help.
Check your downloaded Spotify files, is it the correct audio format that iMovie support? Have you downloaded it to your local folder? This can better help you locate your audio files and better use them as well.
Don't forget to update the software to avoid possible small mistakes or glitches in the process.
---
Bottomline
iMovie enables you to make your unique movies at no additional cost. But if you want to add Spotify music to iMovie as background music on your Mac, iPhone, iPad, or iPod, you should make Spotify songs playable in iMovie. The only method is to convert Spotify music to MP3 or other iMovie-supported formats by using Tunelf Spotibeat Music Converter.
---
---