As the king in streaming music, Spotify attracts more and more people from around the world to enjoy a perfect music playback. With a catalog of over 80 million songs, you can find various music resources on Spotify with ease. Meanwhile, adding to that Spotify Connect services, you are able to stream the service to a growing number of audio products. However, there still exists a limitation that you cannot listen to on any device you want.
Therefore, the best method is to record music from Spotify and save them to your computer so as to play Spotify on more devices like MP3 players freely. When recording music from Spotify, you'll need to first decide the app you use. In this guide, we have found two methods to make the process safer and easier, that is, to record Spotify with Audacity and to download Spotify with Spotify Music Converter.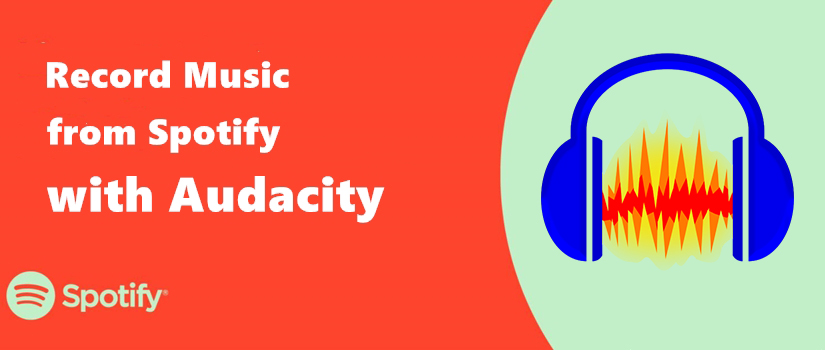 ---
Part 1. How to Record Spotify Music with Audacity Windows
Audacity is a free open-source and cross-platform audio software allowing you to record and edit audios on Windows, Mac, and Linux computers. You can use it to record any audio playing on your computer, including audios from various streaming music platforms like Spotify. And all the recordings can be saved in the format of MP3, WAV, AIFF, AU, FLAC, and Ogg Vorbis. Here's how to record Spotify with Audacity.
Step 1 Set up devices to capture computer playback
Before recording music tracks from Spotify, you need to set up Audacity on your computer first, being dependent on your computer operating system and audio interface. You should select a suitable audio interface input for recording Spotify music on your computer, and here we'd choose to record computer playback on Windows.
Step 2 Turn software playthrough off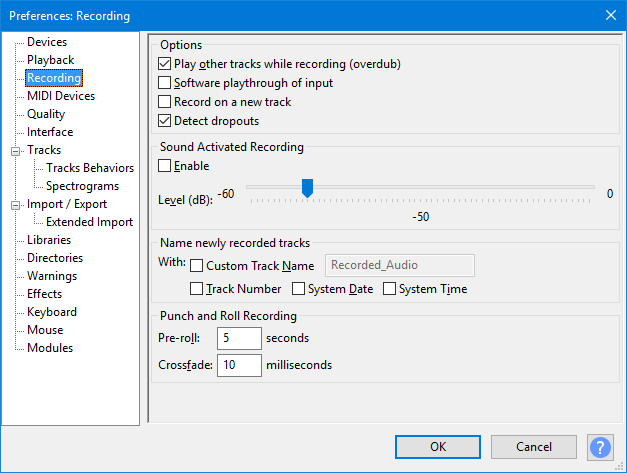 Software Playthrough must be turned off when recording computer playback. If playthrough is on, Audacity will try to play what it is recording then re-record it. To turn software playthrough off, click Transport > Transport Options > Software Playthrough (on/off). Or you could turn it off by setting the recording section of Audacity Preferences.
Step 3 Monitor and set initial sound levels
For better recording, try to set sound levels by playing similar material from your Spotify and monitoring it in Audacity, so that the recording level will be neither too soft nor so loud as to risk clipping. To turn monitoring on and off in the Recording Meter Toolbar, left-click in the right-hand recording meter to turn Monitoring on then click again to turn it off.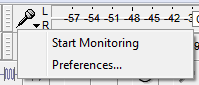 Except for that, you also need to adjust levels so that the sound of the recordings could be normal.

Both the output level of the audio you are recording and the level it's being recorded at will determine the achieved input level of the recording. To achieve better recording level, you should adjust both the recording and playback level sliders on Mixer Toolbar.

Step 4 Make the recording from Spotify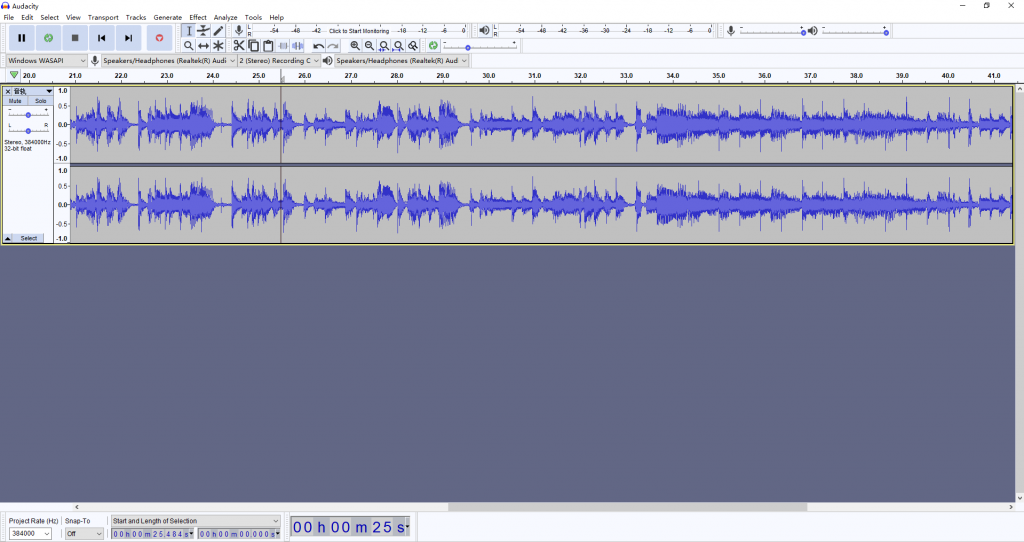 Click the Record button in the Transport Toolbar them start playing music from Spotify on the computer. Continue recording for as long as you want, but keep an eye on the "disk space remaining" message and on the Recording Meter. When the whole track finishes, click the Stop button to end the process of recording.
Step 5 Preserve and edit the capture
Then you could choose to save the recorded Spotify songs to your computer in your required format directly. Or you can customize the recorded Spotify songs once you find there are some problems in some clips of the recordings. Just click Effect > Clip Fix on Audacity to repair the clipping.
---
Part 2. How to Record Spotify Music with Audacity Mac
If you want to record Spotify with Audacity on a Mac computer, there is no built-in feature on a Mac device to record streaming audio from a sound device. Therefore, you'll need the help of other tools to record the audio playback into Audacity. Or, you can do so by using a loopback cable from the audio out to the separate audio input available on some Macs. Here shares the second method in detail:
Note
This is a simple and effective method of recording what is playing on the computer. It has the disadvantage that the audio signal is converted from digital to analog, then from analog to digital, instead of staying in the digital domain. This may result in some slight increase in noise and distortion.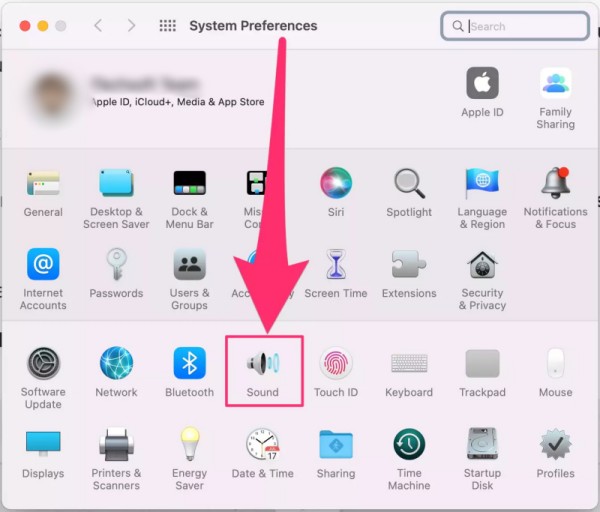 Step 1. Connect the headphone output port to the line input port, using a cable with a stereo mini-plug (1/8″).
Step 2. Click Apple Menu > System Preferences and then go to the Sound Preferences panel.
Step 3. Click on the Output tab, then select "Line Out" from the "Choose a device for sound output" list. Or click on the Input tab, then select "Line Input" from the "Choose a device for sound input" list.
Step 4. Leaving the Sound Preferences panel open, start playing sound or music from Spotify on your Mac computer.
Step 5. Adjust the Input volume slider to make sure the top 3 bars of the input level meter do not light up on the loudest passages, but the rest of the bars light up. Then close the System Preferences panel.
Step 6. In Audacity's Device Toolbar select Built-in Input or similar as Recording Device. Here you must choose a line-in for this, not just a four-position port meant for connecting a headset.
Step 7. Now click on the Transport menu and make sure not to tick the Software Playthrough option.
---
Part 3. Alternative Way to Record Spotify Music with Tunelf
Except for recording Spotify with Audacity, there is a better way: record Spotify music. In the case of Spotify users, better yet, to record music from Spotify is to use a professional downloading tool for Spotify like Tunelf Spotify Music Converter. With the help of Spotify recorders, the recording of Spotify songs will be easier and faster.
Tunelf Spotibeat Music Converter is a professional-grade and uber-popular music converter that long provides convenience for Spotify users. Capable of tackling the downloading and conversion of Spotify music, it can enable you to save your favorite tracks or playlists from Spotify to your computer regardless of which plan of Spotify you subscribe to.
Here we highlight a number of parameters on the Tunelf Spotify Music Converter you can customize according to your demand.
1. Six popular audio formats available: MP3, FLAC, WAV, AAC, M4A, and M4B
2. Six options of sample rate: from 8000 Hz to 48000 Hz
3. Fourteen options of bit rate: from 8kbps to 320kbps
4. Two options for the channel: 1 and 2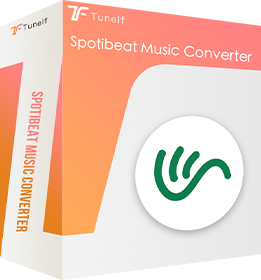 Key Features of Tunelf Spotibeat Music Converter
Download Spotify playlists, songs, and albums with free accounts easily
Convert Spotify music to MP3, WAV, FLAC, and other audio formats
Keep Spotify music tracks with lossless audio quality and ID3 tags
Remove ads and DRM protection from Spotify music at a 5× faster speed
Step 1 Copy your chosen Spotify playlist's URL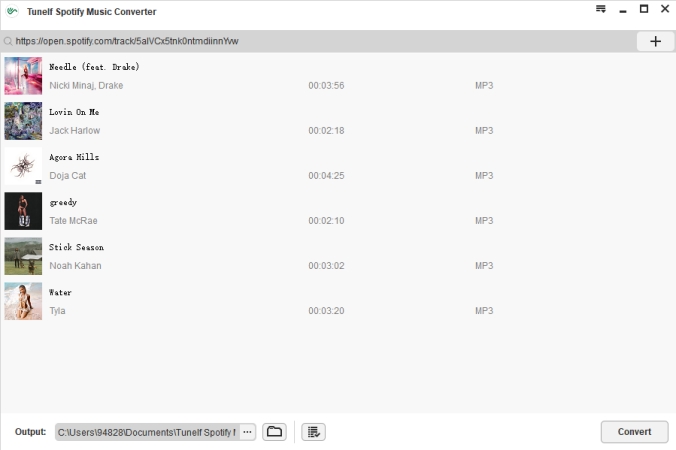 After installing Tunelf Spotibeat Music Converter to your computer, launch it on your computer then it will instantly load the Spotify app. Navigate to Spotify songs that you want to rip. Then copy the URL of the track or playlist from Spotify and paste it to the search bar on Tunelf application then click the "+" icon to add music. You can also drag and drop songs from Spotify to the interface of Tunelf application.
Step 2 Set the output parameter for Spotify songs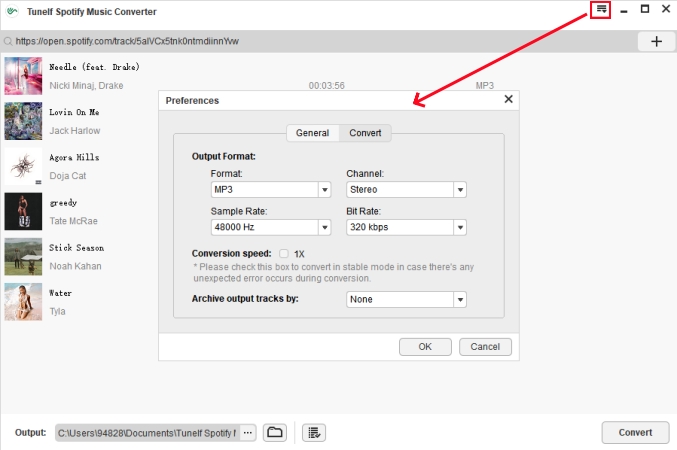 Once you have added Spotify songs you want to download to Tunelf Spotify Music Converter, all you have to do is to set the output parameters. Click the menu bar and choose the Preferences option then Convert. Here you could adjust the output format, bit rate, sample rate, and channel. To achieve a stable conversion, you can check the Conversion Speed box and it would take more time for the Tunelf app to process the downloading.
Step 3 Start to download music from Spotify to MP3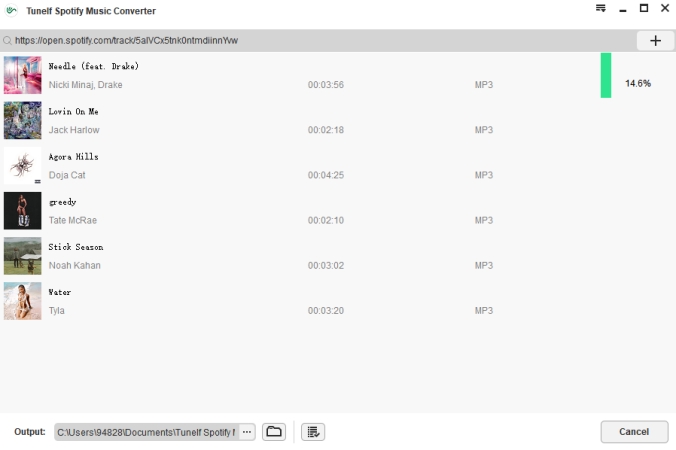 After all the settings have complied with your requirement, the app will start to download and convert music from Spotify to the default folder or your specific folder by clicking the Convert button. Tunelf app finishes the downloading of Spotify tracks and you can go to browse the converted Spotify songs. To locate the converted Spotify music files, just click the Converted icon and the converted list will appear.
---
Part 4. What's the Difference between Audacity and Tunelf
Although both Audacity and Tunelf applications can record music from Spotify, there also exists a huge difference between them. Audacity is an audio recorder for recording computer playback while Tunelf Spotibeat Music Converter is a professional Spotify music downloading and converting tool. And more, see the complete list of differences between them.
| | | | | | | | | |
| --- | --- | --- | --- | --- | --- | --- | --- | --- |
| | Operating system | Output format | Channel | Sample rate | Bit rate | Conversion speed | Output quality | Archive output tracks |
| Audacity | Windows & Mac & Linux | MP3, WAV, AIFF, AU, FLAC, and Ogg Vorbis | × | × | × | 1× | Low quality | None |
| Tunelf Spotibeat Music Converter | Windows & Mac | MP3, FLAC, WAV, AAC, M4A, and M4B | √ | from 8000 Hz to 48000 Hz | from 8kbps to 320kbps | 5× or 1× | 100% lossless quality | by artist, by artist/album, by none |
---
Conclusion
Audacity lets you record music from Spotify for free on your computer. However, if you'd rather download a dedicated app for your Spotify audio-ripping needs, Tunelf Spotibeat Music Converter could be a good option for you. With this service, you can convert Spotify music from an encrypted format to several popular formats. And it offers the ability to download any Spotify content to your computer no matter you are a Spotify Free user or not.
---
---