There is always a problem that troubles us and doesn't seem to disappear. Why my Spotify is not working on Roku TV? Until now, still many people are complaining about this issue, so we've collected the available solutions here for you. If you're seeking the answer to Spotify not working on Roku TV issue, then you must read this post.
---
Why Is Spotify Not Working on Roku TV?
In general, the elements that can result in the not working issue are various. A slow or unstable network, some glitches, and storage shortages can lead to the problem. Also, it will not work if the TV is malfunctioning or some software bugs and system errors appear. Sometimes, you just forgot to update your device version, as Spotify works with all types of Roku Streaming devices which are models 3600 or above. If you are not, perhaps it is the reason why your Spotify is not working on Roku TV. Fortunately, we have found solutions to these possible problems. Next, I will describe the concrete procedure of each solution in detail, please keep reading this article.
---
9 Fixes to Spotify Not Working on Roku
Here are some related solutions to the possible problems, check them, and select the correct one for your problem.
Solution 1. Check the Wi-Fi Connection
Internet connection is the most common and frequent issue you may ignore. Please check your network connection and change it if it is unstable or slow.
Solution 2. Restart the Spotify App
Restarting Spotify can help remove the small glitches and make it work smoothly again. Just press the back button on the Roku Remote control and close it. Then wait for a while to start again.
Solution 3. Restart the Roku Device
If your Spotify won't open on Roku, you may need to restart your Roku TV. You can do this setup on your Roku TV with remote control. Just go to Home > Settings > System, you can see a Power Submenu, click the Power, and finally select System Restart to turn the TV off and on at once. After the setup, you can wait a while and see if it works.
Solution 4. Update the Spotify App
You can check your updates by pressing the Home button on your Roku remote, then going to the Spotify app. Now press the Asterisk symbol on the remote control. In the pop-up window, select Check for Updates. If the version is available, it will update to the latest version automatically.
Solution 5. Update Your Roku Device
To update our Roku device, you can turn to choose Home > Settings > System > System Update to set up. Select Update Now to install the new update version.
Solution 6. Remove Spotify and Add It Again
You can open Spotify and log in to your Spotify account again. With this method, the Spotify not working on Roku issue can be solved.
1. Press the Home button on your Roku remote and choose the Spotify app.
2. Press the Asterisk symbol button on the remote and choose Select Channel then remove Spotify from Roku.
3. Press Home again to return to the main screen and choose Streaming Channels > Search Channels.
4. Search Spotify in the Search Channels and select Add Channel to add Spotify to your Roku device.
Solution 7. Clear the Cache on Roku
To clear cache is to clear the unnecessary data in your storage so that they won't lag your Roku device.
1. Press Home on your Roku remote control and select Home under the menu page.
2. Press Home on your Roku remote and then press the UP NAVIGATION ARROW button.
3. Press the REWIND button and the FAST FORWARD button twice respectively.
Now you need to wait for a while for your Roku device to restart.
Solution 8. Reboot the TV
This method may work if you're using a Roku Streaming Stick or Roku Media Player. It can help you to solve electronic glitches. Please do as follows:
1. Unplug the power cord when the TV is ON.
2. Wait for a few seconds to plug the power again.
3. Power the TV ON.
Solution 9. Factory Reset the TV
If the above solutions still do not work for you, then you may try to factory set your phone.  Please note that this will delete your data and change customized settings to the original default. Only do it when necessary. The procedure differs from models, but the general procedure can be explained. You can go to Settings > General > Reset, then enter your PIN and tap Reset again. After resetting, don't forget to set up your Roku TV again.
---
How to Play Spotify on Roku TV without Using Spotify
Still, the Spotify won't open on Roku exists and cannot be resolved within a short period. And the above steps are just too annoying to operate. Well, there is another alternative way to solve the problem. No matter whether Spotify works on Roku TV or not, you can play Spotify on Roku at any time forever. You need to download Tunelf Spotibeat Music Converter first. Tunelf Spotibeat Music Converter is a professional Spotify music converter. You can use it to convert Spotify music to other compatible audio formats like MP3 and keep them as local files. After conversion, you can stream Spotify on Roku and any other devices forever as you like. Now download Tunelf software and follow the instructions below to start your conversion.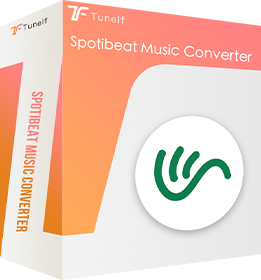 Key Features of Tunelf Spotibeat Music Converter
Download Spotify playlists, songs, and albums with free accounts easily
Convert Spotify music to MP3, WAV, FLAC, and other audio formats
Keep Spotify music tracks with lossless audio quality and ID3 tags
Remove ads and DRM protection from Spotify music at a 5× faster speed
Step 1 Add Spotify music to Tunelf
You need to purchase and get the registration code if you want more features. Please make sure you have installed both Tunelf and Spotify on your device. When you launch the Tunelf, the Spotify app will work simultaneously. To load the music tracks, you need to copy the link and paste it into the search bar. Just browse in your music library and select a song, playlist or album, etc. And click Share > Copy Link. The other simple way is to drag and drop to add music files.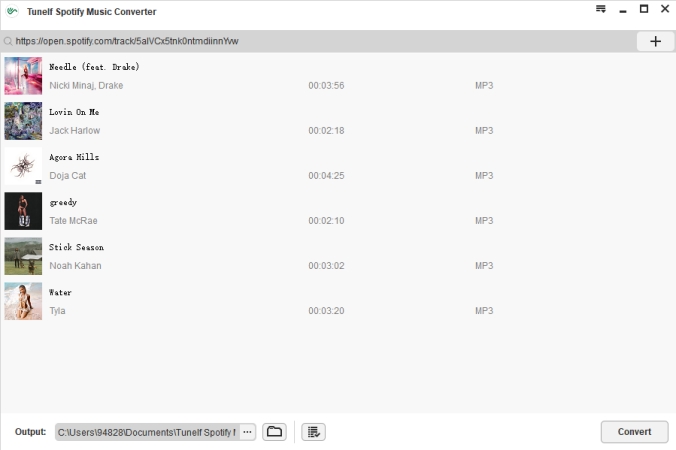 Step 2 Select the output formats and customize parameters
On the top right of the interface, you'll see a three-line menu icon. Click it and a window will pop up, then you can click Preferences > Convert to change the format, channel, sample rate, bit rate, and archive. The conversion speed is set to 5× as the default. You can also change it to 1× for more stable conversion, just click Preferences > Convert to set up.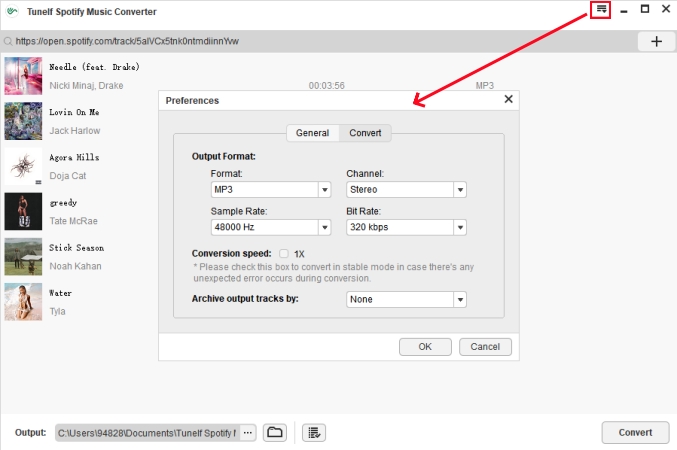 Step 3 Convert Spotify music for Roku
Check the convert list and click the Convert button to start conversion. Just wait for a while, then you can locate the converted files in your local drive by clicking the Converted icon.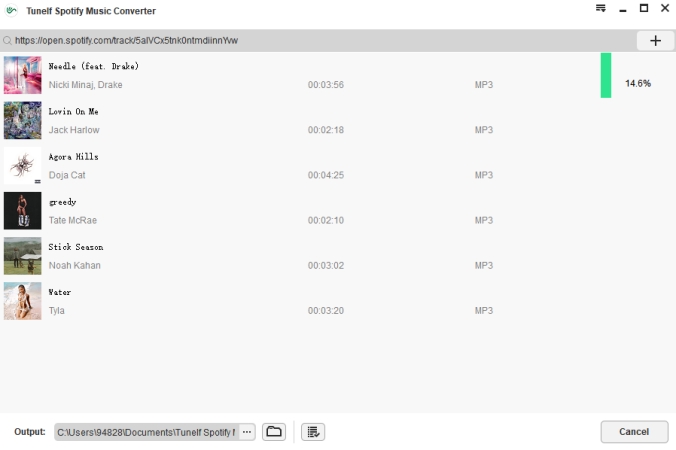 Step 4 Stream Spotify playlist on Roku
Now all you need is a USB drive. You can remove all of your converted music files to the USB drive and plug the USB drive into the port on your Roku TV. And you should search for the Roku Media Player on your Roku device too. If you can't find it, install it from the Roku Channel Store. Then follow the steps below to play Spotify on Roku TV.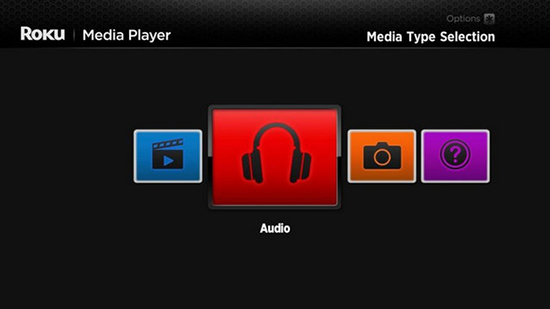 1. Launch Roku Media Player.
2. Select Audio to access the converted Spotify music from your USB drive.
3. Select your USB drive and choose the music files you want to play.
4. Click and play Spotify music.
Now you can enjoy Spotify music on Roku offline forever.
---
Conclusion
In the above discussion, we've specified all the possible issues that might result in Spotify not working on Roku TV and listed the available solutions respectively. You can check and adopt the correct way to solve the problem. Also, we introduced Tunelf Spotibeat Music Converter to you as an alternative way. With Tunelf Spotibeat Music Converter, you can easily download Spotify music and convert them to popular compatible audio formats. And you can save them as local files and keep them playable on any other devices offline forever even when your Spotify is not working on Roku. So, Tunelf software can be a better option for you. Why not download and have a try? Hope this post is valuable for you.
---
---