Exception #94. When I try to delete a song from PLAYLIST it won't let me. The screen shows 'Exception 94'. What is it and how can I fix it??"
— From Amazon Music Forum.
Amazon Music is a great way to unwind after a work day for its curated feature. With this feature, you can find a lot of new songs on the home page of Amazon Music, which may coincide with your style. Adding them to your playlist and looping them can't be better. However, when you add your desired song to a playlist, have you encountered the "Exception 94" error? The Amazon Music exception 94 is a common error like error 180 and error 200. It appears when you try to update or delete a playlist or make other changes to your account. If Amazon Music exception 94 happens to you, how to solve it? This post is going to give you a full guide.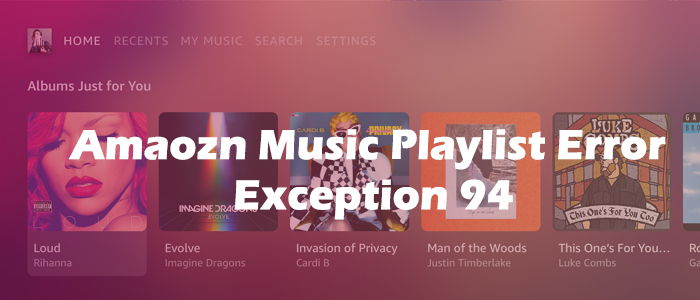 ---
Part 1. Common Ways to Fix Amazon Music Playlist Error 94
Sometimes, errors occur due to technical bugs after updating. But there are still ways to overcome. When facing this error currently, don't panic, read on this part to find solutions that can help you get rid of it.
Solution 1. Enable a Stable Network
Most operations including editing the playlist need an internet connection. Otherwise, the process won't work. If your Amazon Music-enabled device connects to an intermittent and slow network, you absolutely can't do any changes to the playlist and even can't access the song on the player. Hence, a stable wireless connection is essential to solve this exception 94 on Amazon Music. Try to open a website or switch to other online apps to check if they can work properly under the current network.
Solution 2. Delete the Playlist
Several Amazon Music users post that they deleted and added the playlist again, and then the Amazon Music playlist error exception 94 was fixed. So try deleting the playlist and adding it back to see whether it resolves the issue or not. By using this way, you will lose all your songs in the playlist. Meanwhile, it is time-consuming to locate and re-add a host of songs.
1. Highlight Library on Amazon Music.
2. Go to the Playlist section and find the playlist that Amazon Music exception 94 occurs.
3. Move your cursor or your finger over the three dots icon.
4. Select Delete Playlist.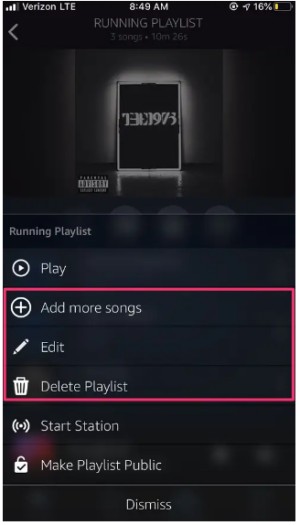 Solution 3. Exit and Reopen the App
When the Amazon Music Playlist Error Exception 94 occurs, force to quit the app may be helpful because most errors are caused by the bugs in your app. These temporary issues with your Amazon Music can cause such problems. Force to stop the app and restart it to see if the issue still exists.
On Android:
1. Go to Settings and then Apps and App Management.
2. Tap Amazon Music and hit on the Force stop option.
3. After that, tap the Amazon Music app icon to reopen it.
On iOS:
1. Swipe up from the bottom of the screen.
2. Swipe up to throw the Amazon Music app off.
3. Tap Amazon Music to relaunch it.
Solution 4. Update the Amazon Music App
The update is crucial for any app, and Amazon Music is no exception. In every update, developers try their best to fix bugs in Amazon Music and solve problems that users fed back to them. So if you're using the outdated version, the Amazon Music error 94 won't be solved in time.
1. Open the app store where you downloaded Amazon Music before.
2. Search for Amazon Music and go to the Details page to check if there's an update available.
3. Tap Update to get the latest version of Amazon Music.
Solution 5. Clear Caches of Amazon Music
Cache files will be produced with every use. When the cache accumulates to some extent, it will make conflict with the app and develop corruption, which can cause many issues including the Amazon Music exception 94. Therefore, it is necessary to clear the Amazon Music cache.
On Android:
1. Go to Settings on your Android device.
2. Select Apps > Amazon Music.
3. Tap Storage > Clear Cache > Clear Data.
On iOS:
There is no option to clear the cache on the Amazon Music app, but you can try to uninstall the app to clear all the app cache and data directly.
Solution 6. Remove and Reinstall the App
At times, stopping the app can not fix the bug in Amazon Music. Hence, you're expected to uninstall the app to thoroughly get rid of the bug. Here're detailed tutorials about the process of uninstalling and reinstalling on different devices.
On Android, long-press the Amazon Music icon on your home screen, and then select Uninstall to delete it from your Android device. After removing it, go to Google Play Store and enter Amazon Music on the search bar to install it again.
On iOS, tap and hold the Amazon Music app and select the Remove the App option. Now, you can navigate to App Store to reinstall Amazon Music.
On Windows, select Start > Settings > Apps. Locate Amazon Music and click More to hit on the Uninstall option. And then open a browser to visit the Amazon Music download page to get the app.
On Mac, head to Finder > Applications. Find the Amazon Music icon to right-click it and select Move to Trash. After that, go to the Amazon Music download page and the Amazon Music app will download automatically.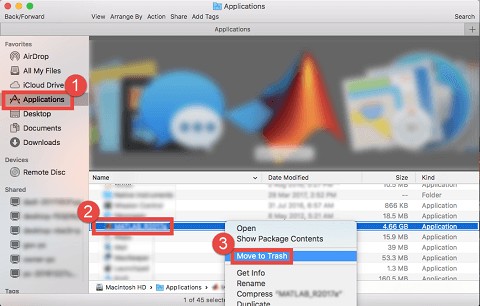 ---
Part 2. Best Way to Fix Amazon Music Playlist Error 94
If none of the above methods work, here is another solution that is feasible to solve different types of Amazon Music playback errors. We know that most errors result from buggy Amazon Music or other issues with the app. This time, playing Amazon Music without the app is the key to avoiding errors and getting a smooth musical experience. Since Amazon Music applies the DRM technology to protect all tracks, you are not allowed to listen to Amazon Music without the app even if you downloaded Amazon Music tracks.
Don't be frustrated, to remove limitations on Amazon Music, one tool you'll need – Tunelf Amatune Music Converter. It is specially designed for Amazon Music users to download and convert songs from Amazon Music to MP3, AAC, WAV, FLAC, M4A, and M4B. Therefore, this function offers great flexibility for playing Amazon Music on various platforms and devices. With its advanced technology, it works automatically simultaneously retaining the lossless sound quality. Now just follow the simple tutorial below.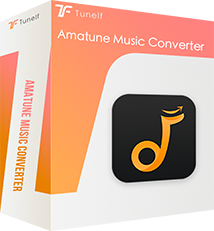 Key Features of Tunelf Amatune Music Converter
Download songs from Amazon Music Prime, Music Unlimited, and HD Music
Convert Amazon Music songs to MP3, AAC, FLAC, WAV, M4A, and M4B
Handle the audio conversion of Amazon Music at a faster speed of 5×
Ensure the output audio quality while retaining ID3 tags and metadata
Step 1 Add songs from Amazon Music to Tunelf
Run the Tunelf program on your computer after installation, which will immediately launch the Amazon Music app. Copy the link of a song, playlist, album, or artist on Amazon Music and paste it to Tunelf. To upload all your wanted songs, hit on the + button on the right side of the search bar. Of course, you can just drag the song from Amazon and drop it to Tunelf.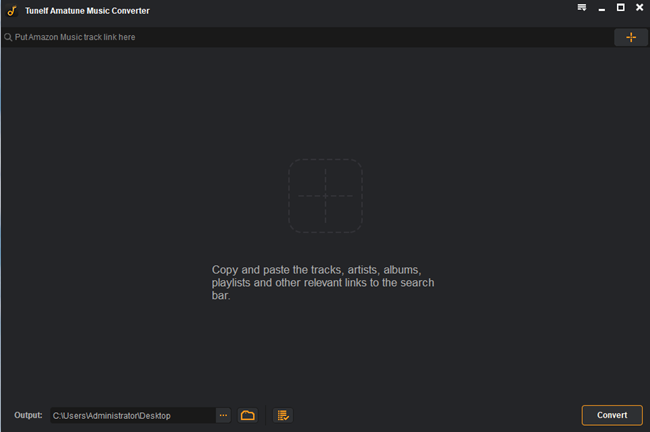 Step 2 Change audio parameters for Amazon songs
After importing, you are free to customize parameters as you like. Just click the three lines icon, and select the first option Preferences from the dropdown menu. Then go to the Convert window where you're able to set the audio format, sample rate, bit rate, channel, etc. If you're not satisfied with the output location, you can also change the path by clicking the three dots on the bottom.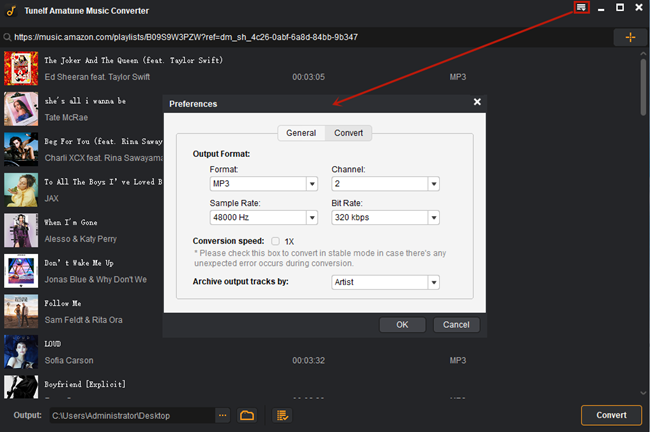 Step 3 Start the conversion for Amazon songs
Now view the list carefully and check off the songs you want. After selecting, one-click the Convert button. You can go back and add other songs and playlists while working on the conversion process. When done, the program enables you to browse all the downloaded songs on the Converted box. You can also click on the search icon beside each song to locate them in the local folder by default or the location you set.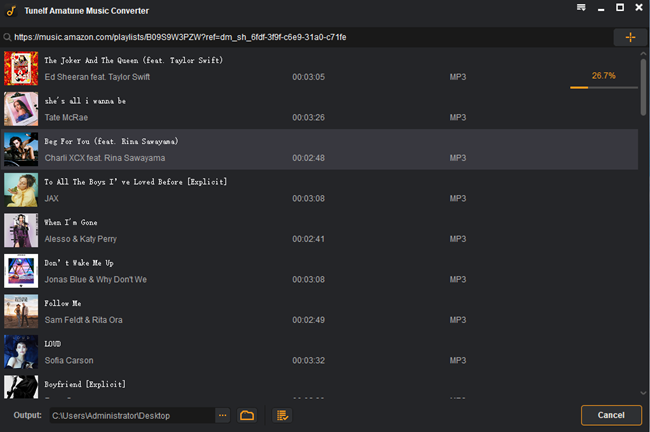 ---
Summary
Overall, to fix Amazon Music Playlist Error Exception 94, the above methods deserve a try until you reach the effective one. On top of that, Tunelf Amatune Music Converter not only helps you free of multiple errors that the Amazon Music app brings but downloads Amazon Music for playing without any limit. Why not give this smart tool a go?
---
---