I have a Galaxy S9+ and have been using Amazon Music for over a year with no issues. Over the last 2 weeks, most of the time when I am playing a song/playlist the song will cut out or freeze for 1-2 secs before resuming again.

– User from Reddit
Amazon Music, a major popular music streaming service, has millions of active users per day. While, even though as well-established as the Amazon Music app, there are still some mistakes and errors which prevent us from using it properly. We've discussed the skipping issue on Spotify and Apple Music before, and Amazon Music is no exception. People are complaining about Amazon Music skipping songs and are eager to seek the best solutions. If you are seeking the best way to fix it, then you can't miss this post!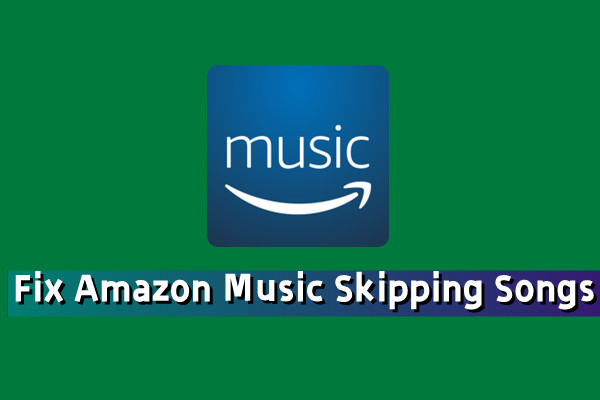 ---
Part 1 Why Does Amazon Music Keeps Skipping Songs?
Before applying the possible workable methods, we need to figure out the reasons why Amazon Music skips songs. There must be something wrong with the app or the devices you're using. After a detailed study, we've concluded the most common factors which might have influenced this and share them below.
#1 Application issues.
#2 Corrupted files.
#3 Some unexpected errors or glitches.
#4 Cache problems.
#5 Content unavailable.
These five factors are proven to be the most frequently-happened ones, according to many people's experience. And still, there are other errors that are not mentioned. We'll be glad if you share other factors with us in the comment area.
---
Part 2 Quick Steps to Fix Amazon Music Skipping Songs
Now that we've known the possible resulting factors, it's time to fix them one by one. If you have no idea about which one leads to your problem, then you can check out all the following methods. And mostly, your problem will be resolved.
Solution 1 Check the Internet Connection
The most common reason is the internet settings. As the music streaming quality and listening experience largely relies on a good and stable network. The first resort you can try is to check if your internet connection works well. Now go to Settings on your device and select the Wi-Fi section, then you can select another Wi-Fi to connect or try your mobile data as well.
You can also try to revert any recent changes to the network and change it back to the default settings. To reset your network, go to Settings and select General > Reset > Reset Network Setting.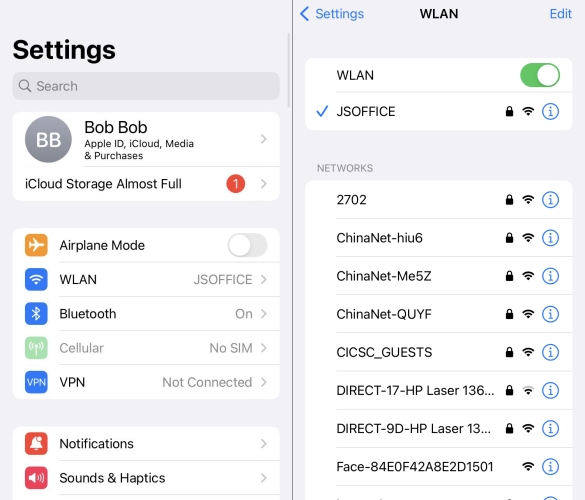 Solution 2 Restart Your Device & App
A restart can be one of the most efficient and easiest methods to fix Amazon Music songs skipping errors. Many errors or glitches that appeared in the process will be solved or removed after restarting. Below are the steps on your iOS and Android device.
For iOS:
1) Open the App Switcher and swipe left or right.
2) Locate the Amazon Music app and swipe it up.
3) Go to Home Screen to reopen the app.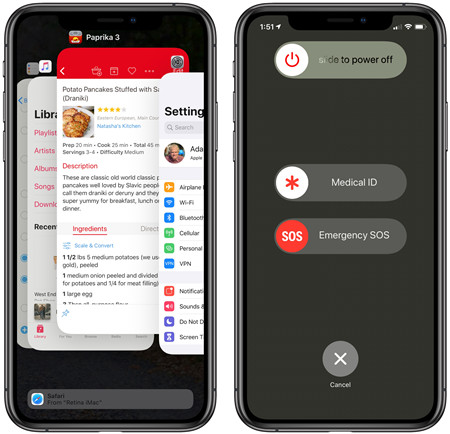 For Android:
1) Go to Settings on your phone.
2) Select the option Apps.
3) Select Amazon Music and tap on the Force Stop button.
4) Tap on the Amazon Music icon to relaunch the app.
If your Amazon Music still won't work, please restart your iPhone. It will give your iPhone a fresh and clear those small glitches that might cause the problem. If your iPhone does have Face ID, press and hold the side button and either volume button at the same time to reach the Slide To Power Off screen. If your iPhone doesn't have Face ID, press and holds the power button until Slide To Power Off appears on display.
Solution 3 Clear Amazon Music Cache
If you are still experiencing the Amazon Music skipping songs problem, you can try to clear the app cache on Amazon Music to solve this. You should clear the app cache from Settings in your Amazon Music app.
On iOS mobile app: Settings > Cache Size > Clear cached music on iOS;
on the Android mobile app: Settings > Clear Cache.
On iOS devices, you can also try refreshing music by selecting the Gear Icon (upper right) > Settings > Refresh My Music (bottom of the page).
Solution 4 Reinstall the Amazon Music App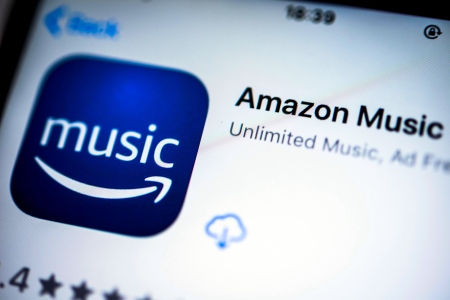 Another efficient fix is to remove the Amazon Music app from your device and reinstall it. A clean reinstall will clean all those issues or software bugs that used to block our way from using it properly. And this step will bring new life to your Amazon Music app. Now just force stop and close the Amazon Music app you're now using, then uninstall it from your devices. After then, download it from the app store and reinstall it.
Solution 5 Switch to Offline Mode
If your Amazon Music skips songs, perhaps you can turn on offline mode or online mode to fix it. In this case, you can follow the below steps to switch between an offline and online mode for streaming Amazon Music.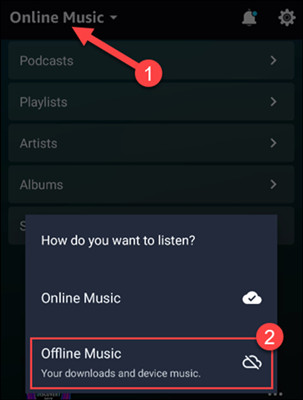 On iOS devices: Tap the three-dot icon to open Amazon Music Options, then select Offline Music Mode here. After that, toggle off the switch button to disable it.
On Android devices: Navigate to MY MUSIC from the bottom menu on your Amazon Music app, then select Online Music in the app menu to fix.
Solution 6 Update Amazon Music App
Amazon Music may update new versions constantly to solve those problems you may encounter. So, don't forget to update Amazon Music to its latest version. Now, you can check for the new update and download it if you haven't. Go to the app store you used to install the app on your device and search for Amazon Music. Select the app from the search results to enter the detail page. You can confirm that you have the latest version of an app by viewing the app's detail page. If an update is available, an Update option displays. Then you need to download and install it. The Amazon Music skipping songs issue may be solved after this step.
Solution 7 Re-download Amazon Music Songs
Another solution is to re-download the songs which can't be played. You just need to delete the songs and redownload them again. Then the songs should be playable again.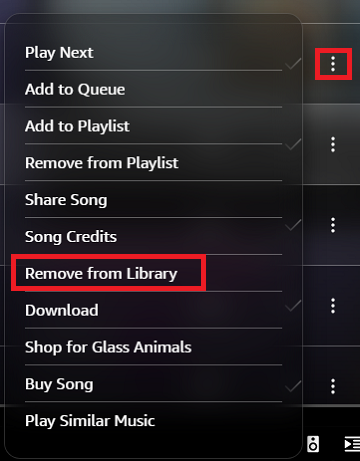 1) Click the three-dot button on the right.
2) Choose the Remove from Library option to delete the song from your library.
3) Enter the title of the song in the search bar for downloading again.
Note: If this method still can't fix Amazon Music keeps skipping songs, just contact the Amazon Music Customer Center for help. You can report the error to the Amazon Music team and they'll send you a reply soon.
---
Part 3 Best Way to Free of Amazon Music Skipping Songs Error
With the methods above, you might get our problems solved. But however, this may result in data loss while fixing. Therefore, we suggest you utilize other methods just like what we'll going to share next. This is a method by using a specific tool – Tunelf Amatune Music Converter.
Tunelf Amatune Music Converter is a professional amazon music downloading tool, which can help you download and convert amazon songs, playlists, and albums to MP3, M4A, M4B, FLAC, WAV, and AAC. Besides, with the advanced and innovative technology, you can get an unlimited number of amazon songs with lossless audio quality while retaining the original ID3 Tags. Now you can click the Download button below and follow the steps to give it a try.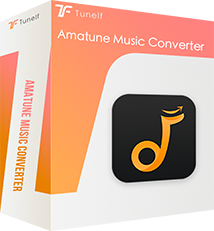 Key Features of Tunelf Amatune Music Converter
Download songs from Amazon Music Prime, Music Unlimited, and HD Music
Convert Amazon Music songs to MP3, AAC, FLAC, WAV, M4A, and M4B
Handle the audio conversion of Amazon Music at a faster speed of 5×
Ensure the output audio quality while retaining ID3 tags and metadata
Step 1 Import Amazon Songs to Tunelf Program
If you're using a trial version, please sign up and get registered for more unlocked features. Since Tunelf will need to access your music data, please download and install the Amazon Music app in advance. Now just select a song by copying the link and pasting it into the search bar. Then click the Add + icon to load files.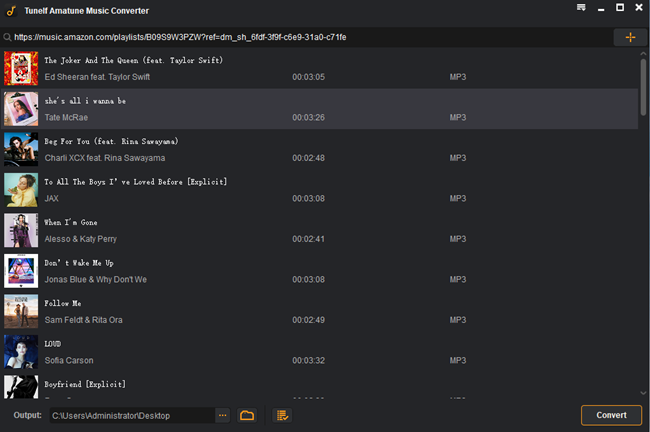 Step 2 Set the Output Audio Parameters
From the menu on the top right of the interface, choose Preferences > Convert to select the output audio formats from MP3, M4A, WAV, FLAC, AAC, and M4B. You're able to convert Amazon Music to MP3 and then you can play them on many compatible devices. Here you're allowed to customize some other audio parameters like sample rate as well.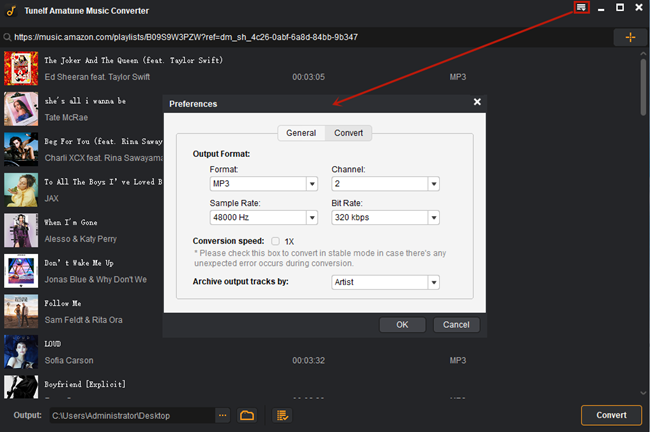 Step 3 Download Amazon Music to MP3 Locally
Once complete the settings, click the Convert button and Tunelf will start conversion automatically. After finishing, just open the Converted panel at the bottom to check your converted history and locate their storage folders on your computer. After then, you can enjoy your favorite tracks from Amazon on multiple devices at any time without issues.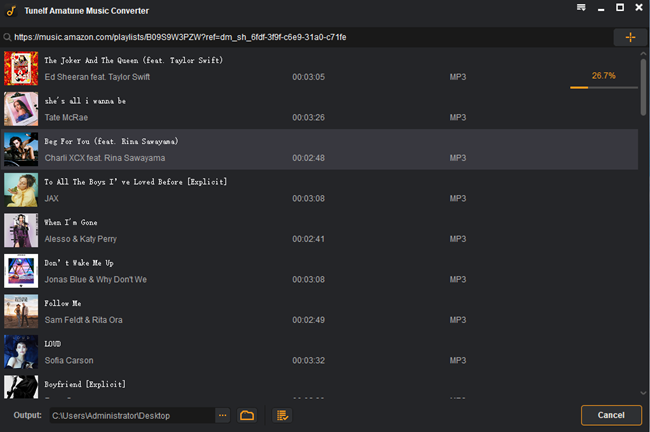 ---
Wrap Up
In order to fix Amazon Music skipping songs, we have shared several efficient ways to solve them. While for the best and forever available method, don't miss Tunelf Amatune Music Converter. This intelligent tool makes it possible to download Amazon Music to MP3 local files and allows you to stream them on any device you like. Have a try with our free trial version and you'll know the performance.
---
---