Amazon Music missing songs on Android. I can play the albums that I'm looking for on my PC but when I play them on my Android phone there are songs missing. I have to create a playlist on my PC and add all the songs to be able to see them on my phone app. Is there a fix so I can see all the songs on the app?"
— From Amazon Music Forum.
Amazon's presence in the market cannot be denied. It provides the biggest online shop and hosts one of the world's most popular music streaming platforms — Amazon Music. Currently, Amazon Music has got over 68 million users in different parts of the world. It boasts a big library of over 100 million songs and extensive podcasts. However, when streaming Amazon Music across devices, some users only discover that their tracks are gone. If it happens to you, you are not alone and now you're in the right place. In the following discussion, we will tell you why songs disappear from Amazon Music and how to fix Amazon Music songs missing. Continue to read if you're ready.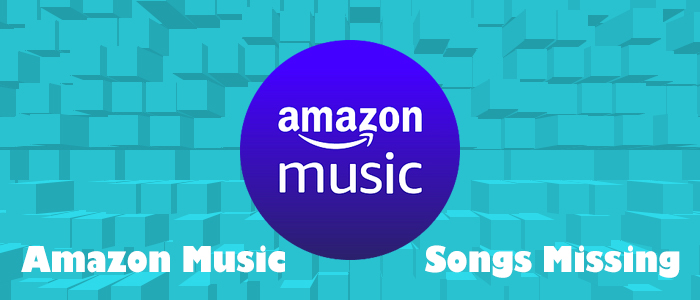 ---
Part 1. Why Do Songs Disappear from Amazon Music
You are not alone troubled by the issue of Amazon Music missing songs. The best way to fix this issue is to identify why your Amazon Music library or album has missing songs in the first place. The main causes of this issue are listed below.
1. This issue of music accessibility is related to the rights holders of works. They have the right to decide which songs are available on which platform. If they are not willing to authorize their work on Amazon Music anymore, then Amazon Music would remove the song or album.
2. This issue may also happen that certain tracks will only be available in certain countries. For example, a whole album can be heard in the US, while users in other regions can only listen to a part of it.
3. This issue occurs when your account isn't active or there is no solid network. If the internet connection is intermittent or your subscription doesn't be renewed in time, then the content on Amazon Music can't be accessible.
4. Issues often caused by the corrupted Amazon Music app. When the Amazon Music app keeps crashing and is unresponsive, temporary issues such as Amazon Music albums missing songs will appear.
---
Part 2. How to Fix Amazon Music Songs Missing
Considering the possible causes of songs missing from Amazon Music, here we collect and list corresponding feasible ways to troubleshoot it.
1. Confirm a Valid Account
Amazon Music offers premium plans. As long as you subscribe to Amazon Music Prime or Unlimited, you are allowed to access the full library. However, once your subscription is canceled, you degrade to Amazon Music Free and any content you acquired from the previous subscription can't be available. Hence, when you find your Amazon Music songs missing, you should give priority to checking your account by using a browser to go to Your Amazon Music Settings.
2. Enable a Stable Internet Connection
It is obvious that there is no way to get any online content when there is no internet connection. If Amazon Music not showing all songs in your library, you should check whether your network is poor or not. Just switch to other applications or websites to see if they can work properly. Or choose your cellular data to avoid apps or Amazon Music keeps loading.
3. Refresh Your Library
At times, there is enough time for Amazon Music to reload your library and the issue occurs. Try to refresh and reload your library manually on Amazon Music.
On the Desktop App
Step 1. Click your Profile icon in the top right.
Step 2. Select Settings and scroll down to the bottom.
Step 3. Click RELOAD LIBRARY and select Continue to confirm your operation.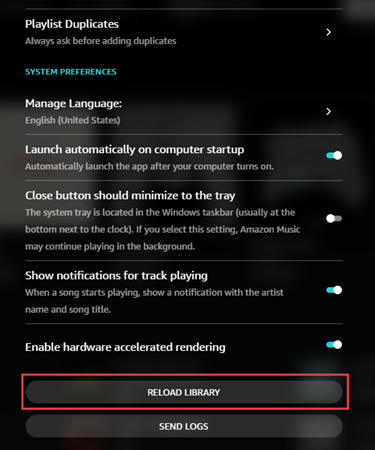 On the Mobile App
Step 1. Open the Amazon Music app menu by tapping the cog icon in the upper right corner.
Step 2. Select Settings and scroll down to hit on Refresh My Music.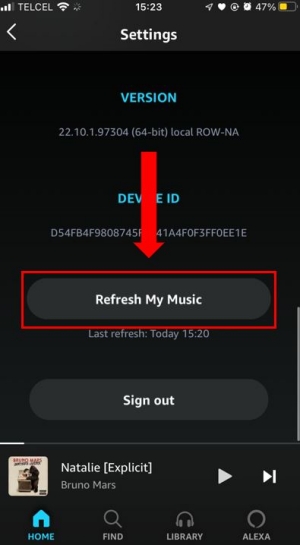 After refreshing your library, wait a few seconds to wait and see if the missing songs reappear in your music library or album.
4. Re-add Your Songs
If your liked songs are missing from the Amazon Music library or playlist, there is a straightforward way to get rid of the issue. That is to add your missing songs again if you remember them. To add a song to your library or playlist, just enter the name of the song and hit on the three dots icon to open the More option. Select the Add to My Music or Add to Playlist option based on your needs.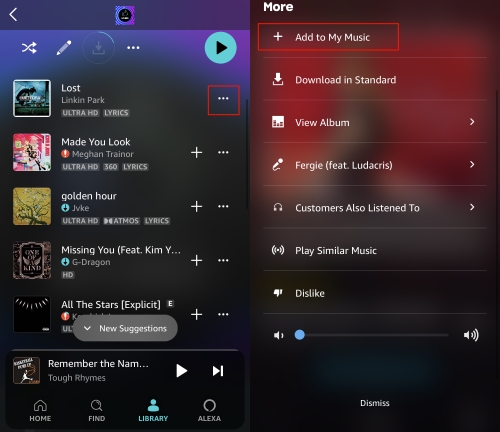 5. Change Your Location
As we said above, some songs are not available in some countries. Even though the right restriction isn't changed by us, the country is changeable. If the issue is generated for this reason, then it can be solved by this change. To change your current region, just head to Your Amazon Music Settings and scroll down to the bottom. Under the AMAZON MUSIC ACCOUNT COUNTRY/REGION section, click Move your Music Account and select a different country. After deciding, click the Next button and sign in again.  

6. Get the Latest Version of Amazon Music
The latest version of every app including Amazon Music often brings new features and a smoother experience. The app update is crucial for every app since developers would patch bugs and solve problems that users fed back to them in every update. On the one hand, updating is the most effective way to solve some errors in Amazon Music, such as Exception 94 or Error 180. On the other hand, it can produce new issues according to most users. Anyway, half a loaf is better than no bread at all, so it deserves a try.  
Step 1. Head to App Store or Google Play Store on your mobile device.
Step 2. Search for Amazon Music to check if there's an update available.
Step 3. Tap Update. After the process is done, check if the Amazon Music missing songs or Amazon Music missing albums come back with the latest version.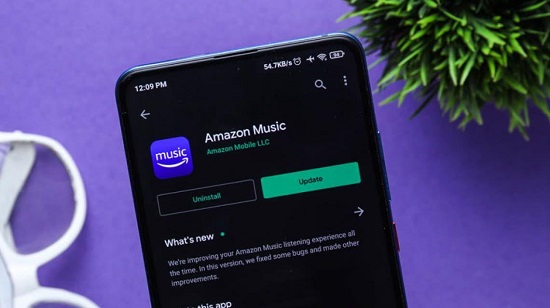 7. Uninstall and Reinstall Amazon Music
At times, the issue might be the Amazon Music app itself. If your favorite songs are missing from Amazon Music owing to a bug and it can't be fixed by the update, the last and ultimate method is to stop the Amazon Music service. Uninstalling the app is a classic troubleshooting tip that can help you fix a majority of issues. To uninstall Amazon Music, just press and hold the Amazon Music app icon on your Home screen and select Uninstall on Android or Remove App on iOS. And then go back to the app store where you downloaded Amazon Music before to reinstall it.  
---
Part 3. Best Way to Fix Amazon Music Missing Songs
Feel so sorry if the above common and official methods are not helpful after you spare time to try. As a gesture of our regret, here we offer a different but most effective solution. That is to save them locally and back up them using an Amazon Music Converter. Tunelf Amatune Music Converter saves troubles if you are tied to complex and frustrating processes because it is an all-in-one converter combining all the useful methods above. Whether you're an Amazon Music Prime or Unlimited user, this professional tool is there for you.  
Tunelf Amatune Music Converter aims to download and convert songs, playlists, albums, and artists from Amazon Music to MP3, AAC, WAV, FLAC, M4A, and M4B simultaneously retaining the original sound quality. Meanwhile, you don't need to keep an eye on the conversion process since it can work automatically at a 5x speed. After converting Amazon songs to MP3, you can save and keep songs forever and the issue of songs missing would no longer appear.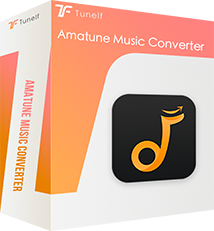 Key Features of Tunelf Amatune Music Converter
Download songs from Amazon Music Prime, Music Unlimited, and HD Music
Convert Amazon Music songs to MP3, AAC, FLAC, WAV, M4A, and M4B
Handle the audio conversion of Amazon Music at a faster speed of 5×
Ensure the output audio quality while retaining ID3 tags and metadata
Step 1 Add songs from Amazon Music to Tunelf
Install and launch the Tunelf program and it will open Amazon Music immediately. So make sure you've installed Amazon Music on your computer and log into your active account. Copy the link of a song, playlist, album, or artist on Amazon Music and paste it to Tunelf. To upload all your wanted songs, hit on the + button on the right side of the search bar. Another easier way is to drag and drop the song from Amazon to Tunelf.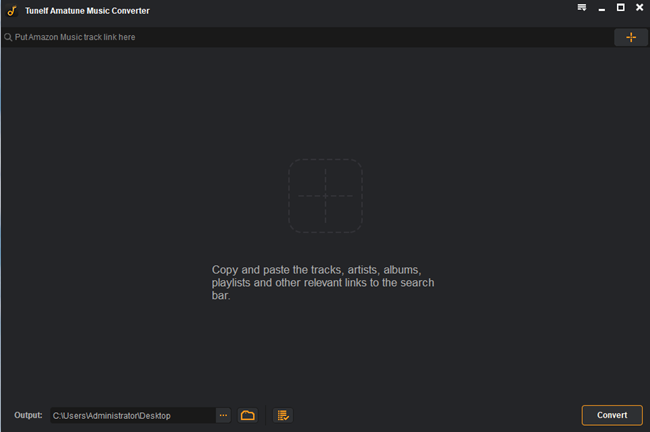 Step 2 Change output formats and parameters
After importing, Tunelf enables you to make customizable adjustments. Just click the three lines in the upper right corner, and select the first option Preferences. Then switch to the Convert section on the new pop-up window, from here you're free to set the audio format, sample rate, bit rate, channel, and more. If you'd like to set your preferred output location, it is possible to do that by clicking the three dots on the bottom.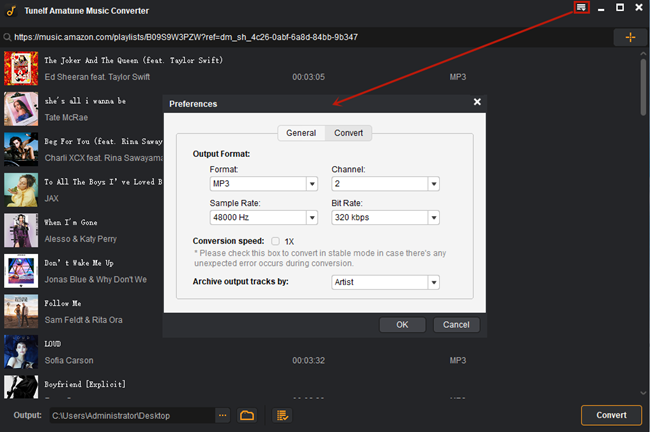 Step 3 Download and back up Amazon songs
Now view the list carefully and check off the songs you want. After selecting, one-click the Convert button. You can go back and add other songs and playlists while working on the conversion process. Once the process is complete, you can easily browse all the downloaded songs on the Converted box. Or click on the search icon beside each song to locate them in the local folder by default or the location you set. In this way, all converted songs are backed up on your computer.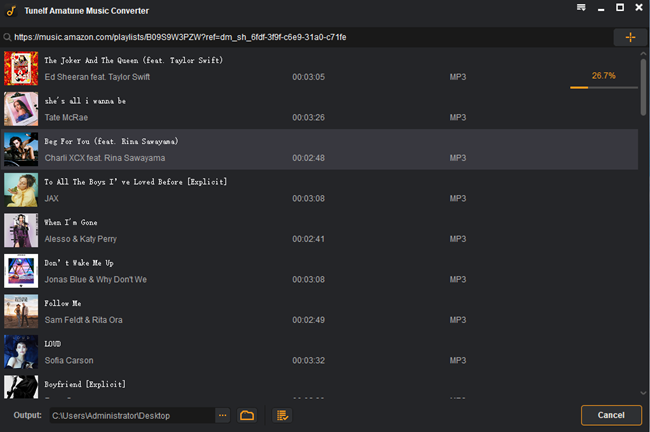 ---
Summary
Either way you choose, hope the article can help you out. In short, the best method to fix Amazon Music songs missing is to back up them by using Tunelf Amatune Music Converter. Download and save your favorite songs on your computer, then transfer them for playing without any restriction.
---
---