If hitting the road is your passion, you probably have opted for technology wearables offered by Garmin. This company has been in the limelight, specializing in innovative GPS techs for outdoor recreation, automotive, fitness, among other areas. Whatever the need, the journey has to be kept fun. And to play Audible on Garmin Watch beats the odd – for endless entertainment.
It doesn't end there! Your Garmin watch can offer more than letting you listen to audiobooks. It lets you monitor your heart rate, track any outdoor activity, and track your sleep routine. But playing Audible on Garmin Watch is not a direct affair. Audible book files are encrypted, needing conversion to a playable format. Try out these ways to play Audible on Garmin Watch.

---
Method 1. Play Audible on Garmin Watch via Audible Manager
The first method to play Audible on Garmin Watch won't necessarily need conversion. The Audible Book Player is an audio player devoted to playing content downloaded from Audible.com. This content includes digital audiobooks, magazines, comedic performances, and online radio shows. So, you need to install the Audible Manager app and use it to load Audible audiobooks without any audiobook player, and just follow these steps:
Step 1. First, visit audible.com and download the Audible Manager program from the website then install it to your computer.
Step 2. Then you need to connect your Garmin Watch to your computer by using a USB cable and launch the Audible Manager program.
Step 3. To add your Garmin Watch to the Audible Manager program, click on Devices > Add New Device and you'll find your device appearing on the pop-up window.
Step 4. After clicking the OK button to confirm your Garmin Watch, go to active your Garmin Watch by clicking your Garmin Watch.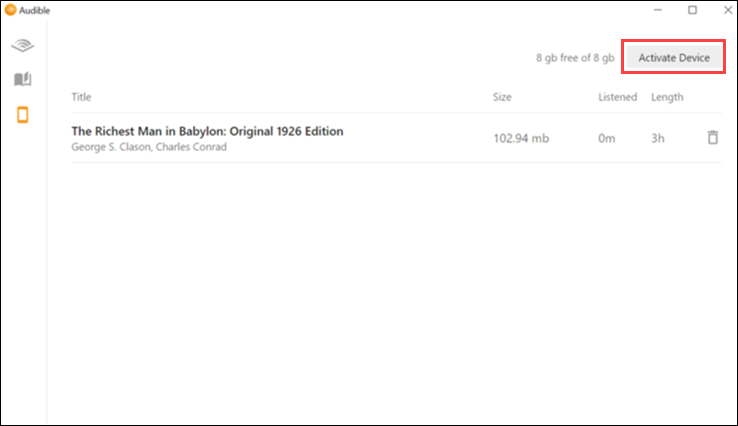 Step 5. Next, click the Active button and it's also at this point that you will then log in to your Audible account.

Step 6. The leeway to transfer your Audible books on the Garmin watch is open. Just select Audible books and click the Add to Device option. Wait for the process to complete and the transfer of your Audible audiobook to Garmin watch is complete.
Note: You'll be prompted to close the Audible Manager to allow the installation of a plug-in for the Garmin GPS device.
---
Method 2. Listen to Audible on Garmin Watch via Tunelf Tool
This is another method enabling you to listen to Audible on Garmin Watch. You could use the best Audible audiobook converter – Tunelf Audio Converter – to convert your favorite Audiobooks to DRM-free audios compatible with Garmin Watch. These audio formats include MMA, MP3, FLAC, MP4, and many more. Let's rock down how to convert Audible audiobooks to MP3 – a format supported by Garmin Watch.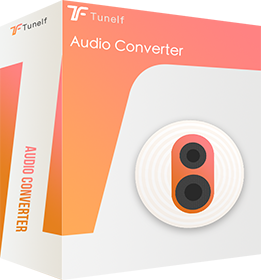 Key Features of Tunelf Audio Converter
Remove DRM protection from Apple Music, iTunes audios, and Audible
Convert Apple Music to MP3, AAC, and more for playing on any media player
Personalize the output audio parameters like the output format and bit rate
Converse the converted audio with the lossless audio quality and ID3 tags
Step 1 Import Audible files to Tunelf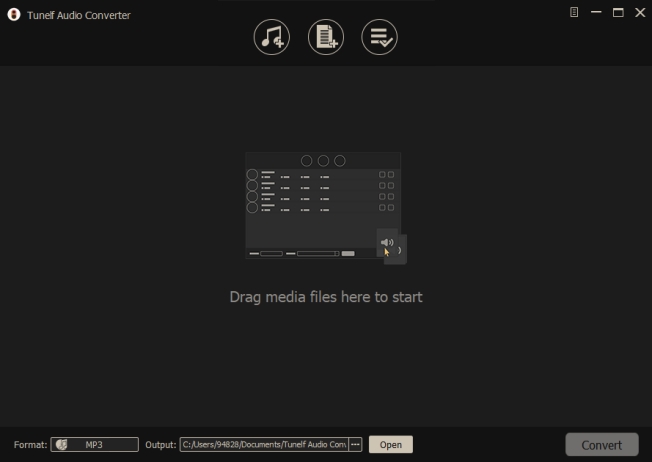 First, launch Tunelf Audio Converter on your computer. Then find Audible audiobooks you wish to listen to on Garmin Watch by clicking the first icon marked as Load iTunes Library. You can also drag and drop your required Audible books to the app's interface for conversion.
Step 2 Choose output format as MP3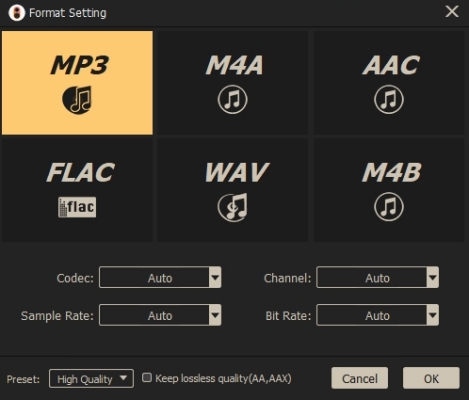 With your files at bay, it's now time to customize the output settings. Click the Format button to open the Format Settings window. Here you can select the output format as MP3. You can also change other parameters like the bit rate, codec, sample rate, and channel.
Step 3 Convert Audible books to MP3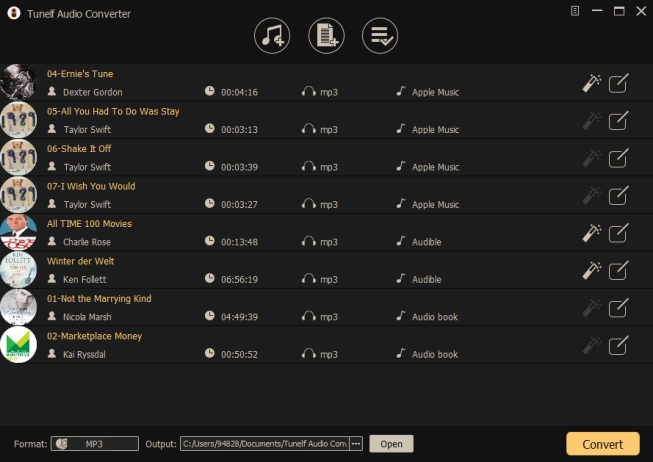 Confirm that your selection is right then hit the Convert button to initiate the process. The duration will depend on the number of files being converted. Then hit the Converted button to find your converted files and prepare to transfer your converted Audible books to Garmin Watch for listening.
All Audible books are now converted to DRM-free audios and ready to be played on your Garmin Watch. To move them from your watch, you need to connect an SD card to your computer via an SD card reader. You can then transfer your audiobooks to the SD card. Just slot in the SD card to your watch and play audiobooks on your device for full entertainment.
---
Method 3. Transfer Audible to Garmin Watch via Garmin Express
You can also get Audible books on Garmin Watch via Garmin Express. But remember, this option only works for the already converted Audible audiobooks. And that's what Tunelf Audio Converter has just done! So, peruse on your computer, and let's be going on this mission.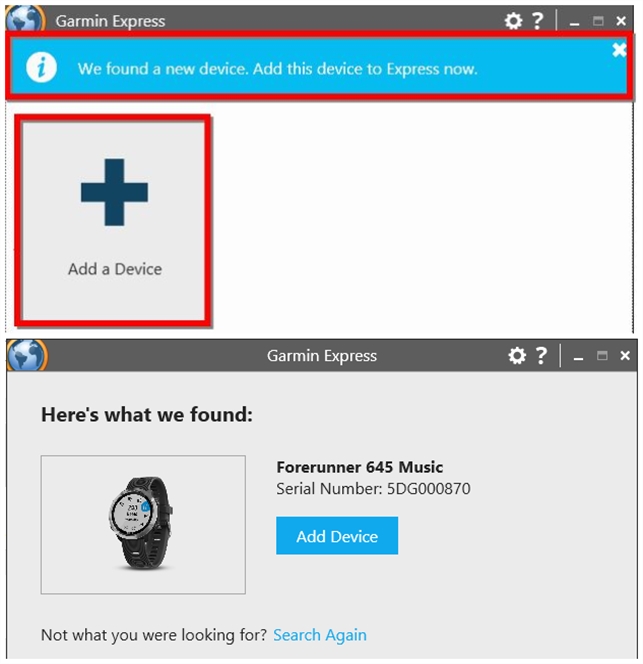 Step 1. First, use a USB cable to connect your Garmin device to your computer and launch the Garmin Express app on your computer.
Step 2. Then, wait for the Garmin Express app to detect the device. This happens automatically.
Step 3. Next, browse for the local audio folder and locate the converted Audible audiobook files.
Step 4. Finally, check the boxes corresponding to the audio files then choose the Send to Devices option. Now your Audible audiobooks will be imported to your Garmin watch, then you can successfully listen to your Audible audiobooks on your Garmin watch.
---
Bottomline
Nobody wants to be bombarded with added loads while on outdoor activities like hiking, running, swimming, and much more. Here is where the best option comes – Garmin Watch – for all the better reasons. Apart from tracking your heartbeat rate and monitoring other fitness options, it offers a perfect battery life. Above all, you can play Audible on Garmin Watch. This is too good to resist. The above methods have made it a walk-in-the-park to listen to Audible books without much effort. And Tunelf Audio Converter sums it up – you get lossless quality for the better. The steps are easy and the process is painless!