Mighty what? Mighty is the best alternative to the iPod shuffle for listening to music. It is compatible with Spotify and Amazon Music, enabling you to play playlists from the two music services without a phone, screen, or Internet connection. In fact, it really enhances your streaming music experience beyond the phone when outside or during a workout.
Pairing with both Bluetooth and wired headphones, Mighty allows you to listen to your Spotify playlists you sync from Spotify. Without a doubt, Mighty could be a good option for enjoying music without the bulk and distractions of your phone. This post will walk you through how to play Spotify music on Mighty.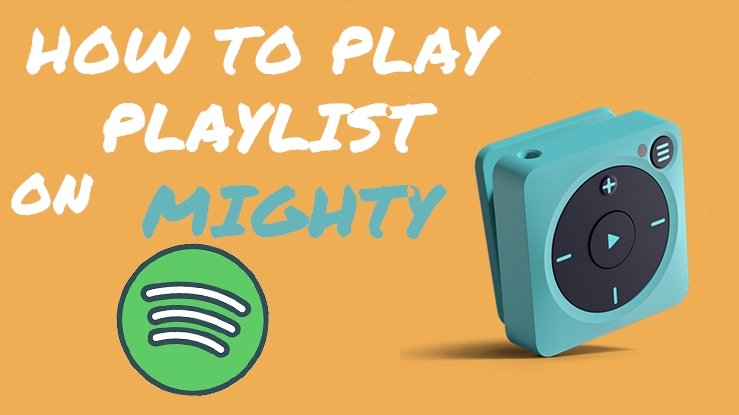 ---
Part 1. How to Play Spotify on Mighty without Premium
Mighty can be used in every country where Spotify is available, but Mighty's audience is limited to Spotify Premium users. So, if you want to listen to your playlists from Spotify on Mighty, you need to subscribe to any Premium plan on Spotify. Fortunately, with the help of a third-party tool like Spotify music converter, you can also get Spotify music on Mighty.
Mighty's storage space is larger than you think. And you can store dozens of playlists, hundreds of hours of music, podcasts, or stories. So, you could download your favorite Spotify songs to Mighty for playing without a Premium account. Here we do recommend Tunelf Spotibeat Music Converter to you.
As a uber-super and professional-grade music converter for Spotify, Tunelf Spotibeat Music Converter can complete the download and conversion of Spotify music at a 5× faster speed. With this Spotify converter, you can download any content from Spotify and convert them into six audio formats while retaining its original sound quality.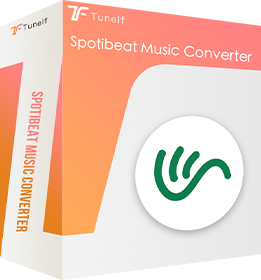 Key Features of Tunelf Spotibeat Music Converter
Download Spotify playlists, songs, and albums with free accounts easily
Convert Spotify music to MP3, WAV, FLAC, and other audio formats
Keep Spotify music tracks with lossless audio quality and ID3 tags
Remove ads and DRM protection from Spotify music at a 5× faster speed
Step 1 Select Spotify songs, albums, or playlists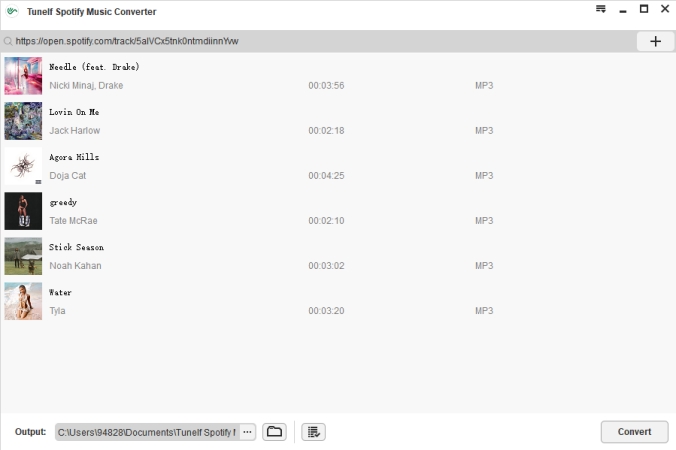 Open Tunelf Spotibeat Music Converter on your computer and wait for the load of Spotify. To select songs, albums, or playlists you'd like to download, go to Spotify and browse those songs. Then you could choose to drag and drop your selected songs to the interface of the converter. Alternatively, you can copy and paste the URL of the item into the search box.
Step 2 Configure the audio parameters for Spotify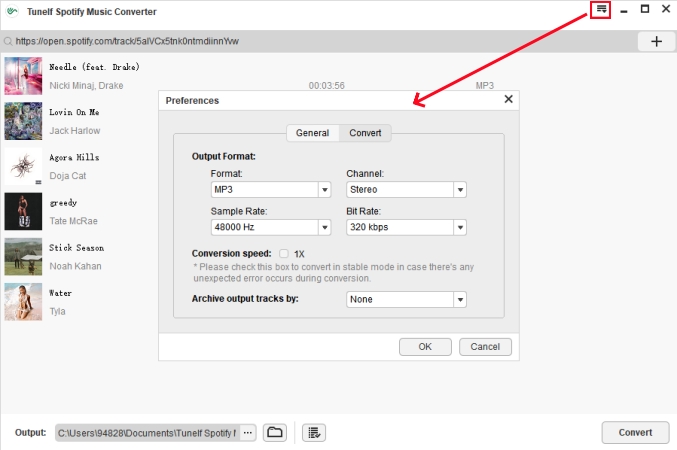 After having added Spotify songs to the converter, click the Menu bar, select the Preferences option, and switch to the Converted window. Then you'll see a pop-up window where you can set the output audio format. For better audio quality, you can adjust the bit rate, sample rate, and channel.
Step 3 Start to download Spotify playlists to MP3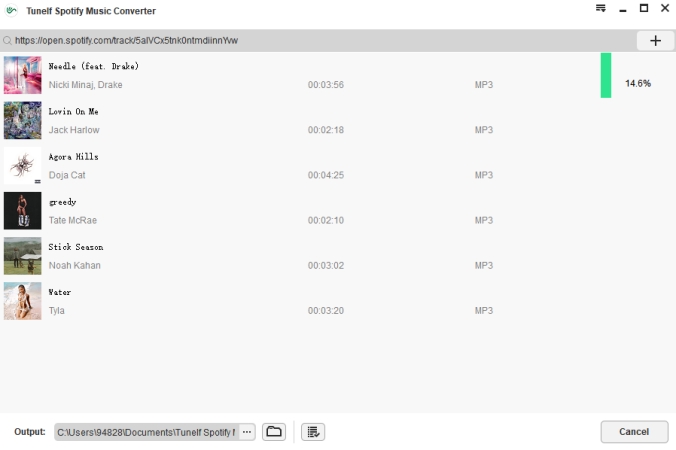 Click on the Convert button at the bottom-right corner of the interface, and then the converter will immediately download and convert music from Spotify to your specific format. After conversion, you can go to browse the converted music by clicking the Converted icon and go to sync Spotify music to Mighty for playing when outside.
Step 4 Transfer Spotify music to Mighty for playing
Now connect your phone to the computer using a USB cable and then the computer will detect your phone. Find the folder where you save the converted music tracks and select the music you want to transfer to Mighty for playing. Then copy and paste the music files to the folder and proceed to sync Spotify music to your Mighty.
---
Part 2. How to Set up Spotify Mighty with Premium
With the above methods, you can listen to offline Spotify on Mighty no matter you're using a free or Premium account. However, if you subscribe to Premium plans, you could directly sync Spotify music to Mighty for playing when outside. Mighty works with all Spotify Premium plans, including Spotify Family, Spotify Students, and Spotify Kids. Then it is very easy to access Spotify music on Mighty.
Step 1 Link Mighty to the Mighty Audio app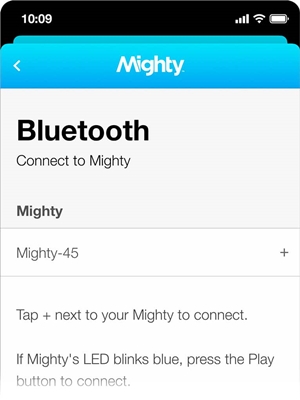 1) Search for Mighty Audio in the App Store or Google Play Store and follow the on-screen instructions.
2) Open the Mighty Audio app, then login or create an account.
3) Mighty's name will appear in the Bluetooth section of the Connections screen.
4) Tap the + button next to Might's name, then press the Play button when LED flashes blue.
Step 2 Connect Mighty to the Wi-Fi network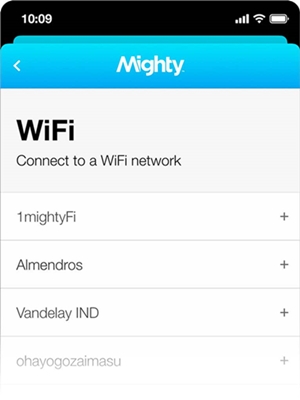 1) The Mighty Audio app will show you all Wi-Fi networks in your area.
2) Tap the button next to the name of your Wi-Fi network.
3) Enter your Wi-Fi network password and tap OK.
Step 3 Select Spotify from the music service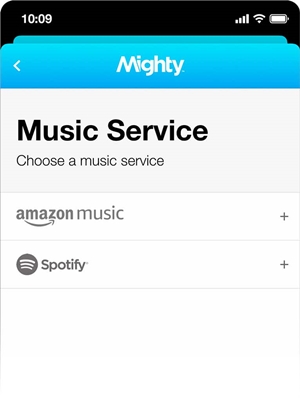 1) The Mighty Audio app will allow you to select either Spotify or Amazon Music.
2) Select Spotify and follow the on-screen instructions to connect to your account.
Step 4 Sync Spotify playlists to Mighty Vibe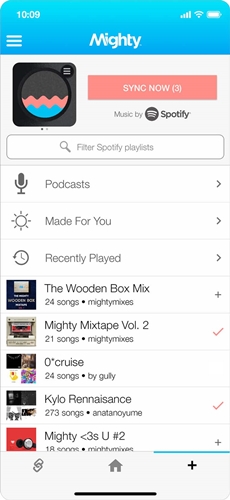 1) Go to the Browse section to view your Spotify playlists.
2) Tap the + button next to the playlist that you want to sync to Mighty.
3) Selected playlists will show a pink checkmark (✓) in place of the + button and can be deselected by tapping the ✓.
4) The Sync Now button will turn pink and can be pressed when one or more playlists have been selected. Tap the Sync Now button to start the sync process.
Note: Remember to charge Mighty and leave it plugged in during Setup.
---
Part 3. Alternative to Might Spotify Music Player
Mighty Spotify music player could be a portable device for playing music when outside or during a workout. However, there are still other portable devices, enable you to play Spotify music without carrying your phone. If you're looking for more great music players for Spotify, see our picks for the best Spotify portable music players.
Apple Watch could be the best choice for those fanatics of Apple devices, as well as, sports lovers. So far, Apple Watch is the most high-tech wearable to track your sport, monitor your health, and access your favorite music tracks. And now Spotify works well on Apple Watch, giving you the ability to listen to Spotify without carrying your phone.

Choosing Garmin Watch as the portable music player for Spotify couldn't hard. Most Garmin watches can be compatible with Spotify. Meanwhile, there are many other features to consider if you want to use them. The watch can track almost any outdoor activity you could possibly want, with GPS along with a heart rate monitor that even works underwater.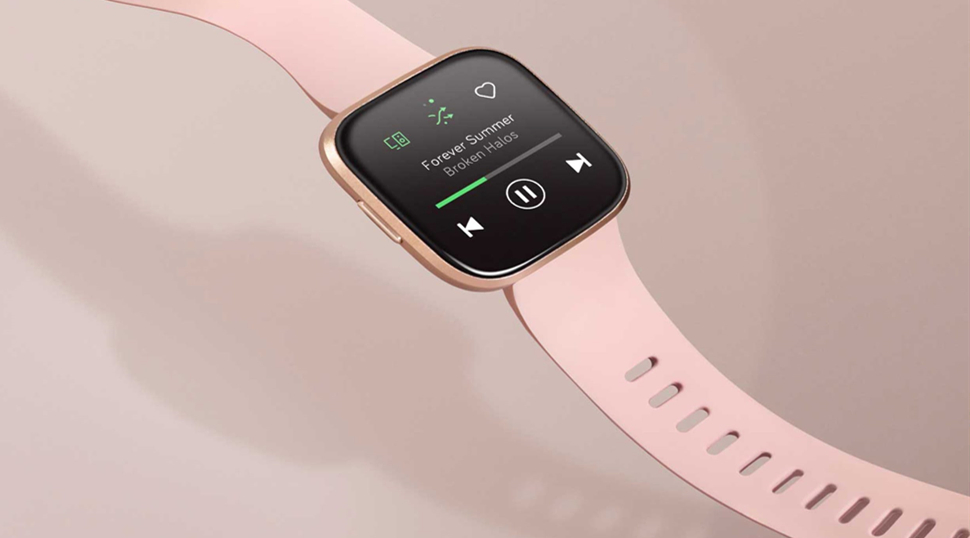 If you want to take control of your health, Fitbit Watch could be a better choice, nudging you towards healthier habits and making it easy to monitor your activity every day. Except for its excellent sport modes, you can also link the watch to several music services to enjoy music. With this feature, it is easy to find your favorite music from Spotify on the watch.
---
Conclusion
Like the second method, you will be limited to only hearing the playlists from Spotify with a Premium account. For playing with a free subscription, you can take advantage of Tunelf Spotibeat Music Converter. Then you download Spotify music to your Mighty with ease and start to play Spotify on Mighty. Or if you're looking for some alternatives to Mighty Vibe Spotify, you could think about Garmin Watch, Apple Watch, and Fitbit Watch.