When it comes to brands, Sony has always been the talk of the town. Its products are of high quality and maintain originality. The emergence of the Sony Walkman just brought more joy to music lovers. With this, you are not limited to working out or doing other activities while listening to your favorite hits on Sony Walkman. However, most people are bound to experience a hitch as they try to play Spotify music on Sony Walkman directly. You'll most likely be met by "Sorry, you cannot transfer the music from Spotify to Walkman".
And with over 35 million tracks for entertainment, you have to pull it through on Spotify. But how do you play your songs on Sony Walkman yet Spotify songs are in OGG Vorbis format and only playable in the Spotify application? Scroll through for how to break the limitation and start to play Spotify on Sony Walkman.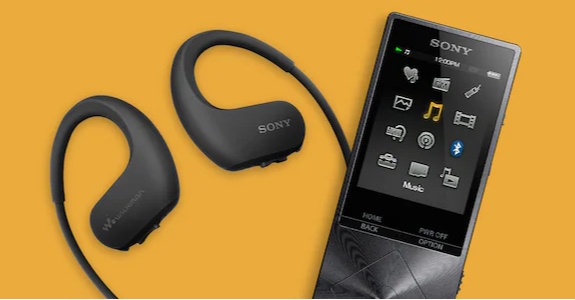 ---
Part 1. FAQs About Sony Walkman and Spotify
We have collected frequently asked questions about Spotify and Walkman, which may be helpful for you to solve the problems when you need to play Spotify songs on Walkman.
Q1. What Makes Sony Walkman the Chosen Gem?
Sony Walkman is among the generic MP3 players that beat the odds when it comes to excellent sound production. It's also lightweight and can be easily carried to any place. It has a built-in wireless internet for quick file sharing with other devices. This player supports various audio formats like FLAC, ALAC, MP3, AAC, among others. It will also identify and filter out distracting noise for quality output.
Q2. Does Sony Walkman Support Spotify?
If you're eager to know the availability of Spotify on Sony Walkman models, I can tell you that unfortunately, Spotify cannot be downloaded or used on Sony Walkman devices as there is no such official integration app. But don't worry, as long as you can download Spotify songs to some popular audio formats that Sony Walkman supports, you can stream your favorite Spotify songs on Sony Walkman without a problem.
Yes, this high-res audio player supports numerous audio formats. But it defeats logic why playing Spotify on Sony Walkman is not a walk in the park. The reason being, it is not an internet-connected device that can run a Spotify application. So, you need a third-party tool to download Spotify songs then play Spotify music on Sony Walkman.
---
Part 2. How to Download Music from Spotify to Sony Walkman
Can you play Spotify on Sony Walkman? This is a common question that's regularly asked by Spotify music lovers. This music streaming service lets you create your playlists, share, and even explore other hidden gems like Discover Weekly and new artists on the block. It may, therefore, pain you that you can't play Spotify on your Sony Walkman directly and you first have to convert your songs. You might be wondering how to go about the whole process. In our next session, you'll get an in-depth step-by-step way to play Spotify songs on your MP3 player.
Here is the deal! To play Spotify music on Sony Walkman, you first need to remove the DRM protection that encrypts the Spotify playlist. The best tool to do this is Tunelf Spotibeat Music Converter. This tool can losslessly download and convert your Spotify music to playable formats on various devices including Sony Walkman.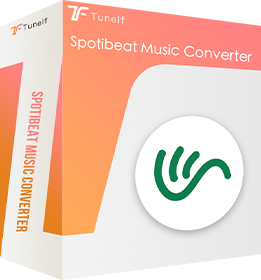 Key Features of Tunelf Spotibeat Music Converter
Download Spotify playlists, songs, and albums with free accounts easily
Convert Spotify music to MP3, WAV, FLAC, and other audio formats
Keep Spotify music tracks with lossless audio quality and ID3 tags
Remove ads and DRM protection from Spotify music at a 5× faster speed
Converting your Spotify songs to playable format does not need rocket science. Just with the right tool, you'll be out of the hook in a few steps. Follow these steps for easy conversion.
Step 1. Add Spotify music to Tunelf window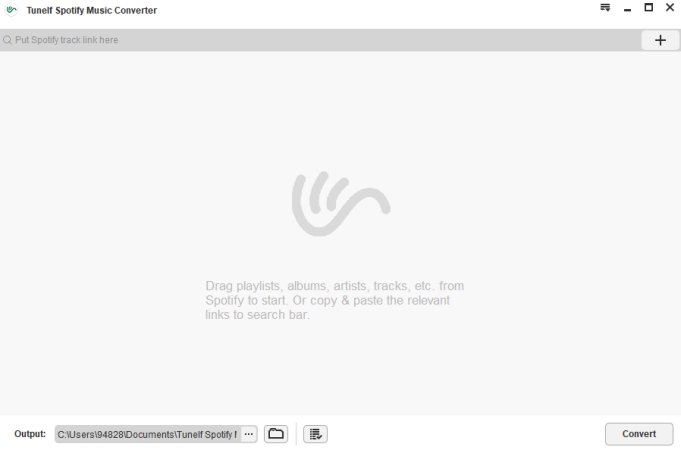 The first step is to launch Tunelf app on your computer. It will as well automatically load the Spotify app. When opened, head on to the Library on Spotify and start selecting the Spotify songs that you want to play on Sony Walkman. You can add your songs in two ways. Either drag and drop them from Spotify to Tunelf window or copy the Spotify song link and paste it to the search bar of Tunelf window.
Step 2. Configure the parameters for Spotify music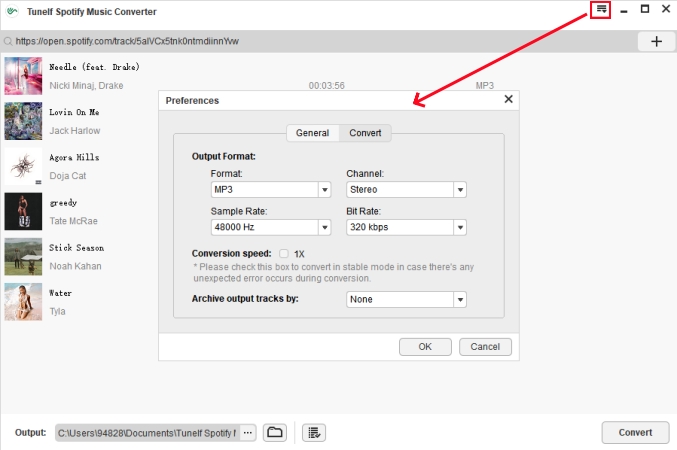 Customize the output audio parameters for Spotify music. Click the menu bar and choose the Preference option. Next set the output audio format like output format, sample rate, channel, among others. Ensure the output format is MP3 to enable you to play your Spotify songs on Sony Walkman.
Step 3. Download and convert Spotify music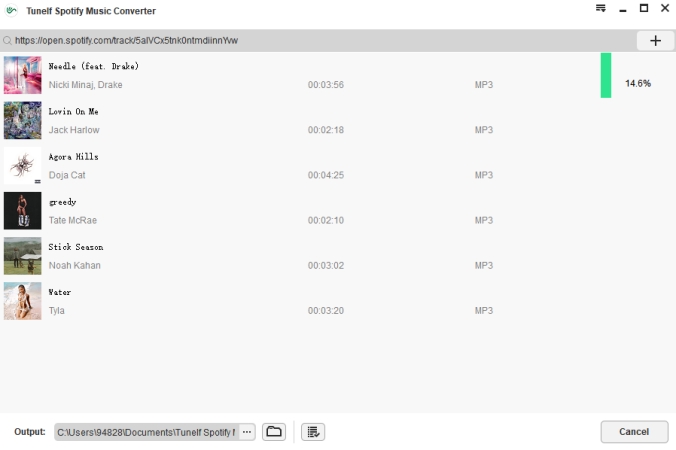 Once you have customized all the settings, it's time for Tunelf tool to convert your Spotify songs. Click the Convert button and your songs will be converted to MP3 format immediately. Wait for the conversion to finish and then check out for them in the Converted list. Just click the Converted icon and find your Spotify songs.
---
Part 3. How to Transfer Spotify Songs to Sony Walkman for Playback
Your Spotify songs are now in the converted format, meaning you can play them on any other device. Before the playback, you need to import Spotify music to Sony Walkman. You can transfer music by drag-and-drop directly from Finder of macOS or Hard Drive of Windows OS to the MUSIC folder on your Walkman. Besides, you could also import music from the Music library screen of iTunes or Window Media Player, as well as Content Transfer software.
Option 1: Transfer Spotify songs to Sony Walkan via Content Transfer Software
To import music files to Sony Walkman from your computer, install the Content Transfer software to your computer first. After the installation has completed, start the Content Transfer software. Follow this procedure to transfer DRM-free Spotify music files to your Sony Walkman using the Content Transfer software: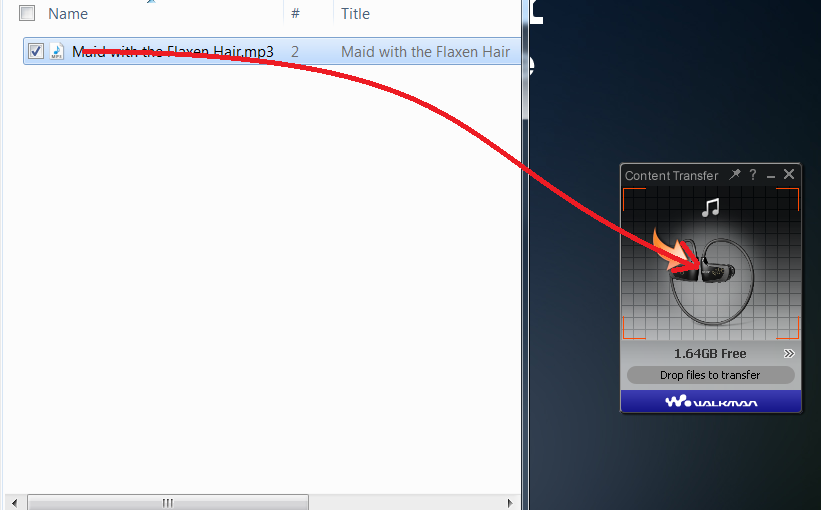 Step 1. Connect your Sony Walkman to the computer using the supplied USB cable then Content Transfer will automatically start.
Step 2. Click the double arrow to confirm your Sony Walkman is recognized.
Step 3. On your computer, open the location of the songs you want to transfer.
Step 4. Drag and then drop Spotify songs from the location onto the Content Transfer application then your Spotify songs will be added to your Walkman player.
Option 2: Transfer Spotify songs to Sony Walkman via iTunes
Without using the Content Transfer application, you are able to transfer songs managed by iTunes. Just open the Music folder in the Walkman player then transfer music by drag-and-drop from iTunes to your Walkman player. Once you transfer Spotify playlist to iTunes library first, you can transfer them to your Sony Walkman by doing the following: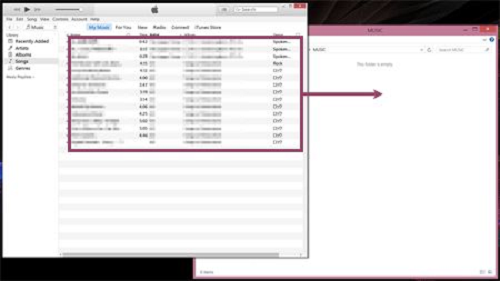 Step 1. Connect your Walkman player to your computer using the supplied USB cable.
Step 2. Open the MUSIC folder of your Walkman player.
Step 3. Open the Apple iTunes software.
Step 4. Drag-and-drop Spotify music you want to transfer from the Apple iTunes software to the MUSIC folder of your Walkman player.
Option 3: Transfer Spotify songs to Sony Walkman via Windows Media Player
You can use the Windows Media Player software to import Spotify music from your computer to Sony Walkman. Before the importing, you should import Spotify music to Windows Media Player first. Then follow the procedure below: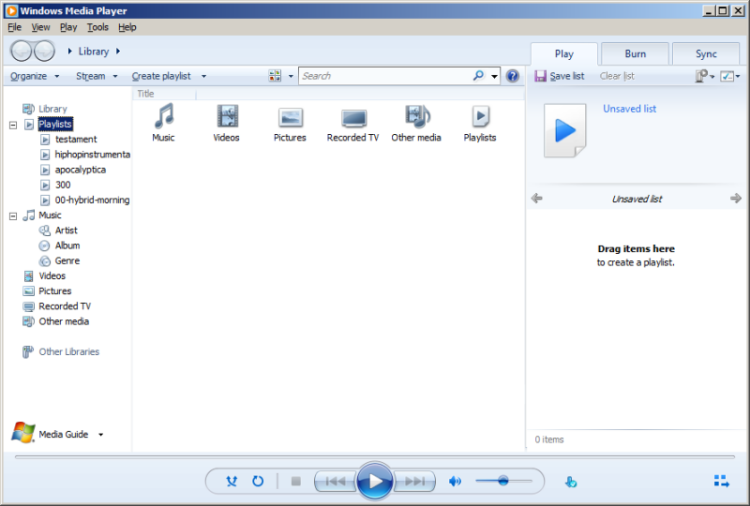 Step 1. To transfer Spotify converted songs to Sony Walkman device, first, connect your device to the computer via a USB cable.
Step 2. Wait for the computer to detect the Sony Walkman then start the Windows Media Player software.
Step 3. In the left pane, under Library, click Music. You'll find a list of Spotify songs will display.
Step 4. Click the Sync tab then locate Spotify tracks you wish to transfer and then drag and drop them into the Sync list area. The sync process should start.
---
Conclusion
It's highly possible to stream Spotify music directly on tablets, laptops, computers, and smartphones, among others. However, it is not possible when it comes to generic MP3 players like your Sony Walkman. Simply because it's not supported and, therefore, the Spotify songs must be first converted to playable formats. That is exactly what this article shows you. There's now no limit and you can play Spotify music on Sony Walkman in simple steps. Tunelf Spotibeat Music Converter is highly compatible with numerous devices and also offers a free update and support for a lifetime.
---
---