Filled with music in an atmosphere, you could get extra energy and lose track of the minutes while you're stepping onto a treadmill or using a stair-climbing machine. With the addition of music especially energetic music, your exercise will be more interesting and powerful. Where do you find those energetic music tracks when exercising? Spotify could be a good place. Today, we'll talk about the Peloton Spotify integration and how to play Spotify on Peloton.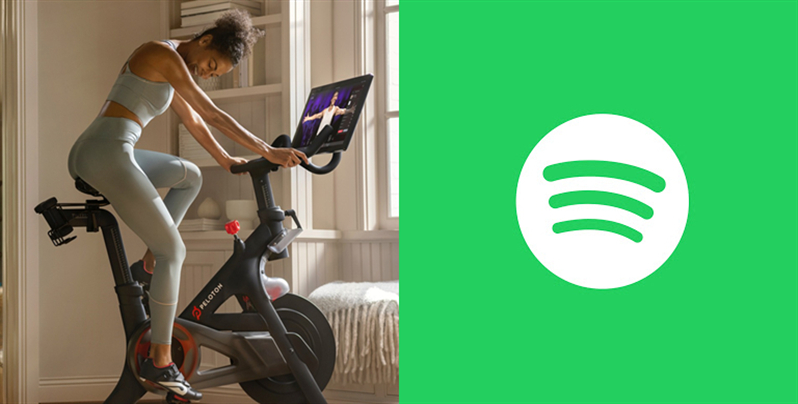 ---
Part 1. How to Access Spotify Web Player on Peloton
Indeed, you cannot directly play Spotify on Peloton. Peloton allows you to link your Spotify or Apple Music account on Peloton, which is used to sync your Peloton playlist to Spotify or Apple Music. That is, you can connect Spotify to Peloton for accessing Peloton songs on Spotify instead of playing Spotify on Peloton. Fortunately, there are 2 ways we find to do so.
Peloton boasts a hidden web browser where you can open the Spotify web player for online listening. The procedure to find and set up the web browser is a little complex. Moreover, browsing websites could void your Peloton warranty. If you're ready to take the risks, follow the steps below: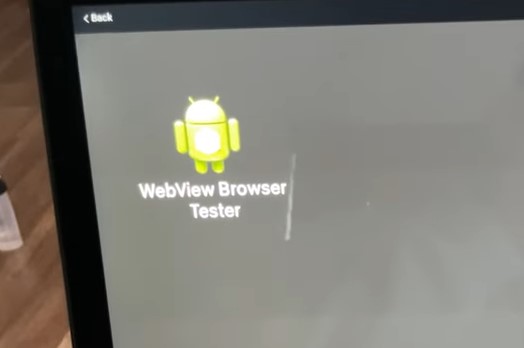 Go to your Profile tab on the Peloton screen.
Tap the … in the bottom-right corner.
Select About and it will open a box to show information about this bike.
Tap the lower-right corner of the About box seven times. 
Touch the WebView Browser Tester icon to open the hidden web browser.
Type https://open.spotify.com/ to enter the Spotify website and log into your account to access the online listening.
Note
You can also use your Spotify-enabled device like a phone or speaker to start playing while cycling on Peloton.
---
Part 2. Best Method to Play Spotify on Peloton without Premium
Given that the hidden web browser on Peloton is prohibited, it is not the best way. Moreover, when you play Spotify on Peloton, your classes will be paused due to the other audio resources. So the best way to get Peloton Spotify playing is to use Tunelf Spotify Music Converter to get Spotify songs as local files. This professional converter works well whether you're using the free version of Spotify or you're a Premium user. With Tunelf, you can easily download Spotify to MP3, FLAC, AAC, WAV, M4A, and M4B. After that, it is all easy to upload Spotify to Peloton for playing.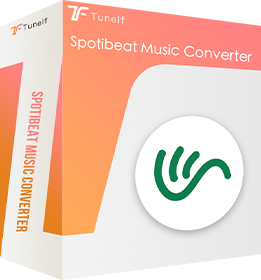 Key Features of Tunelf Spotibeat Music Converter
Download Spotify playlists, songs, and albums with free accounts easily
Convert Spotify music to MP3, WAV, FLAC, and other audio formats
Keep Spotify music tracks with lossless audio quality and ID3 tags
Remove ads and DRM protection from Spotify music at a 5× faster speed
2.1 How to Download Spotify Music with Tunelf
Now, Just install it from the above link first and then download Spotify songs to Peloton by performing the following steps.
Step 1 Select your favorite Spotify songs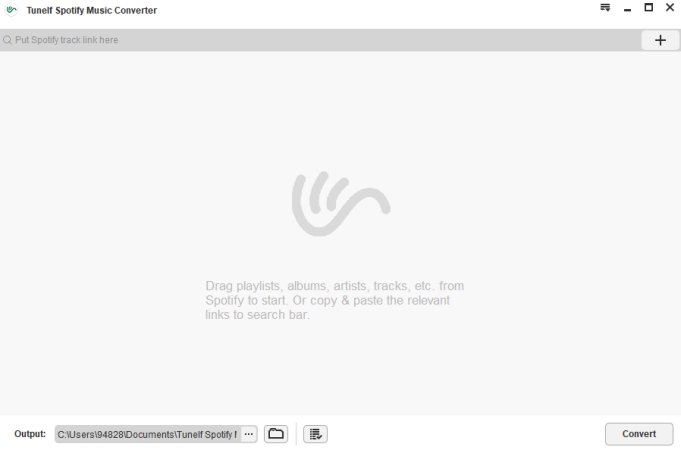 Fire up Tunelf Spotibeat Music Converter on your computer then the Spotify application will automatically load. Navigate to Spotify if you have linked your account to Spotify and select songs you want to listen to on Peloton. After the selection, you can drag and drop your preferred songs from Spotify to Tunelf interface. Or you could also copy the URL of your selected songs to the search box on the Tunelf interface.
Step 2 Adjust the output audio parameters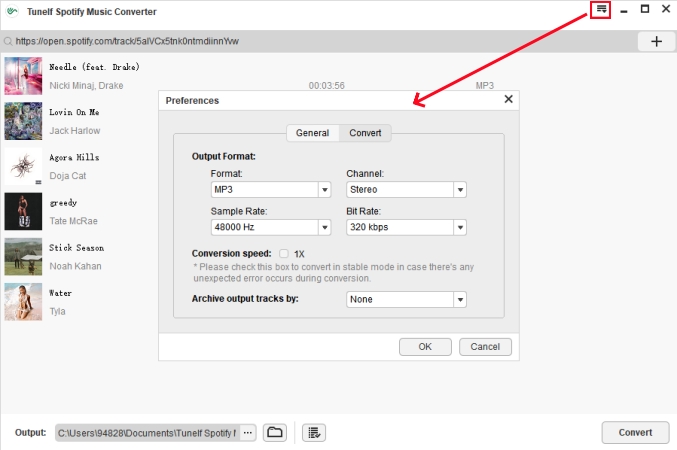 After your chosen songs are added to the conversion list of Tunelf software, you could click the menu bar and choose the Preferences option. On the pop-up window, turn to the Convert tab to customize the output audio parameter according to your demand. You'd better set the output format as MP3. For better audio quality, you could also adjust the bit rate, sample rate, and channel.
Step 3 Start to download Spotify music to MP3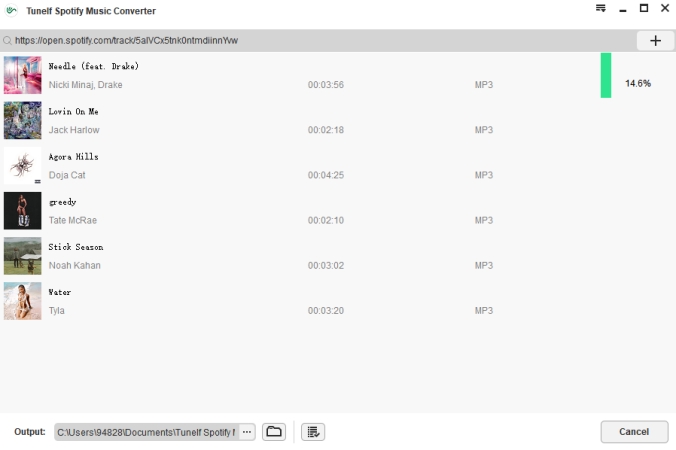 Once you're satisfied with your settings, click the Convert button at the bottom right corner. Tunelf application will download and convert Spotify music tracks to your specific folder and wait for a while. After the conversion, you can browse all the converted Spotify songs in the history folder by clicking the Converted icon. You can also locate the folder where you save Spotify songs by clicking the Search icon.
2.2 How to Play Your Own Spotify Music on Peloton
To play the converted Spotify songs on Peloton, you have to use a USB drive to transfer those playable songs from your computer to your Peloton bike. Also, you can upload songs to Google Drive and then open Google Drive from the Peloton's hidden browser for playing.
Insert the USB flash drive into your computer. Then drag the folder containing Spotify songs to the USB drive storage.
Plug the same USB drive into your Peloton's USB port located at the back of the touch screen.
Then you can access items including Spotify songs within the USB drive on your Peloton's touch screen.
---
Part 3. How to Get Peloton Songs/Playlists on Spotify
With the Track Love feature, you can save tracks you like while you're hearing during classes or previewing an on-demand class. Moreover, you can sync all your liked Peloton songs with Spotify or Apple Music for listening. Here's how to get Peloton songs on Spotify.
Enter a Peloton class, and tap the heart icon to like this song when your favorite song appears.
This will add the song to your Peloton playlist.
Tap on your username in the bottom left corner of the Peloton screen.
Select Music and then tap Connect in the right panel.
Hit on the Connect button next to Spotify.
Sign into your Spotify account and tap Agree to link Spotify to Peloton.
Once Connected shows, you can open the Spotify app.
Head to Your Library > Playlists to access the My Peloton Music By [Your Peloton Name] playlist.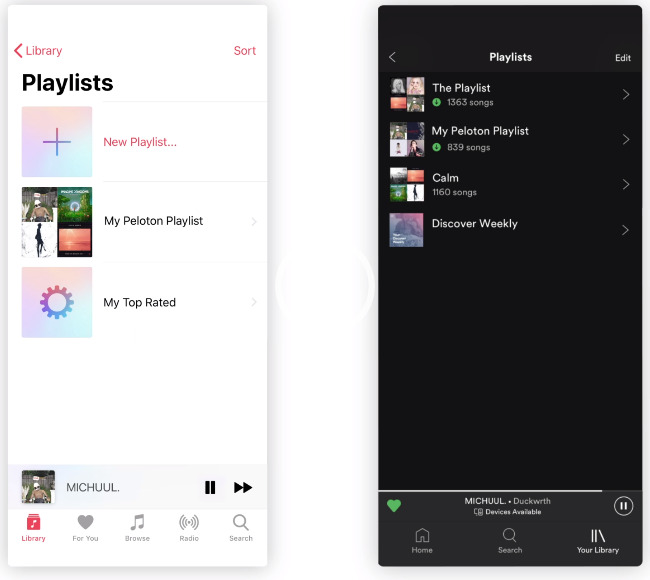 ---
Part 4. How to Fix Connect Spotify to Peloton Not Working
How pleasant it is to ride on Peloton with your favorite Spotify songs and listen to Peloton songs on Spotify! However, some people have run into a problem that Peloton won't connect to Spotify for syncing. If you have trouble with connecting Spotify to Peloton not working. Here're some methods available to fix.
Method 1. Make sure you've liked songs on Peloton. If you haven't highlighted the heart button on Peloton, the song cannot be added to your Peloton playlist, and then it cannot be synced with Spotify.
Method 2. Make sure the Peloton connects to a stable network. When you connect Spotify to Peloton not working, it might be with the internet connection. If the connection fails, you cannot connect Spotify to Peloton successfully. You can go to Settings on your Peloton app and select Connected Accounts to check if you have linked Spotify to Peloton.
Method 3. Reconnect Spotify to Peloton. If Peloton won't connect to Spotify at this time, reconnect Spotify to Peloton using the steps in Part 3 after connecting to a strong network.
Method 4. Update your Spotify app to the latest version. When you're using the older version of the app, issues and bugs are more easily to happen. And Peloton needs Spotify version 8.0.0 or newer to work with their bike cycle.
Method 5. Reboot your Peloton bike. To do this, you have to unplug the power cord from the back of the bike. After a few minutes, then plug it back.
Method 6. Dive into the built-in Peloton playlists on Spotify. Peloton rolled out its playlists on Spotify for its fans. So when you cannot sync your liked Peloton songs on Spotify, dive into this playlist to find if there is one you like. To access it, just search for Peloton on the Spotify app, or go to the Peloton playlists from a browser. 
---
Summary
With the help of the hidden browser or Tunelf Spotibeat Music Converter, how to listen to Spotify on Peloton will not be a problem. You will easily and comfortably start the playback of Spotify on the Peloton machine even on any device you like. Well, you can also apply the above way to access your liked Peloton songs or playlists on Spotify. When encountering problems, take the 6 methods to troubleshoot them.
---
---