Spotify is a music streaming service that continues to add useful features for both free and premium subscribers. This home to over 320 million monthly users recently gets a connection with Sonos. With a Spotify account, users who own Sonos speakers can play Spotify on Sonos speakers directly. You can, therefore, listen to Spotify on Sonos speaker through Spotify Connect or Sonos Controller, as you freely shuffle your playback.
But wait a minute! Over 420 million, only about 182 million Spotify subscribers are premium users. Even though all users can get Spotify on Sonos speaker directly, those free users still fave some mishaps, thus receiving limited services. In such a circumstance, you would think of upgrading to enjoy your music. But here we'll uncover how to play Spotify free on Sonos with unlimited services even without using a paid version of Spotify.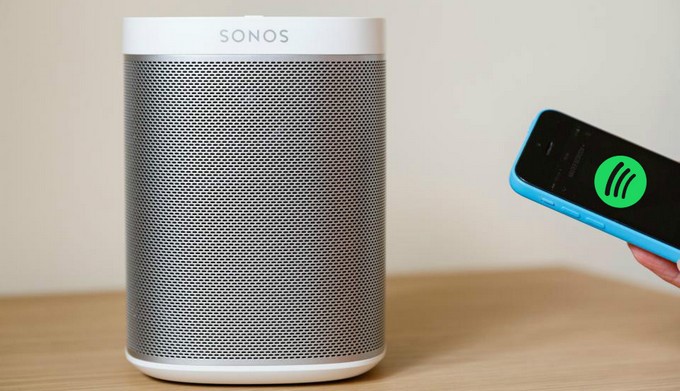 ---
Part 1. How to Add a Spotify Account on Sonos
No matter whether you're using a free or premium Spotify account, you can start the playback of Spotify on Sonos in a few steps. With Spotify play on Sonos, users can access Spotify's catalog and shuffle the playback to immensely fill your room with beautiful sound for the best listening experience. Here's how to set up Spotify on Sonos for playing your favorite tunes.
To use Spotify on your Sonos speaker you need:
1 – Update the Sonos system to the latest firmware
2 – Install the Spotify and Sonos apps on your device
3 – Connect your devices to the same Wi-Fi network
1.1 Add Spotify on Sonos App for Android/iOS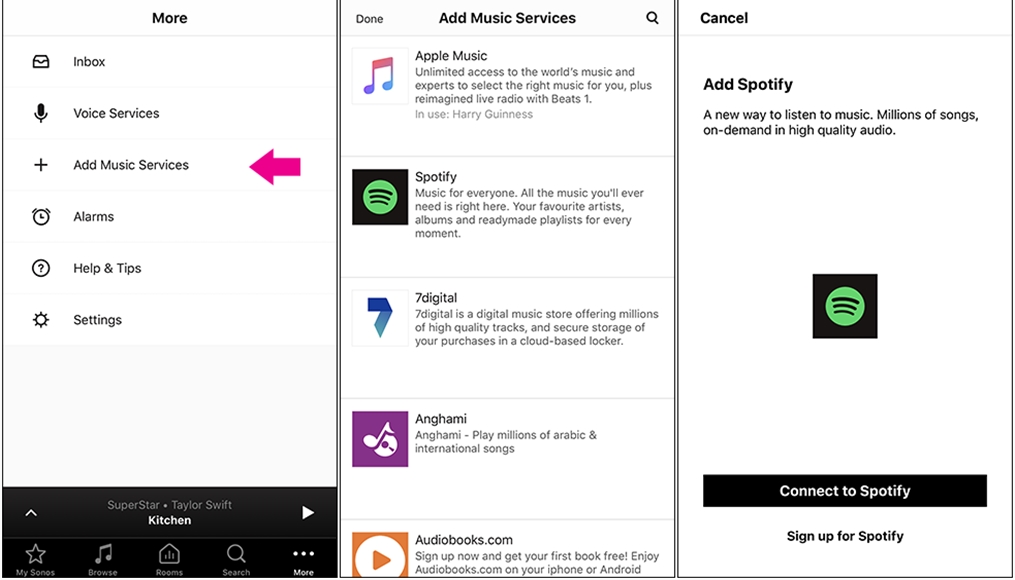 Step 1. Download and open the Sonos app on your mobile or tablet.
Step 2. Tap Services & Voice from the Settings tab.
Step 3. Under Music & Content, tap Add a Service and select Spotify from the list of services.
Step 4. Tap Add to Sonos and then enter your Spotify account details to link Spotify to Sonos speakers.
1.2 Add Spotify on Sonos App for Mac/PC
Step 1. After installation, open the Sonos app on your computer.
Step 2. Go to the Select a Music Source section and click on Add Music Services.
Step 3. Click on the Spotify service and then type your Spotify account and password.
---
Part 2. How to Stream Spotify to Sonos with/without Premium
After you connect Sonos to Spotify on iPhone, Android, PC, or Mac, then you can control your playback of songs from Spotify on Sonos. Now you can use the Sonos app to play your liked songs from Spotify through your Sonos speaker.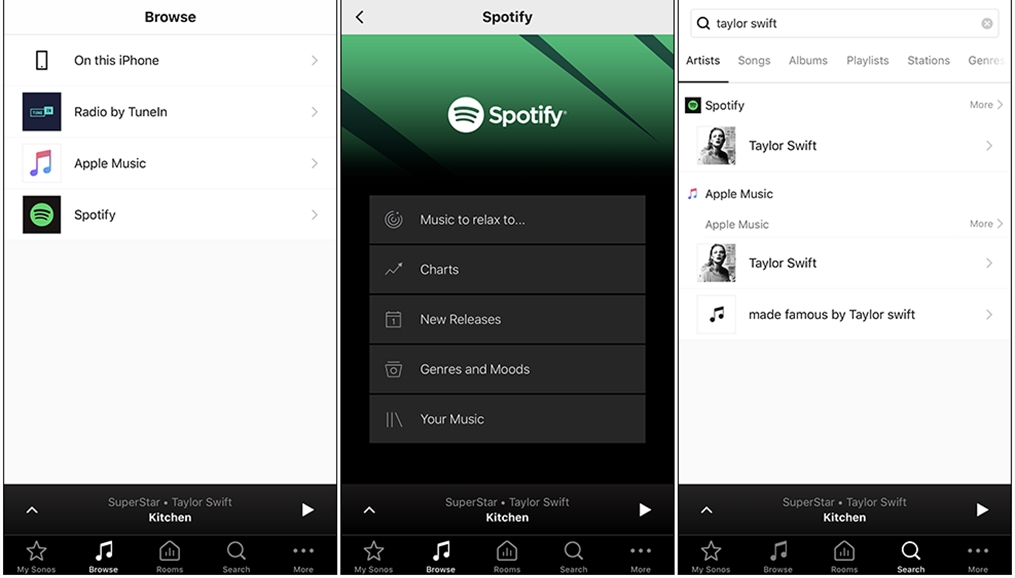 Step 1. Open the Sonos Controller app, select the Browse options, and then add your Spotify account.
Step 2. Select any music or playlist you've saved in your Spotify library. You can also use the Search tab to find any song you want to play on your Sonos speakers.
Or you can control Sonos directly from the Spotify app by using Spotify Connect.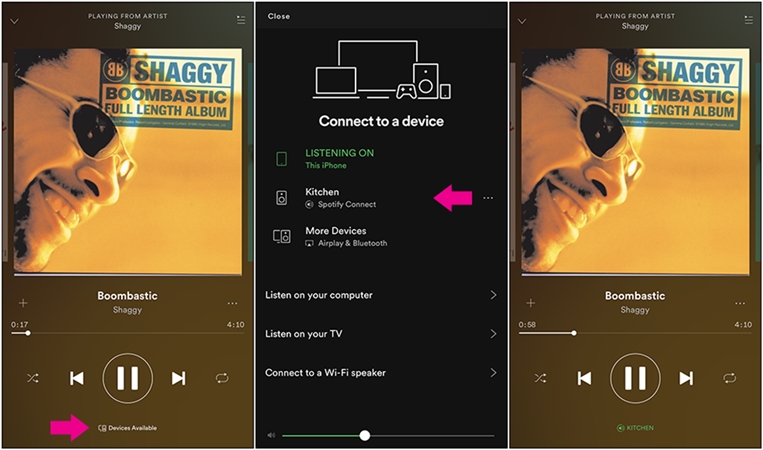 Step 1. Open the Spotify app, select a playlist to play, and go to the Now Playing screen.
Step 2. At the bottom of the screen, tap Devices Available and select your Sonos speaker.
---
Part 3. Alternative Way to Listen to Spotify on Sonos Speaker
We earlier mentioned that Sonos supports Spotify free and premium accounts. However, when listening to music with a free Spotify account, you're limited to six song skips per hour. So, in most cases, a free Spotify account only allows you to access Spotify artists, albums, and playlists on your Sonos speaker instead of enjoying unlimited services.
This then leaves those free users out of the bay. Are you still wondering why? It is because all Spotify music is encrypted, which cannot be unlocked even with a premium subscription. So, if you want to get unlimited services or have a better listening experience, you could try to break all limitations of Spotify.
There is no better way to do this than with a Spotify music downloader – Tunelf Spotibeat Music Converter. With this smart and professional Spotify music converter, you can remove the encryption on Spotify music, then you are free to play your favorite songs on Sonos with a free account. Let's look at how to play Spotify on Sonos speaker without limits.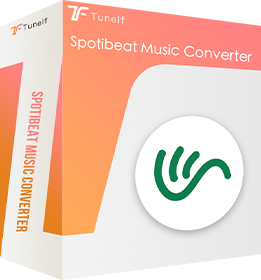 Key Features of Tunelf Spotibeat Music Converter
Download Spotify playlists, songs, and albums with free accounts easily
Convert Spotify music to MP3, WAV, FLAC, and other audio formats
Keep Spotify music tracks with lossless audio quality and ID3 tags
Remove ads and DRM protection from Spotify music at a 5× faster speed
Step 1 Add Spotify music to Tunelf app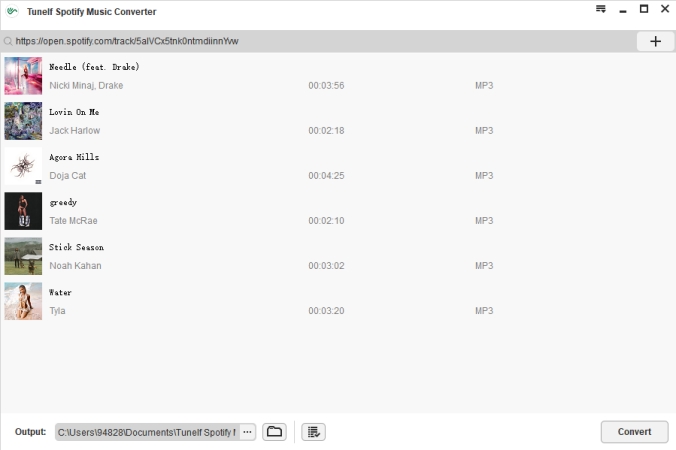 First, launch Tunelf Spotify Music Converter on your PC and it will automatically open the Spotify app. Next, log into the Spotify account and navigate to the Library section. Check out the Spotify songs that you need to play on your Sonos speaker. Copy the URL links of the songs and paste them into the search bar. You can also drag and drop the songs to the Tunelf interface to await conversion.
Step 2 Configure the parameters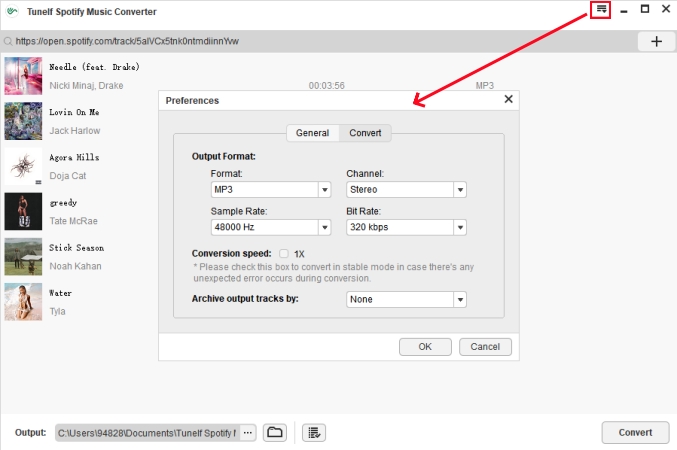 You now need to set the parameters of your songs. Go to the Menu option at the top of the Tunelf window and click the Preferences. Remember you can adjust the settings such as the output format, channel, sample rate, and much more. The output format should be MP3 as this is what will enable you to add Spotify playlist to Sonos for playback.
Step 3 Download and add Spotify playlist to Sonos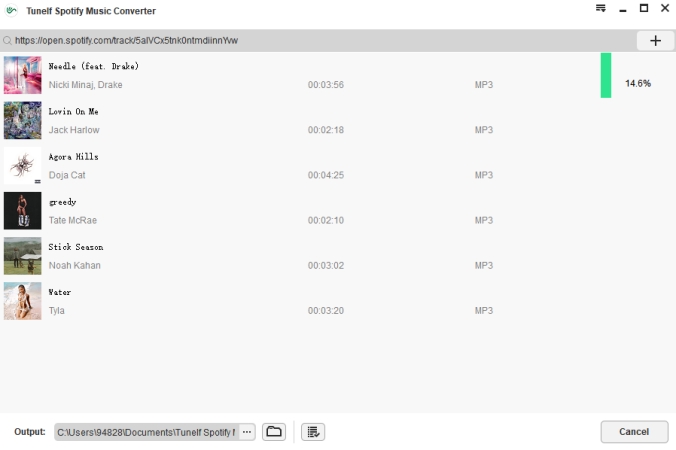 You can now download and convert your Spotify music to a playable format on Sonos. Check your settings then click the Convert button on satisfaction. Your downloaded songs will also be saved on your PC. Simply click a song that you want to listen to and hola! It will play perfectly on Sonos for free.
Step 4 Play Spotify music on Sonos speaker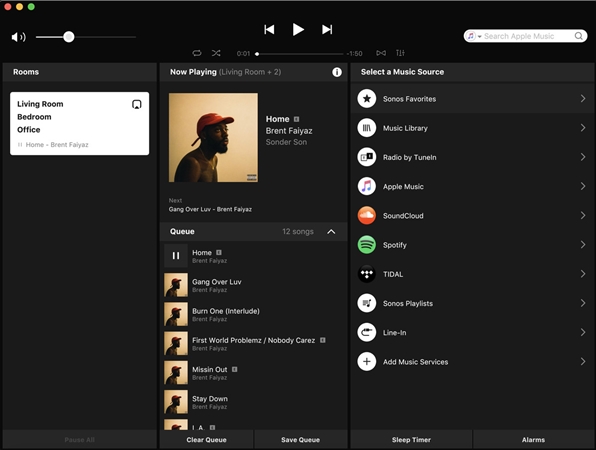 Open the Sonos app for macOS or Windows, click Update Music Library Now from the Manage menu, then click Yes to confirm. Now import the converted Spotify music tracks into the library. After adding them to the library, you can select any song to play on your Sonos speakers.
---
Part 4. Solutions to Solve Spotify Not Working on Sonos
In the process of using Spotify on Sonos speaker, you would encounter lots of problems. You could find that Spotify won't play on Sonos or Spotify doesn't work on Sonos. Here we provide steps to resolve issues with Spotify not working on Sonos.
Problem 1. Missing Spotify music services when adding to Sonos
1) Spotify music service is only available in select countries. Check whether Spotify works in your country.
2) Check your account's registered country. Make sure your Sonos account is registered in the correct country.
Problem 2. Spotify not working on Sonos speakers when playing music
1) Relink Spotify to Sonos speakers. You can unlink the current Spotify account from your Sonos speaker and link it to your Sonos speaker again.
2) Clear the cache on your Spotify app. You could try to tap Delete cache in the Settings to delete all of your temporary files, so as to start your playback of Spotify on Sonos speakers.
3) Reset Sonos speaker. Try to restart your Sonos speaker when Spotify not working on Sonos speakers or reset your Sonos speaker to remove all the connections to streaming music services.
---
Part 5. FAQs about Playing Spotify on Sonos Speaker
Q1. How to log off Spotify on Sonos?
A: To log out of Spotify on Sonos, you can open the Sonos app on your phone and tap More > Settings. Then tap My Services to select Spotify and select Remove Account.
Q2. Can you have multiple Spotify accounts on Sonos?
A: No, you cannot. Sonos only allows you to add a Spotify account to Sonos speaker for playing music.
Q3. Can I play Spotify free on Sonos?
A: Sure! You can access Spotify's music library on the Sonos app and select any track or playlist you like to play.
---
Conclusion
The beauty of music is in the sound, and there is no better way to get quality sound other than from Sonos. It's good that Sonos supports all users to play music from Spotify. However, those free users have limited rights which inhibit some functionality. In this case, users can take advantage of Tunelf Spotibeat Music Converter to get Spotify on Sonos speakers in simple steps. Or you could try to use it to resolve your issue with Spotify on Sonos.
---
---