Dating back to more than a decade, MP3 players are very popular among us. We often download songs from the artists we like to listen to on an MP3 player. With the development of music streaming services, we often stream music online on our smart devices. There are lots of music streaming services like Spotify, Amazon Music, Apple Music, and more. It's easy to access millions of songs and podcasts from around the world on online music streaming services. Well, does that mean the MP3 player is going to disappear? The truth is the opposite.
Though MP3 players were not as popular as before, there are still some things that these smart devices cannot do well as MP3 players. The most obvious element that differentiates them is the audio quality. High-resolution audio is an essential factor in enjoying a superior listening experience. Therefore, some music enthusiasts prefer to use an MP3 player to listen to music. Is there an MP3 player that plays Amazon Music? In this guide, we just make a list of the best MP3 player for Amazon Music so that you can find the perfect one for your needs.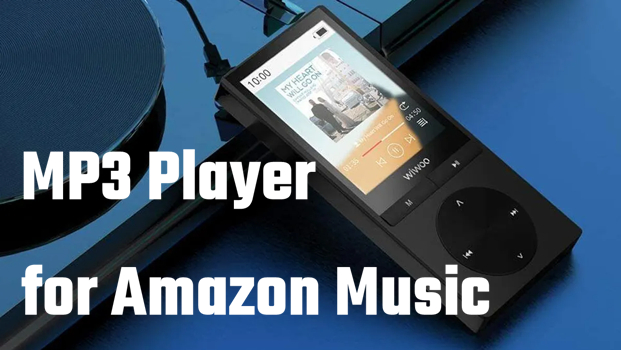 ---
Part 1. Top 3 MP3 Players for Amazon Music in 2023
No.1 Apple iPod Touch
iPod Touch is a portable media player and multimedia device with a touchscreen interface, running on iOS and providing access to various applications and internet connectivity. It gained popularity since it was released by Apple Inc. Due to its powerful function and high-quality sound, it has become the best choice for music and video playback. The iPod touch can connect to the internet via WiFi, enabling users to browse the web, access social media, send emails, and use various online services and apps.
With access to the App Store, users can download and play games, use productivity apps, social networking apps, educational apps, and more, transforming it into a versatile device. As one of its primary functions, the iPod Touch allows users to store and play music and videos from music streaming platforms like Apple Music, Amazon Music, Spotify, Tidal, and more. It features a touchscreen interface, similar to Apple's iPhones. And it can last for 40 hours, so you can listen to music whenever you can without stopping.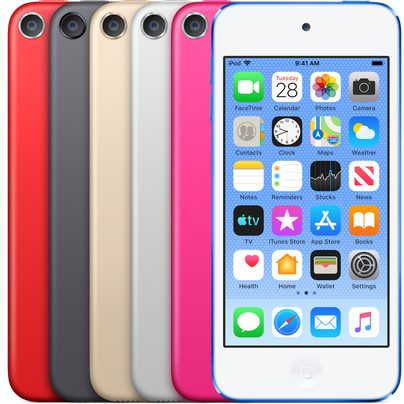 | | |
| --- | --- |
| Storage Capacity | 256GB |
| Battery Life | 40 hours |
| Wireless Connectivity | WiFi & Bluetooth enabled |
| Audio Formats | MP3, AAC, M4A, Protected AAC, AIFF, WAV, Audible audiobook, and Apple Lossless |
| Music Streaming Services | All music streaming services |
Pros

Lightweight and sleek design
Support all streaming services
Excellent audio performance
In credible battery life
Cons

No water resistance
Lacks a storage expansion slot
No.2 Astell&Kern SP3000
Astell&Kern products are positioned at the higher end of the market, targeting audiophiles and music enthusiasts seeking a premium audio experience while on the go. As a high-end and professional MP3 music player, Astell&Kern SP3000 is quite expensive, but it can give you a fantastic digital audio experience you've never had before. Especially when talking about the function, you can easily find a dual selection of line-out ports, USB ports, headphone jacks, and memory card slots.
And Astell&Kern SP3000 supports a large majority of audio streaming services, such as Amazon Music, Spotify, Apple Music, Tidal, Audible audiobook, and more. For music lovers, it is the optimal choice to listen to music with the best audio quality offered by Astell & Kern. If you are a big fan of music and don't mind the price, Astell&Kern SP3000 is the best MP3 player for Amazon Music. Besides, it supports support various audio formats, including lossless formats like FLAC and ALAC.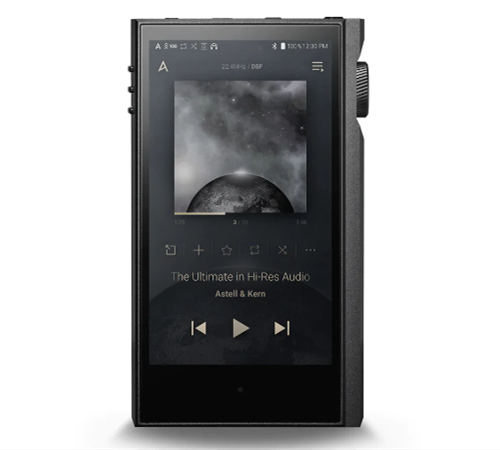 | | |
| --- | --- |
| Storage Capacity | 256GB |
| Battery Life | 9 hours |
| Wireless Connectivity | WiFi & Bluetooth enabled |
| Audio Formats | WAV, FLAC, WMA, MP3, OGG, APE, AAC, ALAC, AIFF, DFF, DSF, MQA |
| Music Streaming Services | All music streaming services |
Pros

Cool design and great build quality
Supports a variety of audio formats
Big screen and intuitive platform
Multiple output connections
Cons

Pricey compared to competitor
Battery life could be longer
No.3 Mighty Vibe
Mighty Vibe is another professional MP3 player and has partnered with Amazon Music and Spotify. Users can sync their playlists from Amazon Music and Spotify to the Mighty Vibe and listen to them offline. Once the Amazon Music playlists are synced, users can listen to their favorite music offline without requiring an internet connection or a smartphone. The specialty you should pay attention to is that the Mighty Vibe only allows Amazon Music Unlimited subscribers and Amazon Prime members to stream Amazon Music.
In addition to supporting offline playback, Mighty Vibe can connect to Bluetooth headphones or speakers, providing wireless audio playback for a more convenient and cable-free experience. The device is built to be durable and lightweight, making it suitable for outdoor activities and workouts. Besides, it is designed to have a user-friendly interface for easy navigation and control of music playback. If you want to enjoy Amazon Music while running or working out, the Might Vibe could be a good option.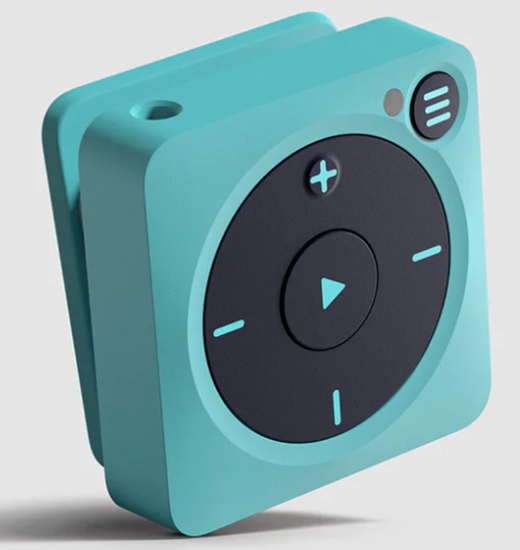 | | |
| --- | --- |
| Storage Capacity | 8 GB |
| Battery Life | 5 hours |
| Wireless Connectivity | WiFi & Bluetooth enabled |
| Audio Formats | MP3 |
| Music Streaming Services | Spotify and Amazon Music |
Pros

Highly efficient battery life
Easy to control the music playback
Lightweight with a clip design
Impressive and dynamic sound
Cons

Support few audio formats
Only compatible with two music streaming services
---
Part 2. How to Choose the Best MP3 Player for Amazon Music
Choosing the best MP3 player for Amazon Music involves considering compatibility, features, audio quality, storage capacity, and additional functionalities. Here is a guide to help you make an informed decision.
1. Amazon Music Compatibility
Ensure the MP3 player is compatible with Amazon Music. Not all MP3 players can directly stream or download music from Amazon Music due to digital rights management (DRM) restrictions. Look for MP3 players that explicitly state compatibility with Amazon Music.
2. Audio Quality
Consider the audio quality the MP3 player can deliver. Look for high-resolution audio support and features like lossless playback to ensure a premium listening experience. Check for supported audio formats, such as FLAC or ALAC, for better sound quality.
3. Storage Capacity
Determine how much storage you need based on your music collection. Choose an MP3 player with sufficient storage capacity to accommodate your desired music library. Consider whether the MP3 player offers expandable storage via SD cards.
4. Battery Life
Check the battery life of the MP3 player, especially if you plan to use it for extended periods without recharging. A longer battery life ensures uninterrupted music playback during your activities.
5. Ease of Use and Interface
Evaluate the user interface and ease of use. The MP3 player should have an intuitive interface that allows easy navigation through your music library, playlists, and settings. Touchscreen or physical button-based interfaces should be user-friendly.
6. Size and Portability
Consider the size and weight of the MP3 player, especially if you plan to use it while exercising, traveling, or on the go. Choose a portable and lightweight MP3 player that fits comfortably in your hand or pocket.
7. Connectivity Options
Look for connectivity options such as Wi-Fi or Bluetooth. Wi-Fi can facilitate direct streaming or downloading of Amazon Music, while Bluetooth allows wireless headphone connectivity for a tangle-free experience.
8. Additional Features
Check for additional features like FM radio, voice recording, audiobook support, or compatibility with other music apps. Some MP3 players also have built-in speakers, which can be beneficial for casual listening.
By considering these factors and your specific needs, you'll be able to select the best MP3 player that suits your preferences and provides an excellent Amazon Music playback experience.
---
Part 3. Bonus Tip: How to Download Amazon Music to MP3 Player
As far as we know, few MP3 players support playing Amazon Music. On the market, most MP3 players like Sony Walkman and Sandisk MP3 Player are not compatible with Amazon Music due to digital rights management. To make an MP3 player that plays Amazon Music, you have to download Amazon Music as MP3 files locally. But downloading Amazon Music is not easy. In this case, you need professional software to handle with.
Tunelf Amazon Music Converter is a tool to remove DRM from Amazon Music and convert Amazon Music to MP3 for playing on any device or through any media player. What's most important is that the converter will not destroy the audio quality of Amazon Music. After conversion, you can keep the converted Amazon Music files forever and play them on any MP3 player you like. Now just follow the guide below to start your conversion.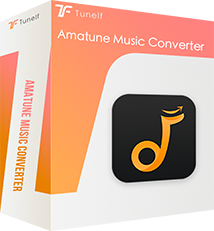 Key Features of Tunelf Amatune Music Converter
Download songs from Amazon Music Prime, Music Unlimited, and HD Music
Convert Amazon Music songs to MP3, AAC, FLAC, WAV, M4A, and M4B
Handle the audio conversion of Amazon Music at a faster speed of 5×
Ensure the output audio quality while retaining ID3 tags and metadata
Step 1 Import Amazon Music to Download
First, launch Tunelf Amazon Music Converter on your computer and wait for the automatic opening of the Amazon Music app. Then, copy the link of a song or a playlist you like and paste the link into the search bar of the converter. And click the Add + button to import Amazon Music songs to the conversion list.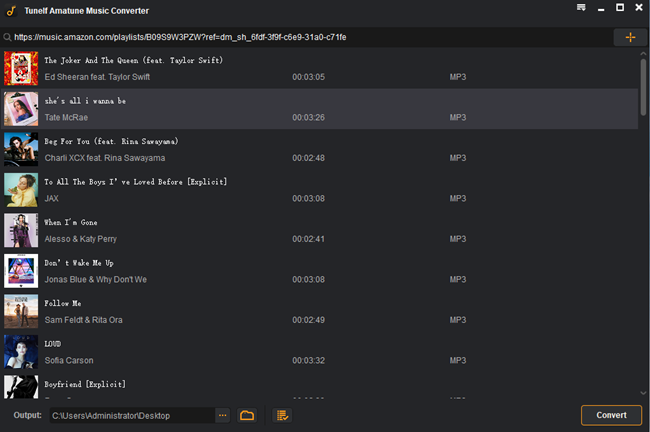 Step 2 Set MP3 as the Output Audio Format
Next, click the menu icon on the top right of the converter. Under the menu settings, you can click Preferences to open the settings window. There will pop up a settings window where you can choose the target output format. You are supposed to set MP3 as the output audio format. Also, you can change the bit rate, sample rate, and channel.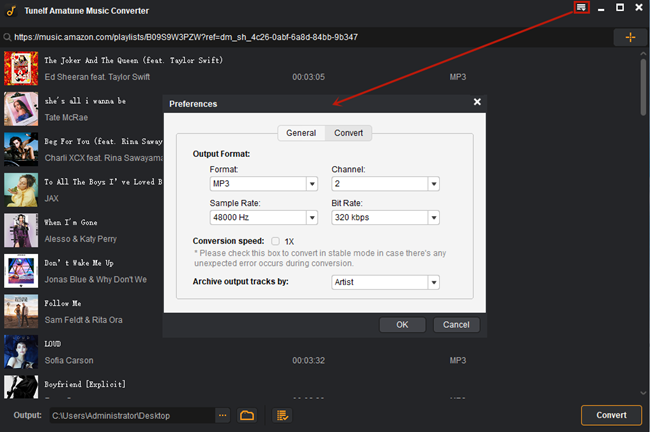 Step 3 Go to Download Amazon Music to MP3
Confirm all of your settings, then click the Convert button to download and convert Amazon Music to MP3. After conversion, all the converted Amazon Music songs will be saved to the local folder on your computer. Now you can transfer the converted Amazon Music files to your MP3 player and start listening to your Amazon Music songs on your MP3 player.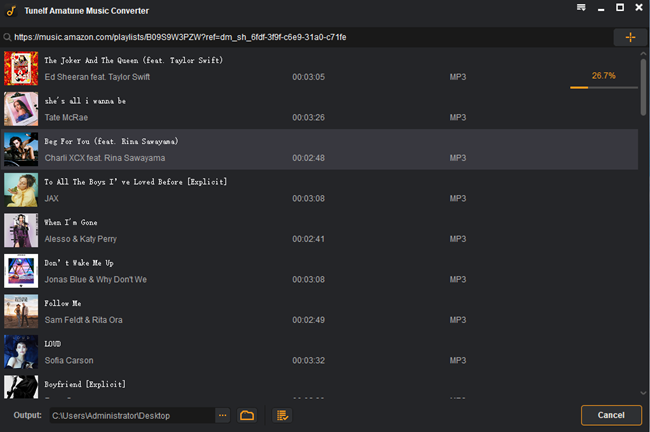 ---
Conclusion
Though it is easy to access a large music library through online music streaming services on a smartphone, MP3 players are also needed for better sound quality. Under some specific circumstances, MP3 players are much better than smartphones. If you plan to buy an MP3 player for playing Amazon Music, you can check the list of the best MP3 player for Amazon Music above. When you have an MP3 player that cannot play Amazon Music, you can consider using Tunelf Amazon Music Converter – a reliable Amazon Music converter you must have.
---
---