Q: I just purchased amazon music two days ago. I tried to play music on my desktop, but there was no audio. The screen showed the music was playing, but no sound. Then I tried it on my iPad using the Alexa app and the same thing happened. what is going on and how do I fix it?
It's common to stream Amazon Music online and sometimes unexpected errors show up. You can see many people are complaining about the Amazon Music no sound issue in the Amazon forum. When you listen to your favorite Amazon Music online, you may discover that you can't hear anything from Amazon Music though the screen is showing playing. That's annoying and frustrating.
So why does this happen? Well, the reasons are various. It may be caused by the audio settings on your device. Software bugs or mistakes and malfunctions can also lead to this problem. To fix Amazon Music no sound and bring the sound back when streaming, here're some tips for you. You can read below carefully to check solutions for your problem.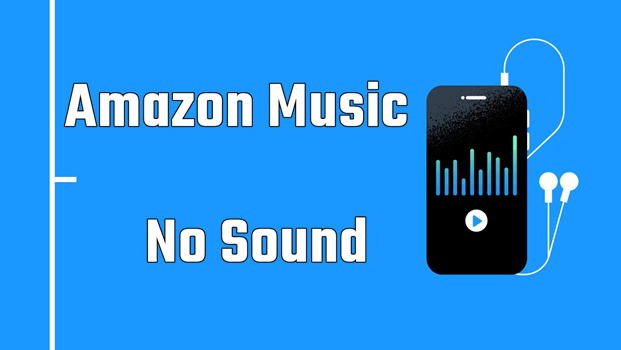 ---
Part 1. How to Fix Amazon Music No Sound on PC/Mobile Phone
After analyzing the possible reasons, we made this part clear and listed several workarounds in the following. They're helping to solve your problem directly.
Fix 1 Check your audio settings
When you find your Amazon Prime Music no sound or Amazon Music not playing well, the first thing you should do is to check your audio settings on your device. It's possible that your system sound has been turned off or muted. Therefore, you'd supposed to check your cable connections and volume in case they're loose or failed to work. This is the quickest method if it's exactly your audio settings that make no sound on Amazon Music.
Fix 2 Change a browser or switch to the Amazon Music app
This method only works when you're using the Amazon Music web player and find no sound from Amazon Music. Honestly, the Amazon Music app version takes the privilege of more features that are not supported on the web player. And some errors or mistakes easily happen. In this case, you're supposed to change a browser like Safari, Chrome, or Firefox, if you're not willing to use the app. For a better user experience, you'd better use the Amazon Music app.
Fix 3 Check your network connection
A good and stable internet connection occupies a great position for streaming music online. When you're connected to poor internet, it may cause Amazon Music to stop, crackling, and even no sound. If you're using Wi-Fi, you can try to restart your home network by unplugging the modem and router and then reconnecting again. Or you can simply change a Wi-Fi connection or use Cellular data instead. To allow Amazon Music to use mobile data, you can go to Settings on your device and select Cellular, and enable Amazon Music to stream Amazon Music with mobile data.
Fix 4 Force stop and restart the Amazon Music app
Almost every small bug or software error can be removed after force stops and restart. To force stop the Amazon Music app on Android, you should go to Settings on your device and select Apps & notifications. Next scroll down to choose Amazon Music to force stop it. On iOS, just delete the App from the App manager interface and then reopen it. If this cannot solve, you may need to delete the App and reinstall it. For Android users, you can go to the Google Play Store to install it. iOS users can get the app from the App Store.
Fix 5 Clear app cache
Have you noticed that Amazon Music streaming is influenced by the storage space on your device? Usually, the Amazon Music app stores many unnecessary caches on your device after a period of use. So, you may need to clean up some unnecessary data to free up the storage space. The procedures to clear Amazon Music cache on multiple devices are different, you can visit the official website to get a detailed guide.
Fix 6 Get the updated version of the Amazon Music app
The Amazon Music app developers are working to fix the bugs or errors when using the app. And after fixed, they will release the new version for download. And it's likely to ignore it as they may update several times in a short period. So, now go to check your update and make sure you're using the latest version of Amazon Music. It's simple to see if you're using the updated version, all you need to do is to search for the Amazon Music app from your store to check if there's an updated version available.
---
Part 2. Ultimate Method to Fix Amazon Music No Sound Forever
With the above methods, you can get your problems solved. If you find your problem is unsolved still, you may consider the method I'm going to introduce next. And until now, Amazon Music does not fix this problem directly and completely, it's likely to encounter this issue again and again. That's annoying and disgusting. As the Amazon Music app malfunctions, we can turn to try other players or devices. Then you probably ask, how can I play Amazon Music on other devices or platforms? Generally, due to the DRM agreement, Amazon Music restricted playing on other platforms except for its own app. Luckily, you still have other choices available. I'd like to recommend a great alternative method to fix Amazon Music no sound forever. Tunelf Amatune Music Converter is a software tool that you must have a try.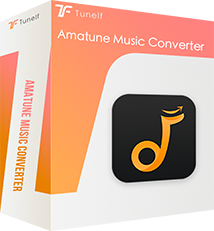 Key Features of Tunelf Amatune Music Converter
Download songs from Amazon Music Prime, Music Unlimited, and HD Music
Convert Amazon Music songs to MP3, AAC, FLAC, WAV, M4A, and M4B
Handle the audio conversion of Amazon Music at a faster speed of 5×
Ensure the output audio quality while retaining ID3 tags and metadata
Tunelf Amatune Music Converter is designed to make Amazon Music easily accessible on any other player or platform. With the advanced technology, Tunelf can remove DRM from Amazon Music and convert Amazon Music to MP3 and other 5 popular audio formats. No matter what subscription you're using, you're able to download Amazon Music offline locally. And you're also allowed to adjust some other audio parameters, such as sample rate, bit rate, and channel. Once the conversion is completed, you don't have to worry about the Amazon Music no sound issue anymore, as you have so many players for the supplement. Here's a simple tutorial on how to download Amazon Music offline locally with Tunelf:
Step 1 Import Amazon Music to the Converter
When you launch Tunelf Amatune Music Converter on your computer, it will run the Amazon Music app at once. Next, go to browse your music library and choose a song to import. Just copy the song link and paste it to the search bar to add files to the program.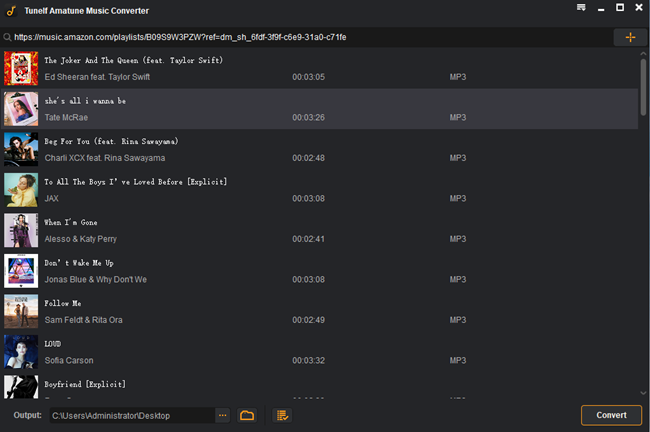 Step 2 Select the Output Audio Format
Tunelf allows you to set output audio formats from several popular and common audio formats, including MP3, WAV, FLAC, AAC, M4A, and M4B. Under the menu, go to Preferences > Convert to set up.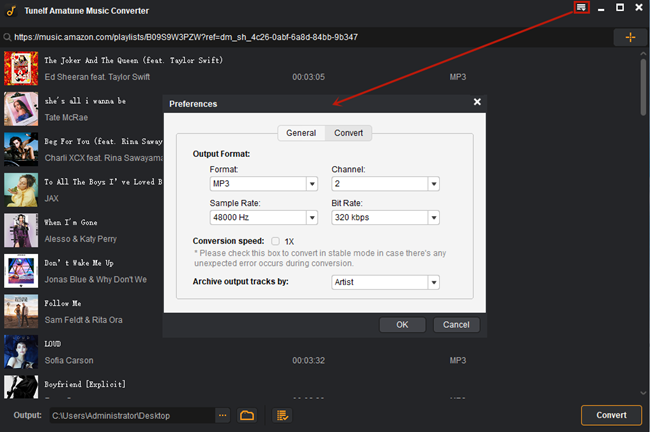 Step 3 Start to Download Amazon Music Locally
Once set up the output audio formats, you can just click the Convert button to start the conversion. After conversion, you can get the physical Amazon Music tracks in your local folder and play them on multiple devices anytime you like.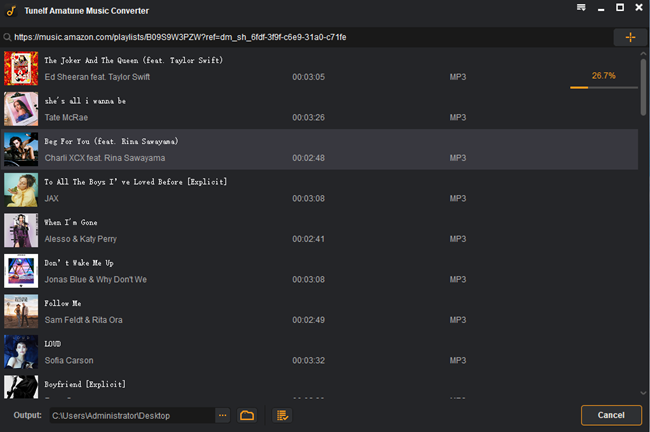 ---
Wrap Up
In this article, we've provided 7 available methods to fix Amazon Music no sound. But for the most efficient way, Tunelf Amatune Music Converter counts. Whenever you have trouble with streaming Amazon Music, Tunelf Amatune Music Converter is always there for you. Come on, click the link below to download Tunelf, it deserves to have a try.
---
---