To help you drift off to sleep, listening to light music or chilling out to a favorite radio station would be a great method for those people having trouble falling asleep. But that bright screen will be affecting your eyes and stimulating your brain. The easy solution is to switch to Dark Mode, which can get away with a bright screen especially during dark environments.
However, only a part of music streaming applications is designed with Dark Mode, but some don't offer this feature. It then goes on to ask, "is it possible to switch Apple Music to Dark Mode?" Thankfully, Apple Music completely supports to play music in dark mode. Here's how to enable Apple Music Dark Mode to work on your device.
---
Part 1. How to Get Dark Mode on Apple Music
Turning on Dark Mode can not only help you focus on your work but also bring you a great viewing experience in low-light environments. It's quite different to enable Dark Mode to work on different platforms while listening to music. Here's the how-to, and get it on your device right now.
#1. Android: Change to Dark Mode on Apple Music
This app for Android features complete support for Dark Mode within the app. If you're a subscriber to this music streaming service on your Android phone, you can switch Apple Music to the built-in Dark Mode within the app easily.
Step 1. Fire up Apple Music and tap the three dots then select Settings.
Step 2. Under Display Options, tap on Theme and choose Dark.
#2. iPhone & iPad: Use Apple Music Dark Mode
For iOS users, you cannot directly use built-in control within the app to switch the app to Dark Mode. To enable Dark Mode, you can turn on Dark Mode for your iPhone or iPad in the Control Center.
Step 1. Go to Settings > Display & Brightness.
Step 2. Select Dark to turn on Dark Mode.
Or you could turn on Dark Mode from Control Center. Just open Control Center, touch and hold the brightness control, then tap Dark Mode On.
#3. Mac: Enable Dark Mode for Apple Music
The easiest way to get Dark Mode for Apple Music on your Mac is to change the appearance of your computer. If you want to enable Dark Mode while listening to music on your Mac, you can go to change the appearance.
Step 1. Choose Apple menu > System Preferences and click General.
Step 2. Then start to select the Appearance options at the top of the window and use the dark appearance.
#4. Windows: Get Dark Mode Apple Music
To enable Dark Mode, you need to go to set the appearance on your Windows computer as iTunes doesn't have special Dark Mode settings. Switching your Windows computer to Dark Mode is easy to do with the following steps.
Step 1. Navigate to Settings > Personalization and click the Colors option.
Step 2. Scroll down and select the Dark option under the Choose your color section.
---
Part 2. Play Apple Music on More Devices without Bright Screen
In case you don't know, Apple Music launches a limitation to its music resource, which prevents you from listening to songs downloaded from Apple Music on more devices. If you prefer to listen to your songs on your other devices coming with a built-in behavior of Dark Mode, you may consider converting Apple Music to MP3.
To convert Apple Music to MP3, you may need to remove DRM protection from Apple Music first. This means that you're not able to use a common audio converting tool to handle the conversion of Apple Music songs. So, you may need a special audio converter such as Tunelf Audio Converter, a professional and powerful audio converter for Apple Music.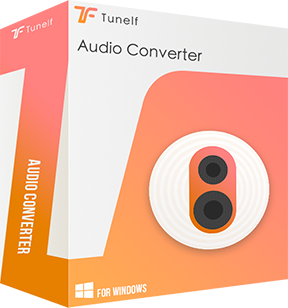 Main Features of Tunelf Apple Music Converter
Convert audios from Apple Music to more widely-supported formats
Remove the DRM protection from Apple Music, iTunes, and Audible
Convert common audio files to several popular audio formats like MP3
Support to play Apple Music, iTunes songs, and Audible on any device
Step 1 Add Apple Music to Conversion List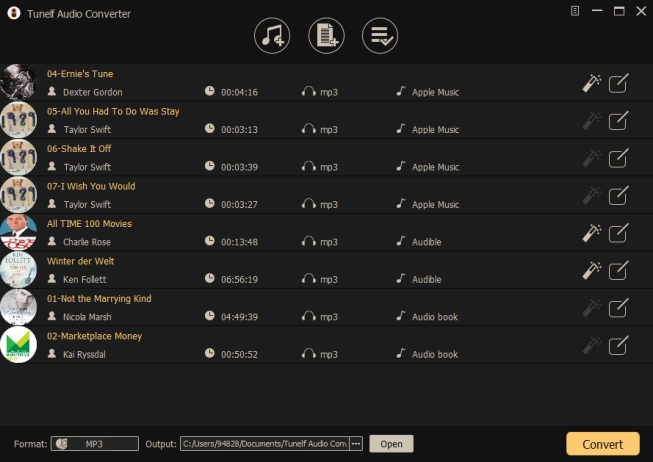 First of all, you'll need to install Tunelf Audio Converter on your computer. Then launch the software and it will load Apple Music automatically. Note that all songs from Apple Music can be converted by Tunelf Audio Converter but you need to download them from Apple Music to your computer first. Now select songs you want to transfer and add them to the conversion list by drag-and-drop.
Step 2 Go to Configure Audio Parameters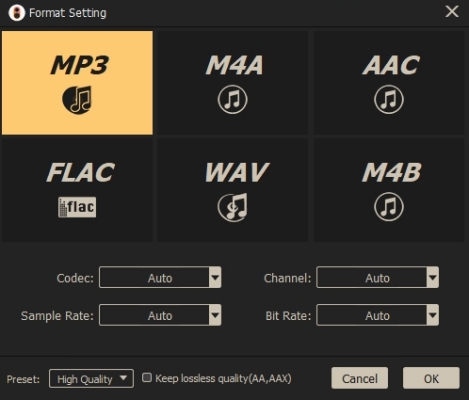 Next, go to select the audio format and set the output parameters by clicking the Format panel. In this window, you can select the MP3 option from the list of audio formats. From there, you can also set the bit rate, sample rate, codec, and channel for getting better audio quality. Once you're satisfied with your settings, click the OK button, and then go back to the interface of Tunelf software.
Step 3 Start to Convert Apple Music to MP3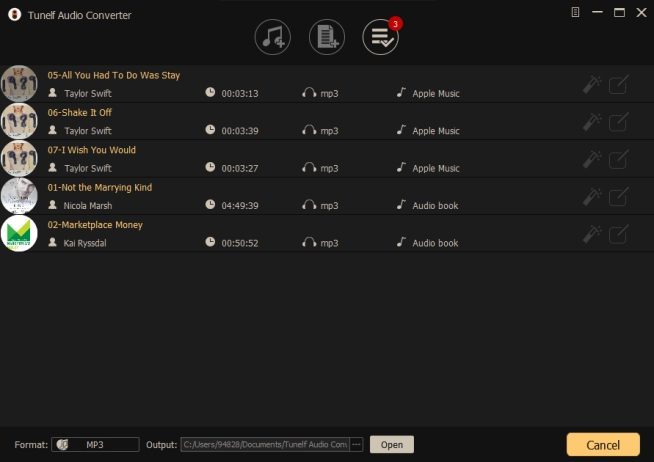 Click the Convert button on the bottom right corner to initiate the conversion of Apple Music songs. When the conversion process finishes, your files will be saved to your default downloads folder. By clicking on the Converted icon, you'll navigate to browse the converted Apple Music songs in the history list. Now you can prepare to transfer Apple Music playlists to Google Play with ease.
Now it's time to transfer your converted music files to other devices coming with the features of Dark Mode, then start to listen to your songs without limitations.
---
Verdict
As mentioned above, you can get Dark Mode for Apple Music on your phone or computer. However, some apps and features don't have special Dark Mode settings or behaviors, and neither does Apple Music. So, you can only use a device coming with the settings of Dark Mode to get away bright screen. Start your playback of music in Dark Mode now.