Q: Apple Music lyrics not showing on iPhone. After updating my iPhone to iOS 14.6 lyrics for a pile of songs in my music library are no longer available. …… However, I don't have any content restrictions turned on. Are the lyrics for these tracks simply no longer available or is this a bug?

– A user from Apple Community
When streaming your favorite tracks on iPhone, most people are likely to enable their lyrics shown on the screen, and so am I. Because the context of the lyrics helps us understand what the author and this song are written for, and people would like to sing a song by following the song rhythm with lyrics, instead of humming.
However, as the circumstance I shared above, many people have reported that Apple Music lyrics not working or won't show up on their devices. What's wrong? And how to solve it? No worries. In this article, we're going to figure out the possible reasons for Apple Music lyrics not showing and explore the feasible ways to fix it.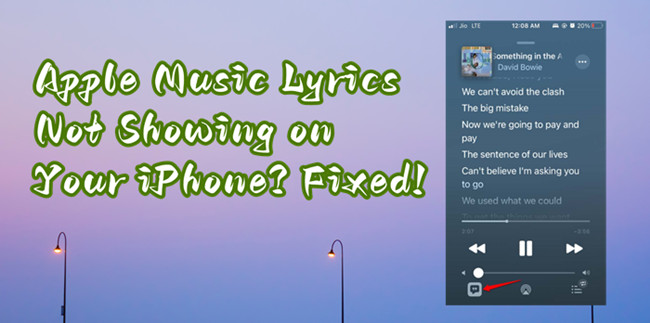 ---
Part 1 Why Aren't My Lyrics Showing on Apple Music
Do you find your Apple Music not showing lyrics on your iPhone? Is it the issue of your device or the Apple Music app to blame? To know it thoroughly, I've made a detailed study of the possible reasons and got the results here below.
1. Your iOS operating system needs to be updated since the older version might be unable to show the lyrics.
2. The internet connection has been disrupted so you cannot view the lyrics.
3. There may be something wrong with your Apple Music app or just software bugs that stops you from using it.
4. If you've set the Light Theme on your iPhone, then it might be the reason for the theme while out the whole lyrics.
5. If the Apple Music app cache occupied a big space in your storage folder, perhaps lead to lyrics loading or downloading failure.
---
Part 2 Fix Apple Music Lyrics Not Showing on Your iPhone
Now that we have made the problems clear, it's time to fix up things! Check the following methods in this part to make the lyrics visible while playing a song.
Method 1 Check Internet Connection
When you're experiencing the lyrics not showing on Apple Music, the first thing you should do is check your network. Since streaming music relies largely on your Wi-Fi connection, when your network is not stable or doesn't work, then it may cause the lyrics not to load or won't show up. Now go to Settings to check your internet connection. If the internet is poor, try to use another stable and proper network.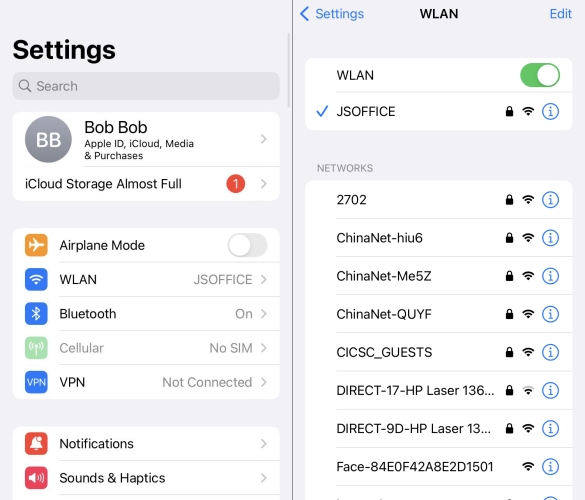 Method 2 Check Content Restrictions
If you have doubts about your content restriction, then go and check for it. Many people have resolved this issue when they're listening to Apple songs with no lyrics. You may find those songs tagged as 'Explicit', the lyric files may not be allowed to show on your screen due to the content restrictions by default. To turn off this feature, try the steps below: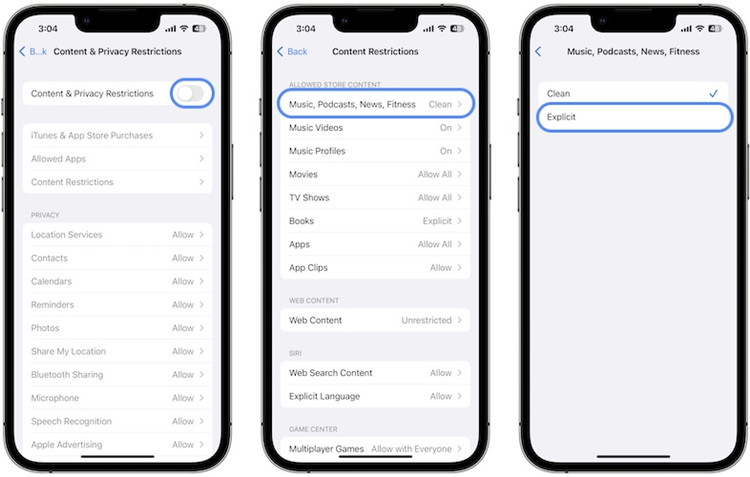 1. To get started, go to the Settings app on your iPhone and select General.
2. Next, navigate to Screen Time.
3. Find Content & Privacy Restrictions to enable it.
4. Under Content Restrictions, select Music, Podcasts, News, & Fitness.
5. Now set it to Explicit to make the lyrics visible on your Apple Music app.
Once done, check if you can see the explicit lyrics now. Hopefully, this resolves your issue this time, but if it does not, don't worry as we still have some more suggestions for you.
Method 3 Restart Your App/iPhone
If you have checked the above two things and made sure they are all right, then the next step for you is to restart your iPhone. Some glitches or software bugs come out sometimes and will hinder the way we use it. In this case, trying to restart your device may solve 80% of errors or bugs on your app or iPhone. Now hold the Volume Down button and Power button together until a menu with a slider appears on the screen. Then drag the slider to turn off the phone. After 30 seconds, then press the power button for a few seconds until you see the Apple logo appear. Wait for a while and the home screen show up. You have successfully restarted the iPhone.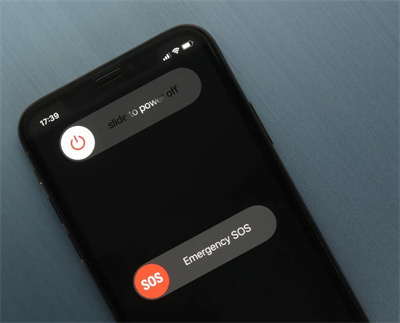 Method 4 Reset the Network Settings
If restarting your iPhone still can't resolve it, considering reset the network settings. Before the steps, try to disconnect and reconnect to your Wi-Fi or change to connect to another network. If the network still has no response, try to reset it then: Go to Settings and select General > Reset > Reset Network Settings.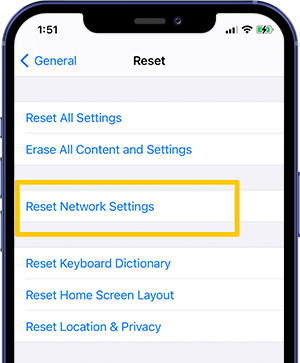 Method 5 Try Dark Mode
Have you thought about the possibility that the theme on your phone may be the reason for your lyrics not showing? Yes, that is it! Since Apple Music changes the theme color when streaming different songs, and when the theme color is the same as your lyrics, then you may not able to see the lyrics clearly. To avoid this, you can try to change the theme and color of your iPhone. Here're the tips to enable Apple Music dark mode on your iPhone:
Step 1. Go to Settings > Display & Brightness.
Step 2. In the Appearance section, select Dark to turn on Dark Mode.
Or you could turn on Dark Mode from Control Center. Just open Control Center, touch and hold the brightness control, then tap Dark Mode On or Dark Mode Off.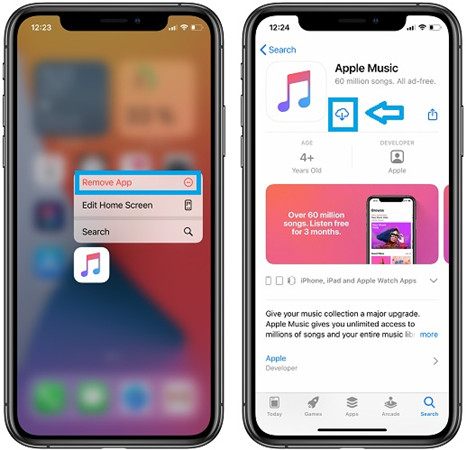 Method 6 Reinstall the Apple Music App
When the app you're now using is suffering from the pausing, not working issue. One of the best ways is to delete it all and reinstall it from the app store so that the issues will be cleared up along with the older version. A brand-new app will give you a fresh start.
When it comes to reinstalling Apple Music on phones, please go to App Store to download the setup. Next, proceed with the setup to install it successfully. Once installed, tap the plus dots at the bottom of the screen to import music. If your Apple Music uses a family-sharing plan, click the family member's name to find out what music they've purchased.
Method 7 Check the iOS System Update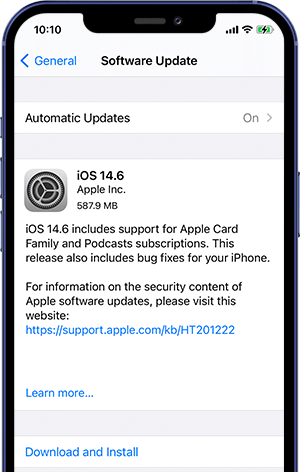 The last resort left is to check whether there's an available version for your iOS system to update. If your iOS device has not been updated for a long time, probably this is the reason why the Apple Music app is not working properly on your iPhone. Now you can follow the instructions below to check updates:
1. Make sure your iPhone is connected to stable and good Wi-Fi.
2. Go to Settings from the Menu, then select General.
3. Now click on Software Update.
Here you can see new updates available, click Install Now or Download and install to install it.
---
Part 3 Bonus: How to Enable Apple Music Free of Errors
Sadly, the truth is that we cannot avoid the issues or problems like Apple Music lyrics not showing or not working. Though with the several feasible workarounds above, you can fix it, it's still annoying as it happens occasionally and frequently, and you don't even know when it will happen. How troublesome to adopt the above steps one by one to solve it! Most importantly, you may find that even by applying the above methods, your problems cannot be removed temporarily. If this is true, don't be negative, here we'll offer you the best tool which will enable you free of these sticky problems. That is Tunelf Audio Converter.
Tunelf Audio Converter allows you to freely use the tracks from Apple and convert Apple Music to MP3, WAV, M4A, M4B, FLAC, and AAC. The converted music files will be saved on your device forever. The original audio quality and ID3 tags will be kept. To save time, this converter allows you to convert audio in groups at a 30x faster speed. Users may adjust the audio settings for Apple Music tracks by channel, codec, sampling rate, bit rate, and so on. After conversion, you can freely enjoy these music tracks anywhere you want and without any issues or problems related to the app.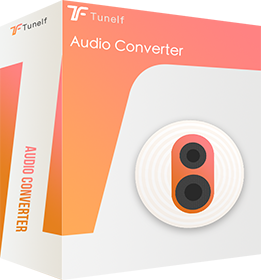 Key Features of Tunelf Audio Converter
Remove DRM protection from Apple Music, iTunes audios, and Audible
Convert Apple Music to MP3, AAC, and more for playing on any media player
Personalize the output audio parameters like the output format and bit rate
Converse the converted audio with the lossless audio quality and ID3 tags
---
Bottom Line
In case Apple Music lyrics not showing happens occasionally, please read the methods carefully and save it into your Favorites or share it with your friends. To be free of similar issues forever, you must try Tunelf Audio Converter. This all-in-one converter makes it easier to stream Apple songs wherever and whenever you want. Come on, click the below link to start your conversion now.
---
---