Audible app stops playing when iPhone sleeps or locks. After a IOS update today, my audible app stops playing when my iphone screen goes into sleep mode. I've closed apps, rebooted phone and still having problem."
— User from Apple Community
Listening to audiobooks has become an increasing habit of life for many people these years. Audible app grabbed the main features that people need most with a vast range of audiobooks for enjoying. That is what makes Audible the first choice to listen to audiobooks. While a problem is arising now as people find out that Audible stops when screen locks. Encountering this, most people have no idea to fix it, luckily, here this post will show you what you can do when this issue happens.
If you are seeking solutions to solve Audible stopping when screen locks issue, then you can't miss this troubleshooting article. Let's get started!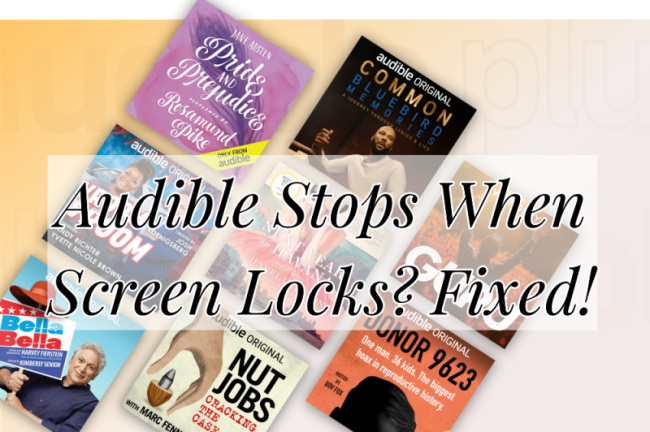 ---
Part 1 Why Is My Audible Stopping When Screen Locks?
Diving into the audio world is great, but we cannot also escape from the inconvenience the Audible app has brought us. Audible stops playing when screen locks? Here are some common reasons or possible factors that may result in this. Figuring them out has a beneficial effect on solving the problem quickly.
Reason 1. There are some specific settings on your phone that may affect the normal use of the Audible app when screen locks.
Reason 2. Your Audible app is out of date that needs to be updated to the latest version.
Reason 3. There are something wrong or software bugs within the Audible app
Reason 4. The Audible audiobooks you've downloaded are corrupted so you can't listen to them.
Reason 5. Your devices are running out of storage space which does not allow you to load or stream songs.
---
Part 2 How to Fix Audible Keeps Stopping When Screen Locks
It's not uncommon for smartphone users to encounter some software bugs while using apps on mobile phones. Given the above analysis, it's not difficult to get to the point. Here are 9 popular fixes you can apply with.
Common Troubleshooting Tips
In most cases, no matter what kind of error or issue on an app, the following steps can be applied to solve it. 90% of the small glitches or mistakes can be easily removed by these tips.
Restart the app or device. Press the home button twice to open the App Switcher, scroll left or right to force close the app, and reopen it on iPhone. On Android, you can go to Settings > Apps > Audible > App Info to force stop it.
Update the iOS system or Audible app. On iPhone, go to Settings > General > Software Update to download and install the latest version of the iOS system. To get the latest app, go to App Store or Google Play Store to download.
Free up storage space. On iPhone, go to Settings > General > iPhone Storage and find the Audible app. You can choose to Offload the App or Delete the App to clear unnecessary caches.
Sign Out & Sign In. On the Home screen of the Audible app, go to Profile > gear icon. Then scroll to the bottom to find the version number for the page. Tap and hold on to this section for 10 seconds and a Reset Sign-In option will show up. Here select Sign Out and then tap Sign In to log back.
Method 1 Enable Audible Background Play
If Audible shut down every time your phone screen locks, the first place you should go is to enable the background refresh on your phone settings. This will give permission to your Audible app to pay for audio files in the background. So, it won't stop playing again if you enabled this feature. Let's see how to set this up.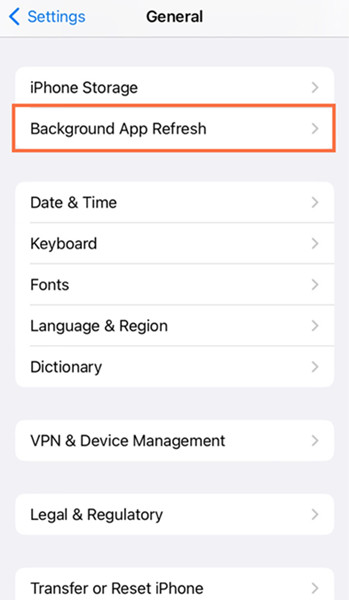 On iPhone: go to Settings on your iOS device and select General > Background App Refresh.
On Android: Open Settings on your Android device and go to Apps > Manage Apps > tap Audible from the showing-up list. Next, scroll to the Battery saver setting and set the background settings to No Restrictions.
After setting, you can start playing your favorite audiobooks and enjoying them seamlessly without interruption.
Method 2 Turn Off Battery Saver/Low Power Mode
You won't be strange when your phone is suddenly taken charge of by the low power mode when your device is running out of electricity. The Low Power mode is set to save battery charge when it is low, which may disable some features or stop apps in order to save power. On some devices, the setting is replaced by Battery Saver. In this case, you can check over and disable the mode on your device.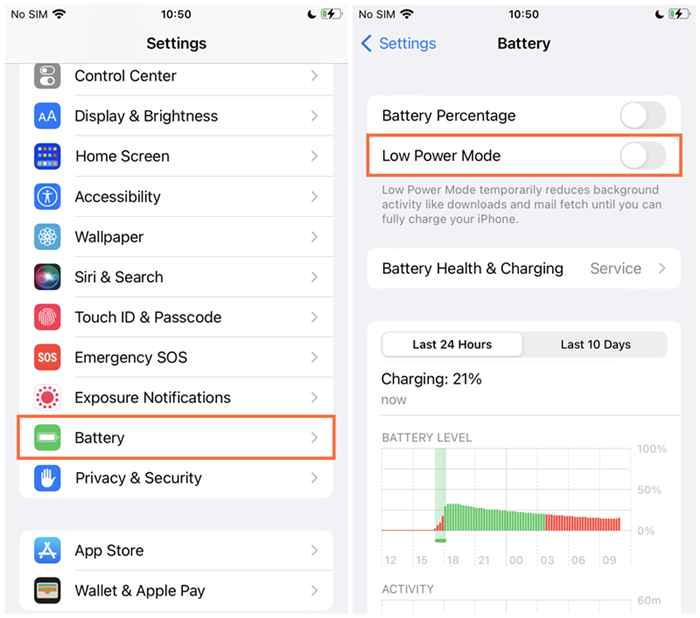 On iPhone: go to Settings > Battery, then tap the button next to Low Power Mode to deactivate.
On Samsung devices: go to Settings > Apps > Audible > Battery. Next select one from the following available options: Unrestricted(preferred); Optimized and Restricted.
On Pixel devices: open the Settings app on your phone and tap Battery > Advanced Preferences, then toggle the Adaptive Battery option on. Once turned on the Adaptive Battery, go to Settings > Apps > See all apps > tap Audible app > Battery. Under Manage battery usage, select Unrestricted (preferred), or Optimized.
Method 3 Delete & Re-downloaded Corrupted Audiobooks
It is a common choice to download your favorite audiobooks offline so as to listen to them whenever you want. However, when your downloaded audio files are corrupted, you cannot listen to them for sure. Deleting and downloading again can be a good method to fix it.

Open the Audible app on your device and tap on Library from the menus at the bottom.
Browse your titles and find the one you want to delete.
Tap the three-dot icon beside the title, scroll down, and select 'Remove from device'.
After that, the audiobook file will be deleted right away but the title name will be kept in your library.
To re-download, simply tap the download arrow on the title's icon.
Method 4 Move Audible Out of Sleeping App List
The "Sleeping apps" feature saves battery by preventing certain apps from running in the background. Check if Audible has not been added to your "Sleeping apps" list or not. Here share the how-to tips on Samsung smartphones.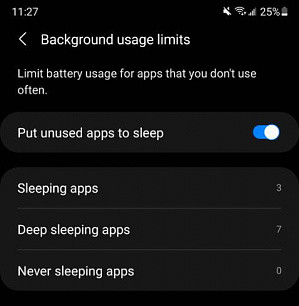 1) Go to Settings and tap Device Care then tap Battery.
2) Tap App power management and tap Sleeping Apps.
3) Press and hold the Audible app to reveal the options to remove.
Method 5 Disable Automatic Screen Locking
If your Audible stops playing when the screen locks, you can try this step to disable the automatic screen lock. You can also adjust the time every time it locks up your phone. Now you can follow the below steps to disable or adjust the iPhone's screen locking duration.
Note
Please note that this step will keep the screen time longer which might cost excessive battery electricity, but it doesn't matter if you lock your phone manually whenever you don't stream music.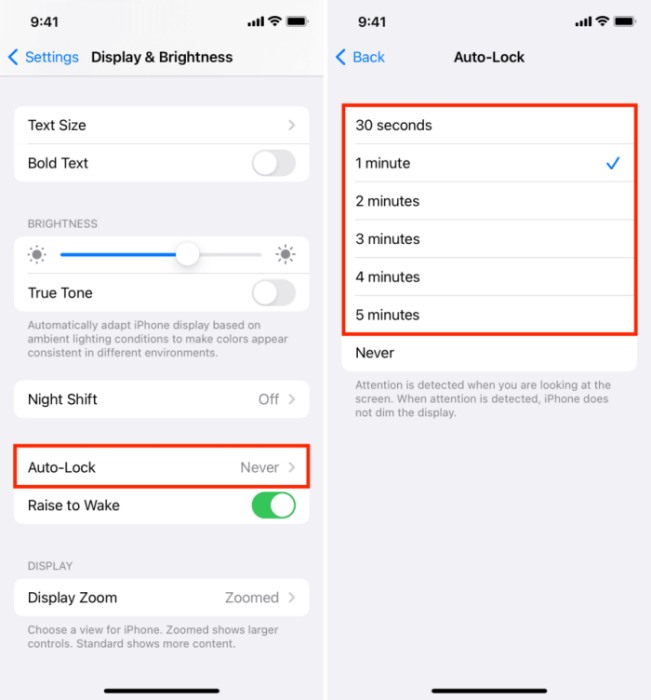 Open the Settings app on your iPhone and go to Display & Brightness.
From there, select Auto-lock.
In the next showing menu, choose Never or another option you'd prefer.
---
Part 3 Best Way to Listen to Audible Books Without Limits
Due to the audio files being protected with encryption code, we cannot stream Audible audiobooks on any other devices, except itself. Audible Converters can help you remove the protected formats and convert them to compatible audio formats like MP3 so that you can listen to Audible audiobooks on multiple devices. Especially when you encounter issues like Audible stops when screen locks, this tip will be of great help. Among the Audible Converters, Tunelf Audio Converter can be one of the best.
Tunelf Audio Converter is a powerful yet easy-to-use software. It can convert not only Audible audiobooks but also Apple music to MP3, M4A, M4B, AAC, FLAC, and WAV formats. You can change the sample rate, bit rate, codec, channel as well as archive according to your needs. Tunelf can convert a batch of audio files with a very fast 30x speed. With the built-in editing system, you can even edit your tags and split larger audio files via time, chapter, or segment. You can experience our free trial version below before deciding whether to buy it or not.
---
---