Q: "I need a good visualizer that supports Spotify. With a preference for being able to see the album cover and the name of the song and artist, like in the monstercat one, but being able to support Spotify."
Spotify is now great music online streaming platform and we can use the Rainmeter visualizer to make it better than ever. Well, some of you guys may ask, what is Rainmeter? Rainmeter visualizer is a fantastic tool that can customize and manage your desktop so that to make it more interactive and emotional. It can not only control the music playback but also displays the information you want on your desktop. So, does Rainmeter work with Spotify? And how to get it to work? Don't worry. In this article, I'll show you a complete guide on the Rainmeter Spotify visualizer and solve the problems that you might have.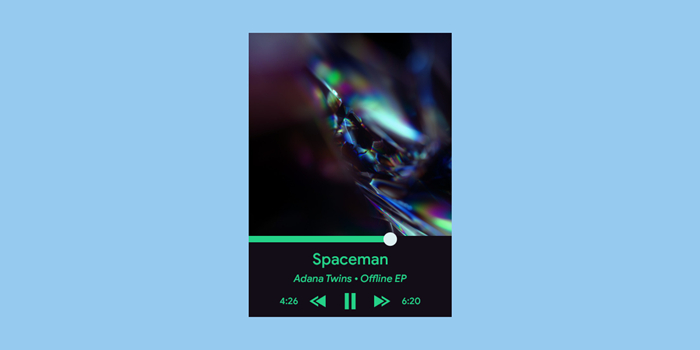 ---
Part 1. FAQs About Rainmeter Spotify Visualizer
Firstly, let's look at some basic information about Spotify Rainmeter. Here are the questions which had been asked by many people and you may be interested in them too. Now read them carefully below.
1. Does Rainmeter Work with Spotify?
Rainmeter is an excellent tool and it can be compatible with some common or popular music players, such as iTunes, and Windows Media Player. And years ago, it was convenient to use the Rainmeter Spotify plugin. But since 2018, this feature has been shut down for several years, so we cannot use Rainmeter Spotify directly. But don't worry! When there is a requirement, there is a solution instead. In the next, you'll see the alternative ways.
2. How to Get Rainmeter Visualizer Skins?
There are a lot of visualizer skins on the internet. With the help of visualizer skins, you can see the visualizer of songs or audio playing on your default music player or other compatible devices. Just go to rainmeter.net to download the Rainmeter visualizer and get the visualizer skins you like.
3. Can Rainmeter Visualizer Skins Show Now Playing?
Unfortunately, there are few skins that can show the now playing page right now. Since Spotify is updating its app constantly, many visualizer skins cannot match its new versions in time. Some of them just do not work properly, and others can still control the music playback, while won't show album art or any other music information anymore.
After reading the above, you may feel exhausted and tiresome to see these restrictions. But don't be negative! We have solutions to remove the obstacles away. Actually, Rainmeter Spotify Visualizer is not that user-friendly, so we have tried many ways to make the steps easy for you to operate. For detailed information, please read follows.
---
Part 2. How to Get Spotify Rainmeter Work
Rainmeter Spotify plugin had been shut down, but we can try another method – use Spotify Visualizer to make Spotify Rainmeter work. Now follow the steps below to get Rainmeter Spotify Visualizer.
1. Visit the Rainmeter official website to download and install the latest version of Rainmeter.
2. Download Rainmeter visualizer skins from DeviantArt or Rmskins.
3. Unzip the RAR files and copy & paste them to Documents > Rainmeter > Skins.
4. Launch Rainmeter on your computer and check if the files are added to the Skins files successfully.
5. Choose a visualizer and hit the "Load" button and play a song after then to see if the Rainmeter Visualizer skin works.
You can right-click a visualizer and proceed to Settings > Position to set the position of the visualizer. Now, you can get Rainmeter Visualizer skins on your desktop and make it work with Spotify songs.
---
Part 3. Show Spotify Now Playing on Rainmeter Music Player
You can use Spotify Visualizer to get Rainmeter skins on Spotify, surely. However, as I mentioned above, only a few Rainmeter Visualizers can realize this. Many of them cannot work properly and do not show the Now Playing information. And almost every Rainmeter Visualizer only works on Windows. What about Mac users? So, whether you're looking for a Rainmeter Spotify Visualizer on Mac or want to make your song information appear on the Now Playing page, you can't miss this one-click solution. All you need is to download Spotify music to MP3, which makes it possible to play Spotify on many compatible devices or platforms. Therefore, we can play Spotify music on our default music players or other players that can show the Now Playing page.
To download Spotify offline, you need a professional tool like Tunelf Spotibeat Music Converter to remove the download limit on Spotify music. Tunelf Spotibeat Music Converter is designed to download Spotify music with a free or premium account on Windows and Mac. Tunelf allows you to convert Spotify music to MP3, and other 5 common audio formats. And most importantly, the conversion won't destroy your audio quality and the original ID3 tags will be preserved as well.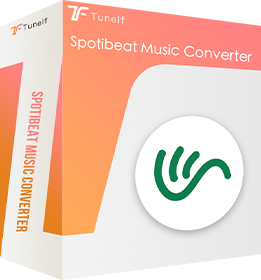 Key Features of Tunelf Spotibeat Music Converter
Download Spotify playlists, songs, and albums with free accounts easily
Convert Spotify music to MP3, WAV, FLAC, and other audio formats
Keep Spotify music tracks with lossless audio quality and ID3 tags
Remove ads and DRM protection from Spotify music at a 5× faster speed
Step 1 Select Spotify music for conversion
First, launch Tunelf Spotibeat Music Converter and it will run the Spotify app at the same time. Now you can copy and paste to import Spotify music to the program, or simply drag and drop to load in music files.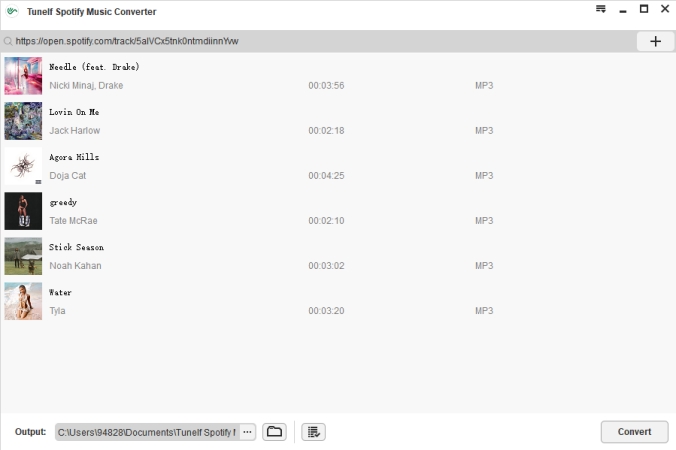 Step 2 Adjust the output audio format
Tunelf allows you to customize the output audio format and adjust audio parameters like sample rate. You can get Spotify music for your personal demands.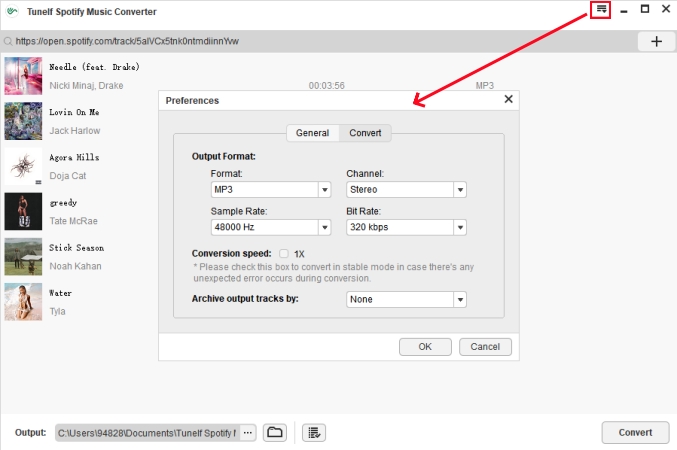 Step 3 Convert Spotify music to MP3 local files
Once set the format, click the Convert button to start the conversion. The converter for Windows will be conducted with a 5x conversion speed.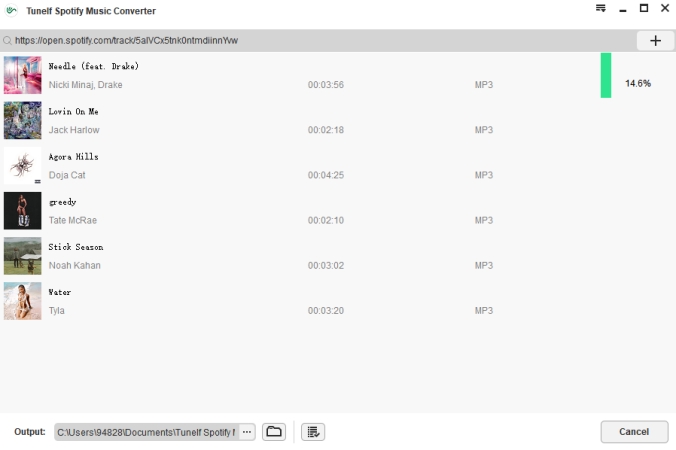 Step 4 Show Now Playing page on Rainmeter Spotify Visualizer
Now you can download Rainmeter visualizer skins as explicated in Part 2. When you get the downloaded Spotify music on your computer, you have two ways to make Spotify song information show with Rainmeter Visualizer. One uses Windows Media Player; the other is open with the iTunes app.
On Windows Media Player: First, launch the Windows Media player on your computer; then Click "Organize" > "Manage libraries" > "Music". And finally, select Add to import songs you want. These steps are only available on your desktop, not for Mac.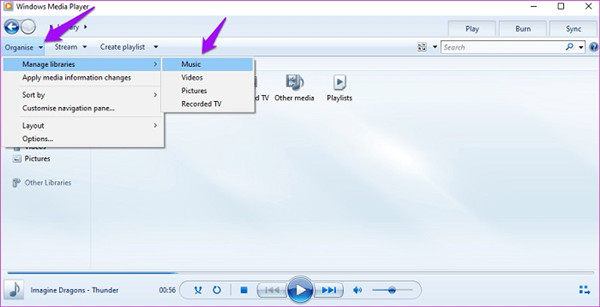 On iTunes app: First, run the iTunes app on your computer and click on Files > Add File to Library to load your converted Spotify music. Then you're able to listen to them with Rainmeter Visualizer skins. This method is both available on computers and Mac.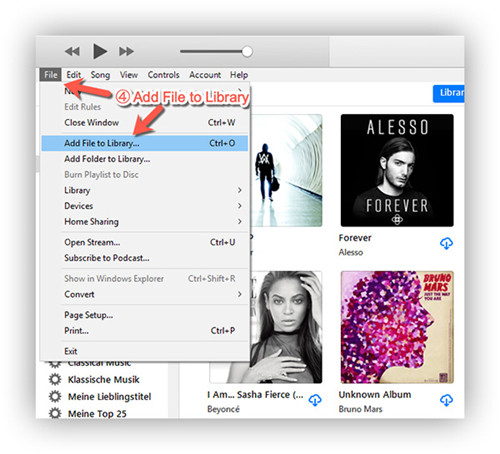 ---
The Bottom Line
Since the Rainmeter Spotify plugin has been shut down, it's not as convenient as before to get Rainmeter Visualizer on Spotify. There are still some alternative ways. You can try some Spotify Visualizers to work with Rainmeter. But for the Now Playing feature, you're supposed to download Spotify music offline first via Tunelf Spotibeat Music Converter. After then, you're able to see the Rainmeter Spotify Visualizer on other music players.
---
---