Q: Have you ever come down with Apple Music skipping songs? When playing an album, Apple Music is regularly skipping the second track of every record. Apple Music always keeps auto-skipping every song. Anyone else encountering this? Any fixes?

-User from Reddit
Like what I've shown in the above lines, people who use Apple Music have complained about Apple Music skipping songs for years, but now, unfortunately, it remains to be unsolved. If you're searching for the best and quick solutions to fix this issue, and now you have come to the right place! In the next chapters, we'll try to figure out the possible reasons which might result in the skipping issue and share the best efficient method to solve your problem. Now check it out!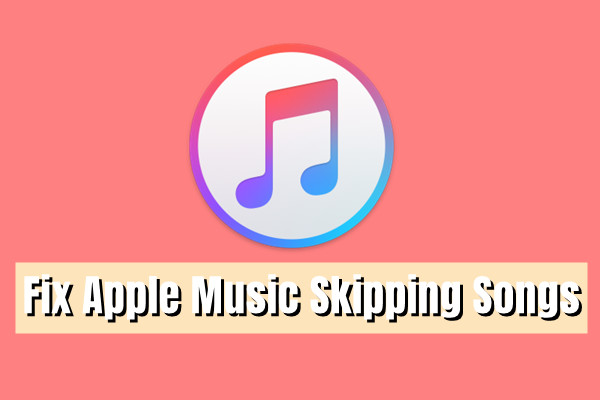 ---
Part 1 Why Does Apple Music Skip Songs
Before starting to try the fixes below, let's first check with the following items and directly go to the depending factor which causes the issue on your device. Below are some circumstances that possibly lead to the Apple Music skipping issue. You can take a look and have a quick check with your device.
#1 Content Unavailable.
#2 Poor Internet Connection.
#3 Apple Music Application or Account Issues.
#4 Corrupted Music Files.
#5 Cache Problems.
Here're 5 common factors which may largely influence your use of Apple Music. After a quick glance, you can filter some unrelated parts and solve your problem fast. Once recognized the problems, it's pretty easy to fix it after then, try the methods below accordingly.
---
Part 2 How to Fix Apple Music Skipping Songs
Are you tired of searching for possible methods and trying them one by one to test if it works? Now there is no need if you have filtered the factors as above, you can simply find the influencing factor and fix out! Here are the things you can do to fix Apple Music skipping songs.
Fix 1 Verify the Content to Check Availability
Well, the first thing that comes to my mind when encountering this issue is that you should make sure that your songs in the music library are playable and available. Cause sometimes Apple Music skips songs that are not available in your country or region. Usually, these songs turned to gray out, which means you cannot play them anymore. If you find your Apple Music skipping songs randomly or skipping certain songs, you can follow the below procedures to proceed.
On PC: Locate the song that has been skipped and search for it in the Apple Music or iTunes app on your computer, then click to play to see if it is playable or not.
On iOS: Find the song and play it again using the Apple Music mobile app.
In this way, you can clearly see if it is the device problem or the content availability issue. If the song you want to access is invalid and is not available, then you may need to re-download it for streaming. Or if they're greyed out, then you can't listen to them anymore.
Fix 2 Check Wi-Fi or Data Connection
Another thing that may stop Apple Music from playing smoothly is the internet connection your devices are using. Mostly, an unstable or even poor network causes the failure of streaming Apple Music, it may lag the app operating speed and affect the streaming performance to some degree. Now go to Settings on your phone and locate the Wi-Fi section, here you can check your Wi-Fi network and switch to other networks for connection. When you can't find a good network, you can resort to using mobile data for streaming. Also, resetting your network is effective to fix. Go to Settings and select General > Reset > Reset Network Settings and you can reset it quickly.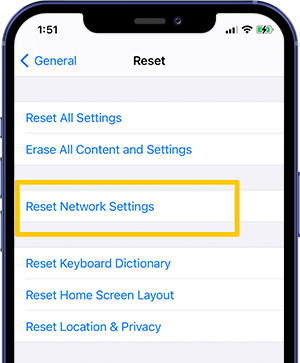 Fix 3 Check Crossfade Duration Time
Apple Music offers the crossfade feature, which allows you to listen to Apple Music without stopping. Once set up, there will no silence period when playing the next songs. While, if the crossfade duration is too long, it may cause the Apple Music skipping issue. Try to check and adjust the duration time as follows:
Apple Music Crossfade On Android Device:
1) Open the Apple Music app on your android device.
2) Tap the Three-dot icon on the top-right corner and choose Settings.
3) Click the Audio > Crossfade.
4) Choose the Automatic option to turn on the crossfade on Apple Music.
5) You can also choose the Manual option to adjust the transition time.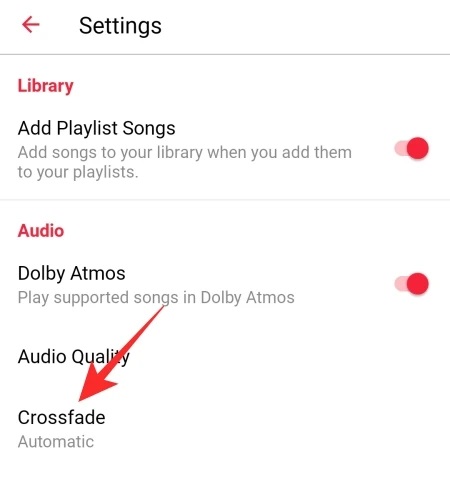 Apple Music Crossfade On Windows PC:
1) Open iTunes on your Windows computer.
2) Select Edit > Preferences.
3) Tap the Playback option.
4) Click the Crossfade Songs option and change the time by dragging the slider.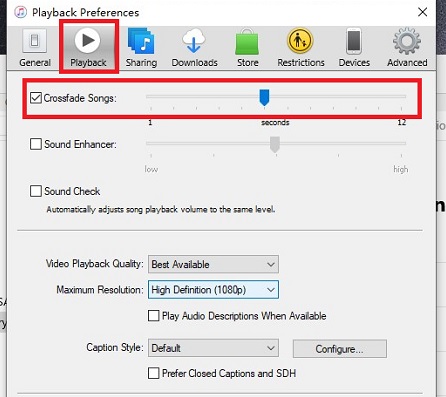 Fix 4 Make Sure to use the Same Apple ID
Your Apple ID is essential, too. If you have several Apple ID and has used Apple ID to log in to Apple Music on your PC and mobile phones. It's likely that you may log into different accounts and then Apple Music keeps skipping songs. It's a must to check if you're using the same Apple ID on your phone and PC. If not, please log out of the wrong Apple ID and enter the same Apple credentials to log into the same Apple account. After finished, you may find that your problem has been solved.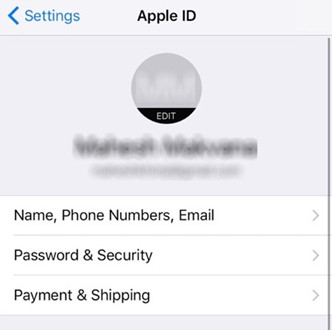 Fix 5 Re-sync Apple Music Library
When we use an app, as default, it will store every step you have done so that you can easily access them at any time. These files stored in your device automatically are temporary caches and we need to clear caches from time to time to ensure the app is working well.
If you have played the song before, but now Apple Music skip this song, then there must be something wrong with your cached files. To remove them, you have several tips to follow:
First, try to close the app forcefully and restart it.
Go to Settings > Music > Sync Library and disable it. This will delete all the cache files on your device.
Play the problematic song to test if the problem is solved. After that, you can turn on the iCloud Sync button again.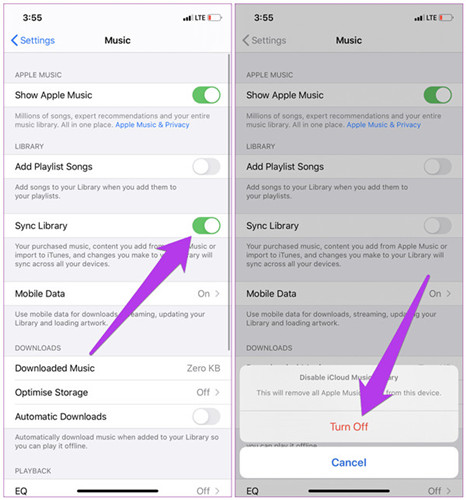 Fix 6 Update Apple Music App
Don't forget to check your Apple Music updates. If you've missed installing the latest version or haven't updated your Apple Music app for a long time, this might be the reason why this skipping issue shows up. When it comes to updating the Apple Music app, please go to the App Store and search for the Apple Music app. Next, on the details page, check the latest version of Apple Music. When you see an Update button available next to the Apple Music app, click the Update/Install button to update. Next, proceed with the setup to install it successfully.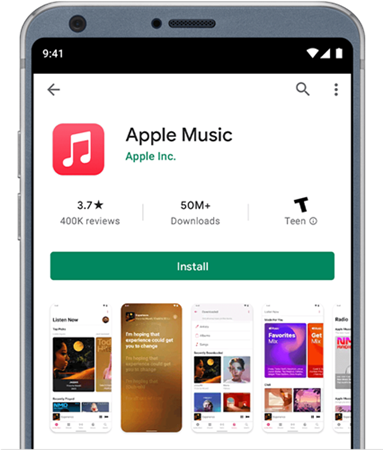 Fix 7 Disable Lossless in Apple Music
Find Apple Music skipping songs in playlists and albums? Perhaps you need to check the Lossless option in the Apple Music app. If it is turned on, please disable it and then re-download your songs. In this way, the skipping issue can be fixed. Let's get started.
1. At first, go to Settings > Music on your phone.
2. Next, go to Audio Quality and turn off Lossless Audio.
3. Delete the problematic songs or playlists.
4. Re-download the songs you deleted again.
5. Play the songs to see if the Apple Music skipping songs issue has been solved.
---
Part 3 Best Way to Solve Apple Music Skipping Songs Issue
Now, you have learned about the methods to fix Apple Music keeps skipping songs above. Did you get your problem solved? Still not? NO worries! We can offer you the best alternative way to free of the skipping songs issue. This way is forever available, so don't miss this last resort.
The main principle of this method is to download music offline from Apple Music and listen to them offline on other devices, even without the Apple Music or iTunes app. You can download Apple Music offline for sure, but this way is different from the official way. The downloaded songs via the official app are only temporary caches, while the downloaded songs with specific professional tools are forever available and playable. All you need is to download and install Tunelf Audio Converter for help.
Tool Required: Tunelf Audio Converter
Tunelf Audio Converter, aka Tunelf Apple Music Converter, is specially designed to make it easy to play Apple Music on many compatible devices. It can remove DRM from Apple Music with ease and convert Apple Music to mp3 and other 5 common audio formats. Therefore, you will get the converted music tracks in your local folders after the conversion. And most importantly, Tunelf will protect your music quality and you'll get 100% original music info data after conversion. In this way, you can enjoy a streaming experience which no less than on the Apple Music app. Now just follow the 3 simple steps below.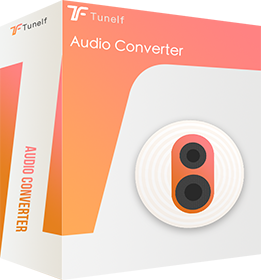 Key Features of Tunelf Audio Converter
Convert Apple Music to MP3, WAV, FLAC, AAC, and other audio formats
Remove DRM from Apple Music, iTunes audios, and Audible audiobooks
Preserve the converted audio with lossless audio quality and ID3 tags
Support the conversion of audio format at a 30× faster speed in batch
Step 1 Import Apple Music to Tunelf software
To get started, launch Tunelf Apple Music Converter on your computer and sign up to unlock the full features. When you open Tunelf, the iTunes app will work simultaneously on your computer. Now you can see three icons on the screen. Click the Add Files icon and select the soundtracks you want to download from Apple Music. Or you can just drag and drop to add Apple Music tracks. Once loaded, the program will immediately list all songs on the main screen.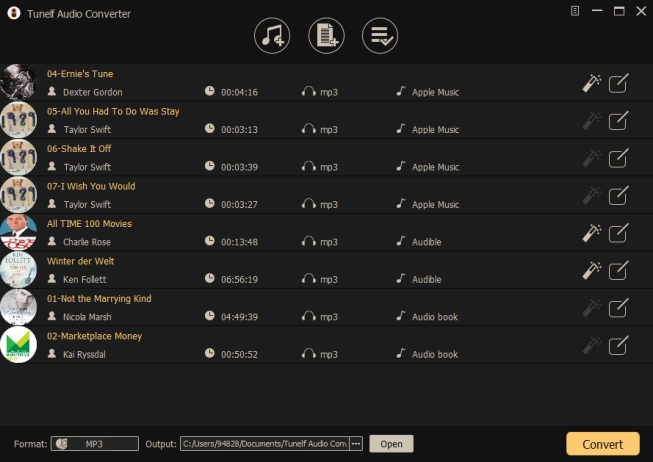 Step 2 Customize the output audio settings
Once loaded, you can see the music tracks on the main screen. Then you can click the Format button at the bottom to set the output formats, and we've set the MP3 as the default output format. Well, you can also change it according to your needs. You can also select the audio quality here; we offer lossless high quality for you. To better manage your music library, you can set the output storage folder and archive in the menu setting on the top right of the interface. Then click Preferences > Convert under the menu setting. And when you hover over the loaded files, you can see an Edit icon, you can edit the tags here.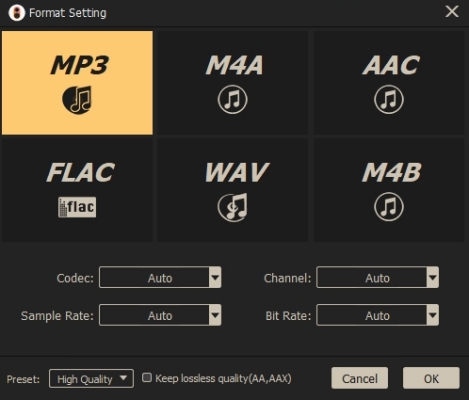 Step 3 Convert Apple Music to MP3 files
Now click the Convert button to convert and download songs from Apple. The conversion speed is 5x as the default. Just wait for a while and you can get all converted music tracks. Once the conversion is complete, click the Converted icon on the top of the converter then click the Search icon to navigate to the folder where you save the converted songs. Then you can listen to Apple songs on multiple devices you want.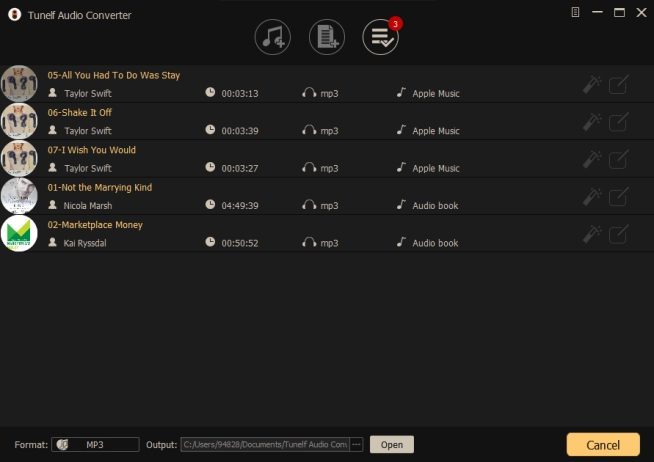 ---
In Conclusion
For different reasons, you may come across the Apple Music skipping songs issue. Do not panic! Have a try with the methods and tools listed above. If your problem remains unsolved, don't miss the great alternative way to stream Apple Music offline on multiple devices. With Tunelf, you'll be free of these errors then!
---
---