Mixing with Spotify music is a pop choice for many DJs. And it used to be easy and popular to DJ with Spotify. However, since July 2020, Spotify has terminated access to third-party DJ apps and software access, which means Spotify no longer offers a way for DJs to mix with Spotify. So, you may wonder if there's any DJ software that works with Spotify. The answer is positive. But to tell the truth, there is not much of a choice to get a Spotify compatible DJ app. To DJ with Spotify on more DJ apps, the best way is to download Spotify songs to MP3s which is compatible with most DJ software. Now, keep reading the following paragraphs to learn more about the Spotify DJ app.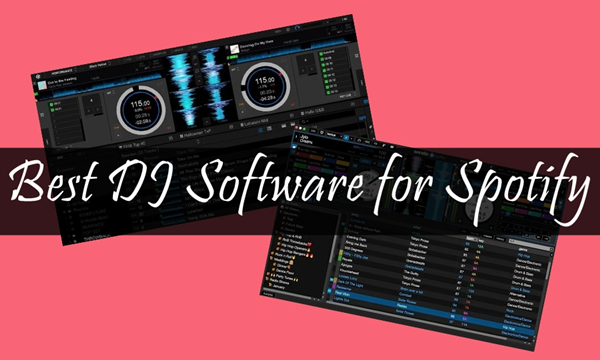 ---
Part 1. Best DJ Software that Works with Spotify
There used to have a lot of DJ apps that work with Spotify, but now they're not workable anymore. Still, there is only 1 app we found that works with Spotify. But don't hurry to leave, we are going to introduce alternative methods to make Spotify compatible with the most popular DJ apps like Serato, Traktor, Rekordbox, and more. Just skip to Part 2 to find a variety of the best DJ software that works with Spotify MP3s.
Note
Previously, it was easy to mix Spotify with Pacemaker and JQBX. But on June 26th, 2023, the Pacemaker DJ app Spotify ended to provide service. While JQBX is not available too as it has been acquired by Turntable LIVE.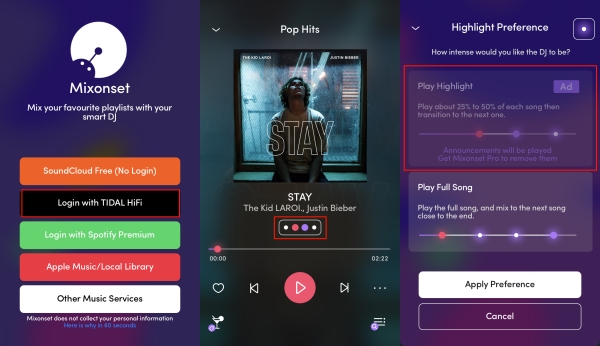 Mixonset is the best and only free DJ software with Spotify. It is a mobile DJ app Spotify, elevating playlists with crossfades and highlights with AI-selected technology. Moreover, it not only supports mixing with Spotify but also SoundCloud, Tidal, and Apple Music. As long as you have a paid subscription to Spotify, you can mix any of Spotify's 80 million songs; discover and filter your music including Liked songs, playlists, artists, albums, and songs. Besides Spotify, it is also available for mixing with SoundCloud free, Tidal, and Apple Music. For new beginner DJs, this app is more intelligent and user-friendly.
Pros

Best iPad/iPhone/Mac DJ app Spotify
Totally free for users
Seamlessly integrate the Spotify library with ease
Easy to mix by one-hitting the play button
The built-in queue lock prevents you from accidentally changing a song
Cons

Music discoverability is limited
Many functions are limited for the Free version
A Spotify Premium account is required
Mixonset fails to connect to Spotify sometimes
---
Part 2. Download Spotify for Mixing Spotify with Any DJ Software
Find the above best DJ software for Spotify not connecting or want to use other popular DJ software like Virtual DJ, djay, Serato DJ, and Rekordbox? Though they no longer support mixing with Spotify, we can resort to other tools. Now all you need is to download all the songs you want to DJ with Spotify and then upload them into your DJ app as an offline source. To achieve the target, you have to draw support from a Spotify music downloader. Here I'd like to recommend Tunelf Spotify Music Converter.
Tunelf Spotibeat Music Converter is a professional and safe third-party tool. It is specially designed to make Spotify music streaming easier and more convenient for users worldwide. Tunelf can easily download Spotify music to DRM-free MP3, WAV, FLAC, AAC, M4A, and M4B in your local folder. Most importantly, after conversion, almost 100% of the original audio quality will be retained, which is better for DJing. Thanks to Tunelf's advanced decryption technique, you can listen to Spotify songs on any device. It will also be an easy task to add the converted Spotify song to any DJ app for mixing.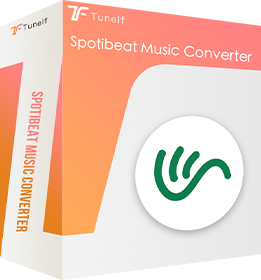 Key Features of Tunelf Spotibeat Music Converter
Download Spotify playlists, songs, and albums with free accounts easily
Convert Spotify music to MP3, WAV, FLAC, and other audio formats
Keep Spotify music tracks with lossless audio quality and ID3 tags
Remove ads and DRM protection from Spotify music at a 5× faster speed
2.1 Download Spotify Music for DJing
Now, install Tunelf Spotify Music Converter to download Spotify songs for DJing. Whether you are a Spotify Free user or a Premium subscriber, Tunelf works well to download Spotify songs. After downloading Spotify for free, you are able to upload Spotify to free DJ apps. Double free!
Step 1 Import Spotify Music to Tunelf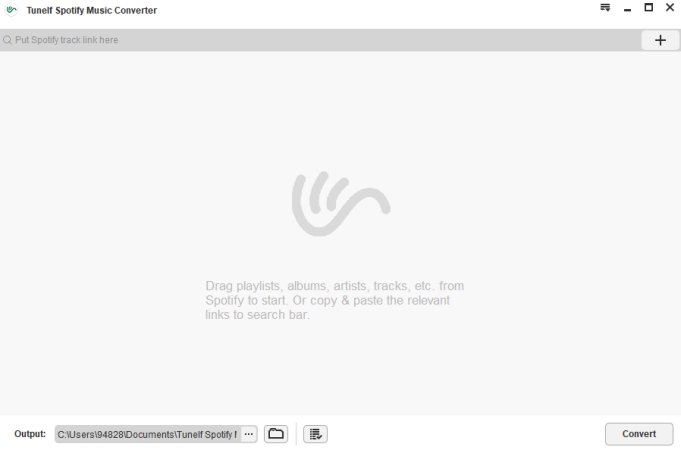 Open Tunelf Spotify Music Converter and it will automatically load the Spotify desktop app. On Spotify, find and select songs, albums, or playlists you want to mix with Spotify DJ apps. Now copy the music link and paste it into the search bar on the converter. And click the + button to load the songs into the converter. Alternatively, a simple drag-and-drop can finish the uploading.
Step 2 Configure the Parameters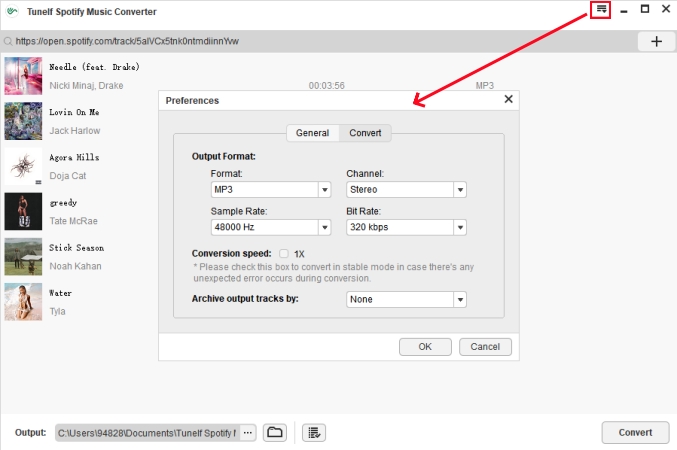 After successfully importing Spotify songs to the conversion list, you can easily use Tunelf as an equalizer. Click the menu bar at the top right corner of the converter, and select the Preferences option. On the new pop-up window, you are free to change the sample rate, bit rate, and channel. To add Spotify to DJ software, please set MP3 as the target format.
Step 3 Download Spotify Music for DJing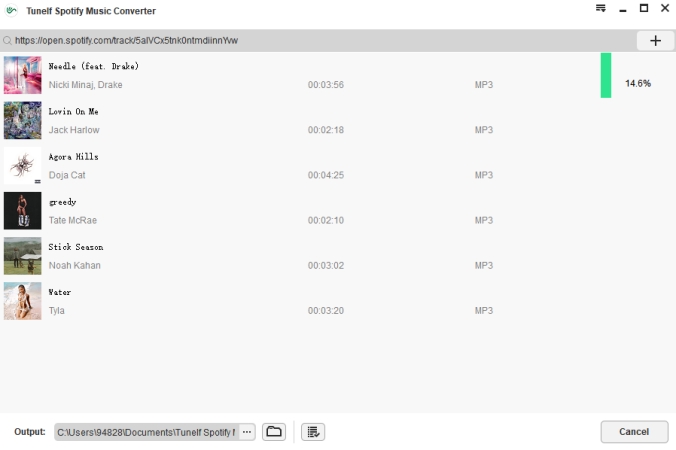 When everything is ready, click the Convert button in the bottom-right corner and Tunelf will finish the conversion at a 5x faster speed. Once done, go to the Converted history list, and you can view all converted Spotify songs. Before uploading Spotify to DJ apps, use the search icon at the rear of each song to locate it in the local folder.
2.2 Free DJ Apps that Work with Spotify MP3s
Almost every popular software is not compatible with Spotify. But by uploading converted Spotify MP3s, it is not hard to get Spotify DJ software. Now you can find free DJ apps that work with Spotify effortlessly. After downloading Spotify in MP3, the following best DJ software for Spotify deserves a try based on your needs.
Virtual DJ
Virtual DJ is the most widely-used and professional DJ app that works with Spotify MP3s. It comes with a bunch of features that are perfect for mid-level enthusiasts and anyone who wants to become a professional DJ. With its new version, you can mix in real-time the various components of your tracks. This opens the door to new ways of mixing that were simply not possible before, and will forever change the way DJs mix. Moreover, it developed its mobile DJ app. So for those who looking for a mobile DJ app Spotify, Virtual DJ Mixer is a good choice.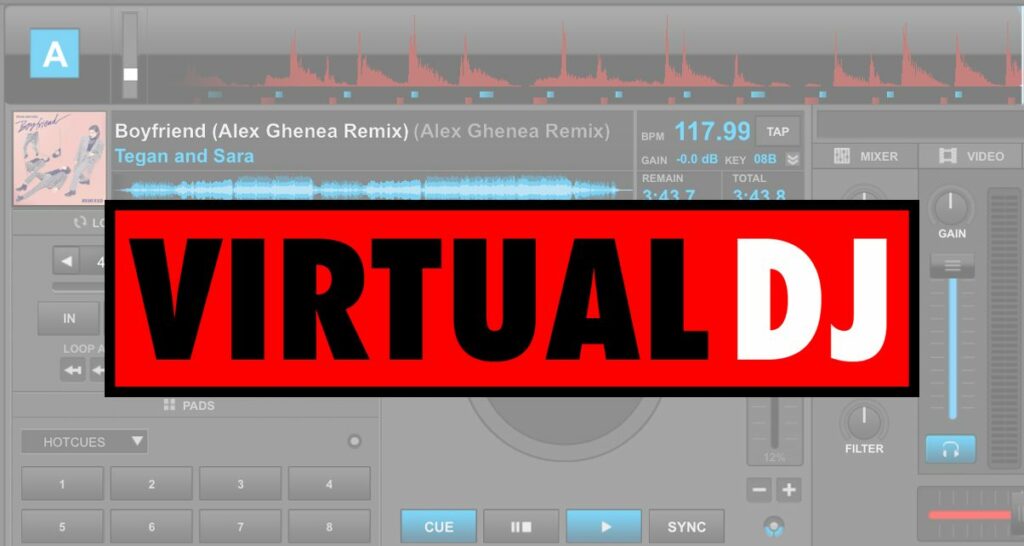 djay Pro
djay Pro is a revolutionary new way to mix audio with real-time vocal, instrumental separation, and so much more. With djay Pro, you are allowed to apply audio effects to individual components of music, such as an echo on only the vocals or reverb on the bass line; split any track into vocals, drums, and harmonic waveforms in real-time, perform a transition component by component using the AI multi-crossfading feature, easily record and sequence loops during your mix.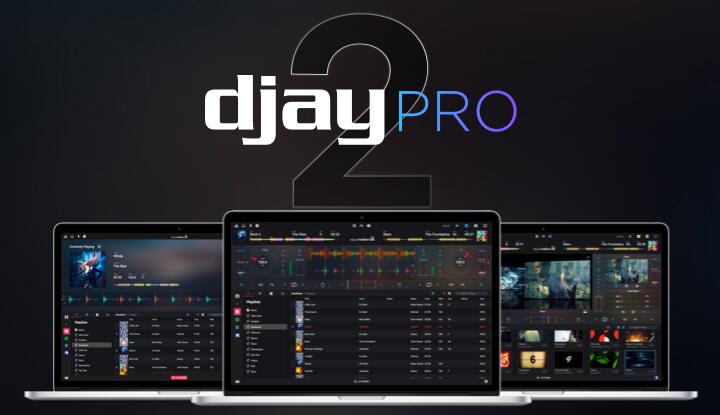 DJUCED
As the best DJ software that works with Spotify MP3s, DJUCED is your first choice to step into the world of DJing with a full-featured and intuitive interface. DJUCED comes with a standard three-band EQ, crossfader, headphone cues, and volume faders per deck. You can assign each deck to the crossfader, or bypass it entirely if you want. The crossfader curve can be adjusted, along with the curves of the EQs in the settings menu. What's more, the unique functions incorporated into the IMA make it easy for all DJs to select the best upcoming tracks for their mixes — while they're learning, or during performances.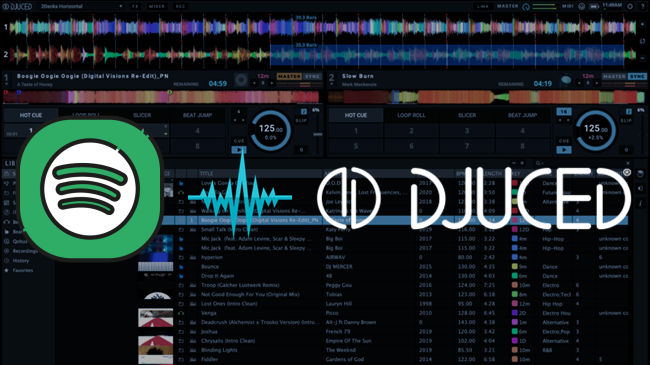 Mixxx
Mixxx is a free open-source integrating the tools DJs need to perform creative live mixes with digital music files. Whether you are a new DJ with just a laptop or an experienced turntablist, Mixxx can support your style and techniques of mixing. Its musical key detection helps you find the perfect next track from your library. Mixxx uses turntables with timecode vinyl records to control playback and scratch your digital music files as if they were pressed on vinyl. It also boasts multiple effects so you can add your unique spin to tracks with sound effects.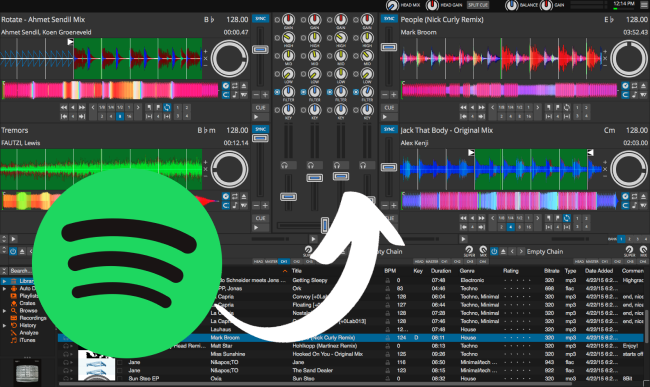 In addition to the above DJ software for Spotify, Serato DJ, Traktor DJ, Pioneer DJ, and more popular DJ programs do support Spotify MP3s. Just choose the one you're interested in to start your mixing.
---
Part 3. DJ with Spotify via Spotify AI DJ/ Spotify Settings
Do you know Spotify provides the DJ feature which allows you to mix with Spotify with the DJ mode built-in? Yes, it is true! In truth, Spotify is the perfect mobile DJ app Spotify. If you don't like the above methods, you can try the Spotify AI DJ to do the simple mix production. Note that the Spotify AI DJ is only available for Premium subscribers. For Spotify Free users, there are still available methods to mix Spotify. To some extent, Spotify is exactly the Spotify DJ software that you are looking for.
3.1 DJ with Spotify via Spotify AI DJ (For Premium Users)
Spotify AI DJ is a new feature launched in 2023. This feature uses a realistic DJ voice like you can hear from many radio stations to bring you a brand-new experience. Now, Spotify subscribers can use the steps below to use Spotify AI DJ.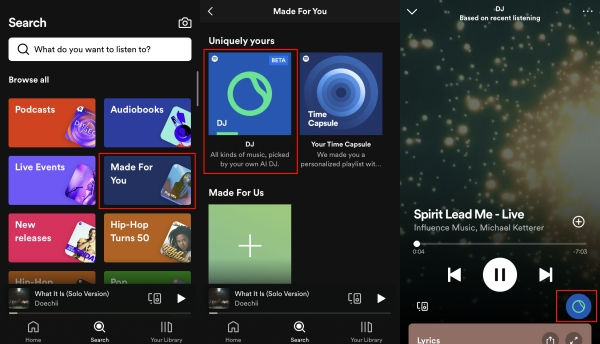 Step 1. Launch the Spotify mobile app and go to Search from the bottom.
Step 2. Select the Made For You category and you will see the DJ Card.
Step 3. Tap on it to start your exploration. Now, you hear the picks by Spotify AI with a mix of your favorite songs or personalized music recommendations.
3.2 DJ with Spotify via Spotify Settings (For Free Users)
Spotify boasts built-in DJ features such as Crossfade, Automix, and Equalizer for all users. With these features, you can freely do simple and basic DJ mixes. Here's how.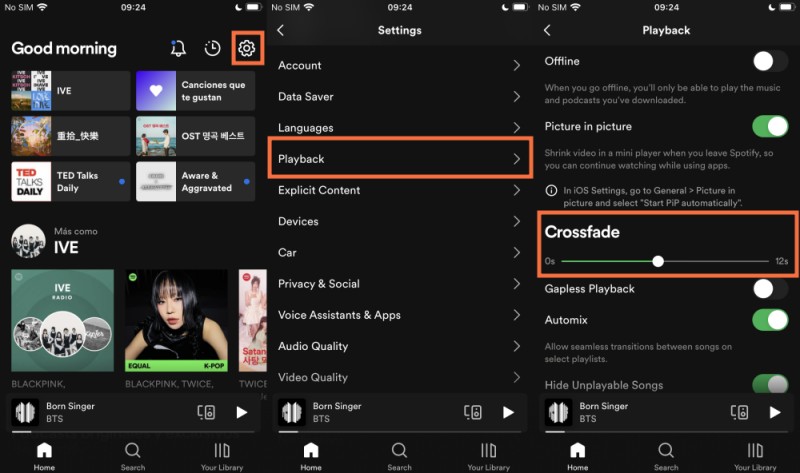 Step 1. Open the Spotify app on your device and play the song you want to mix with.
Step 2. Return to your Home page and tap the cog icon in the upper-right corner.
Step 3. Select the Playback tab. Pick the Crossfade option to adjust the crossfade time length between songs, and toggle the Automix and Gapless Playback buttons.
Step 4. Then, scroll down to the Equalizer section to customize your personal preferences.
---
Conclusion
Since Spotify DJ software integration has been stopped for a long time, music lovers have had only Mixonset – free DJ software that works with Spotify to create their mixings. However, Tunelf Spotify Music Converter enables you to DJ with Spotify via popular software like Virtual DJ, Serato DJ, or any other DJ program. Tunelf can answer the question of "what DJ software works with Spotify" and has the ability to download Spotify songs offline for mixing and creating your own masterpieces.
---
---